Pick-Your-Own Berry Farms in Connecticut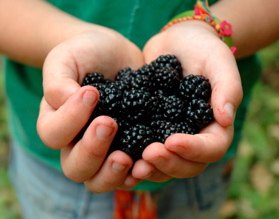 We're big fans of the abundance and availability of fresh food at this time of the year. Being able to pick our own fruits and vegetables at local farms makes the bounty taste even sweeter. Not only is it a fun family activity, it's also a great way to teach kids about where their food comes from.
Right now it's berry-picking season and happily, there are farms all over Connecticut offering lots of different varieties. We've rounded up 15 top spots to pick strawberries, blueberries and other fruits with your family. For more pick-your-own options in CT, check out our posts about strawberry picking in Hartford County and blueberry picking farms. Happy picking—and eating!
Bishop's Orchards - Strawberries are the first to arrive, then blueberries, raspberries, peaches, pears, apples and pumpkins. Don't miss their sunflower maze!  A family farm for 140 years and 6 generations. Check their website or call for picking dates.
1355 Boston Post Road, Guilford, CT 06437 203-458-PICK
Scotts Yankee Farmer - Pick your own strawberries, cut flowers, raspberries, blueberries, peaches, apples and pumpkins.  PYO season runs from early June through October.  Don't miss their roadside stand for pre-picked veggies and their legendary cider donuts!  
436 Boston Post Road, East Lyme, CT 06333 860.739-5209
Jones Family Farms - Pick your own strawberries and blueberries in Summer, pumpkins in the fall, and Christmas trees during the holidays. A 400-acre family farm since 1848, berry picking is at the Valley Farm or Pumpkinseed Hill. Call ahead for the Crop Report to see what's ripe for picking or follow the signs on the property.
Route 110 & Walnut Tree Hill Road (266 Israel Hill Road), Shelton, CT 06484. Phone: (203) 929-8425
Silverman's Farm - Pick your own peaches starting the second week of July, or peruse the farm market for apples and other fresh fruit, veggies, and pies.  The kids will love the petting, feeding and interacting with the farm friends in the animal farm, with llamas, goats, sheep, emus and more.  451 Sport Hill Road (Route 59), Easton, CT 06612 (203) 261.3306
White Silo Farm and Winery - Open from May through October with a wide variety of pick your own possibilities.  Pick your own rhubarb May - June. Raspberries, blackberries August to October.  Red & yellow raspberries, thorn-less blackberries, and asparagus. Raspberry, blackberry, rhubarb wine made with their own fruit. Winery open May - Dec. on Friday, Saturday, and Sun. 12 pm to 5 pm.  A $5 additional charge is added, per person. 
32 Route 37 East, Sherman, CT 06784. Phone: (860) 355-0271
Ellsworth Hill Orchard & Berry Farm, LLC - Pick your own strawberries, blueberries, summer & fall raspberries, cherries, plums, peaches, apples, pumpkins & gourds, flowers; hayrides for the whole family! Corn, tomatoes, & vegetables. June to November, and they're open 7 days a week.  
461 Cornwall Bridge Road, Sharon, CT 06069. Phone: (860) 364-0025.
Evergreen Berry Farm - Pick your own organic berries!  Choose from PYO blueberries,red and gold raspberries, blackberries, elderberries. Open: mid July thru August: 8 am to 8 pm every day; September: 8 am to noon on Tuesday/Thursday/Saturday; Call ahead for updated picking conditions and berry availability. Children welcome, no pets. Containers provided. Call ahead for picking conditions/berry update. Crops are typically ready as follows: Blueberries - Mid July to Mid-September, Red Raspberries - mid to late July, Blackberry - Late August/September, Elderberry - mid to late August, Fall Red and Gold Raspberries - September.  This year's harvest expected July and August.  
435 Bassett Road, Watertown, CT 06795. Phone: (860) 274-0825
Freund's Farm Market - Pick your own raspberries, flowers, and pumpkins. Shop the farm Market and garden center for seasonal fruits and vegetables, locally produced eggs, maple syrup & honey. Grab a snack at the Bakery & Ice Cream Scoop Shop or plan your own garden from 1,000's of plants and composted manure.  
324 Norfolk Road, East Canaan, CT 06024. Phone: (860) 824-0650
Litchfield Hills Blueberry Farm LLC - Pick your own blueberries, or shop pre-picked produce. Enjoy lunch in their picnic area. Harvest  usually available in July, August, September. Open: Tuesday to Friday, 8am to 8pm, Saturday and Sunday, 11am to 6pm, Closed Mondays and cash only accepted.
23 Schrowback Road, Plymouth, CT 06782. Phone: 860-283-9571
Lyman Orchards - Pick your own strawberries, blueberries, raspberries, apples, peaches, pears, and pumpkins. Check in with them to see what's ready for picking, when.
32 Reeds Gap Rd., Middlefield, CT 06455 Phone: 860-349-1793
Maple Bank Farm -  Pick your own blueberries, on this family farm that dates back to 1730, in July and August.  Farm stand May - Dec., Tuesday through Sunday from 10am to 5:30pm.  Fresh vegetables picked daily; herbs, flowers, wool yarn, cider, apples also available for sale. 
53 Church Street, Roxbury, CT 06783 (860) 354-7038
March Farm - Pick your own apples, blueberries, cherries, nectarines, peaches,plums, pumpkins, strawberries, Pick up some farm fresh eggs, stop by the cider mill (fresh apple cider made on the premises), grab snacks at the refreshment stand, and enjoy lunch at the picnic area.  The kids will love the petting zoo, and celebrating their birthday party on the farm!  Open: Monday to Thursday, from 9am to 6pm; Friday and Saturday, from 9am to 7pm; Sunday from 9am to 6pm; \ Hayloft Playscape, Animal Yard: May 25 to October 31; Corn Maze and Hayrides: September 4 to October 31; Pick Your Own Strawberries: Mid June to September; Pick Your Own Blueberries: July to September; Pick Your Own Peaches: Mid July to October; Pick Your Own Apples: September to November; Pick Your Own Pumpkins: October.  Ask about joining their CSA!
160 Munger Lane, Bethlehem, CT 06751 (203) 266-7721
Peck's Berry Farm - Pick your own blueberries. 1 mile west of the center of Morris. Open July through August.
205 West Street, Lakeside, CT 06758 Phone: (860) 567-0546
Roses Berry Farm - Strawberries, Blueberries, Raspberries, Blackberries, Apples & Pumpkins
Open for picking 8-5 pm on Saturdays and 9-5 pm on Sundays starting mid-June, check their facebook page for the latest. Sunday breakfast is open from 8-1 pm starting mid-June.
295 Matson Hill Rd., South Glastonbury, CT 06073 860-633-7467
Ruwet Farm - blueberries, pumpkins, vegetables
Farm stand open mid July to October.  PYO blueberries, pumpkins.  Call for hours and information.
1600 Torringford Street, Torrington, CT 06790 Phone: (860) 489-9580
Starberry Farm - Apples, pears, cherries, sweet & sour, peaches,
plums, nectarines, blueberries 34 varieties of yellow & white peaches for PYO for eating, freezing & canning,PYO, ready-picked, retail & wholesale. PYO cherries in June 15-25th; white peaches in July 15-September 15th. Apricots, plums, nectarines in August.  Pears & apples September 15-Oct 31st. Children welcome.
47 Kielwasser Road, Washington Depot, CT 06794-1119 860.868.2863
Originally published June 20, 2012.