Passover Events and Celebrations for New York City Kids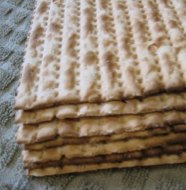 Why is this night different than any other night? Because we're telling you about the best Passover parties in town.
While some kids hunt for plastic candy-filled eggs, children who celebrate Passover are already scouting out possible hiding places for the afikoman. This year, the first Seder begins at sundown on Monday, April 18, and the holiday lasts through Tuesday, April 26, which coincides exactly with public school spring break.
There are plenty of ways to mark the holiday, so break out those bitter herbs, grab that extra chair for Elijah and head to these nine Passover events.
Passover Holiday Workshop – Upper West Side

Wednesday, April 13
 3:30-4:30pm
$25. Ages 2-5.
Help your preschoolers learn the joys and traditions of Passover at the Jewish Community Center of Manhattan. Enjoy special songs, crafts, noshes and more. 
StorahSteps Presents Miriam's Drum – East Village
Sunday, April 17 at 11am
$5 suggested donation, reservations required. Ages 2-6.
Head to the 14th Street Y to catch an interactive musical in honor of the holiday. 
Passover Spectacular Family Program – Lower East Side 

Sundays, April 17 and 24 at 1pm
$15 per family; reservations recommended. All ages.
The Museum at Eldridge Street invites families to become historical sleuths in this scavenger hunt. The clues lead to a Passover Freedom party with food, art and music.
Passover Treasure Hunt – Chelsea
Sunday, April 17 2-5pm
$8. Ages 5 and up.
Pop into the Children's Galleries for Jewish Culture for this Passover kickoff, which includes a treasure hunt and craft activities, like designing Elijah cups and Seder plates.
Shabada Creative Family Seder – Upper East Side

Tuesday, April 19 at 5:30pm
$70 for adults, $50 for kids ages 3 and up. To purchase special tickets for children 1 or 2 call 212-415-5500. All ages.
You slaved over the stove for the first Seder...but you want to relax for the second. Then head to the 92nd Street Y for this special celebration, which includes songs, dances and games, as well as a traditional holiday feast.
Seder Plate Collage – Upper West Side
Wednesday, April 20 at 
10am and 1:30pm
FREE with museum admission. Ages 2-4.
Learn about the holiday and decorate a Seder plate at the Children's Museum of Manhattan. 
Cup of Elijah – Upper West Side
Wednesday, April 20 at 11am, noon, 2pm, 3pm and 4pm
FREE with museum admission. Ages 5 and up.
Older kids can discover the importance of the Elijah's cup, and create their own chalice at the Children's Museum of Manhattan. 

Matzah Ball Soup to Maira's Max – Storybooks for Passover– Upper East Side
Thursday, April 21, Friday, April 22 and Sunday, April 24
 1-4pm.
Free with museum admission. Ages 4 and up.
Kids can be inspired by the Jewish Museum's Maira Kalman: Various Illuminations (of a Crazy World) exhibit at this drop-in art workshop, where they'll create a handmade book with a Passover tale.
David Grover with Grover's Gang– Upper East Side

Sunday, April 24 
at 2pm
$16 for adults, $11 for kids. Ages 3-9.
David Grover with Grover's Gang is back for a fun-filled concert at the Jewish Museum, featuring songs that celebrate freedom and yummy matzo.
Don't forget there's a lot more fun in the Mommy Poppins Events Calendar.