NYC Outdoor Dining with Kids: 20 Family-Friendly Restaurants with Alfresco Seating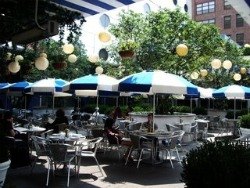 Eating outdoors on a balmy day can be a wonderful family dining experience—unless you're stuck inhaling bus fumes at a tiny sidewalk table so crammed with dishes that you're lucky if a passerby doesn't inadvertently knock over your drink with a swinging handbag.
Luckily there are a bunch of kid-friendly restaurants in New York City with wonderful alfresco dining areas that aren't right by the curb. From lush backyard gardens to rooftop gems with panoramic views to eateries located smack-dab in the middle of parks, here are 20 of our favorite NYC spots for outdoor dining in the summer.
Alma – Red Hook
187 Columbia Street near Degraw Street
The cozy rooftop at this Mexican spot is open year-round (it's heated during the winter) but best enjoyed on a summer day. Kick back with some guacamole and (on date night) a margarita or two, and watch the sun set over Manhattan. Although there's no kids' menu, the brunch is a family favorite.
Bareburger – Astoria
33-21 31st Avenue at 34th Street
The Astoria location of this local chain has a lovely backyard that's always shady thanks to large swaths of cloth hung overhead. With great burgers and fries, thick, addictive shakes (the black and white has become central to my son's existence), and a great selection of fresh, tasty salads, this spot is super kid-friendly.
Boat Basin Cafe – Upper West Side
79th Street in Riverside Park
As the name implies, this laid-back outdoor cafe overlooks the marina and also offers wonderful views of the Hudson River and New Jersey. Organized into three sections—an open-air patio, a circular open area in the back and a covered rotunda—it hosts a lively bar scene later in the evening, so come early or for brunch. No reservations accepted.
Casa Ventura – Park Slope
210 Seventh Avenue between 2nd and 3rd Streets
Roofed and surrounded by waist-high walls, this cozy outdoor space provides enough separation from the hustle and bustle of Seventh Avenue so you can enjoy people-watching, icy beverage in hand, without feeling like you're seated directly on the sidewalk. A newcomer to Park Slope, Casa Ventura serves Latin cuisine and has an inexpensive kids' menu that includes pizza, empanadas, quesadillas and crispy corn fritters.
Cloister Cafe – East Village
238 East 9th Street between Second and Third Avenues
The food is basically fancy diner fare—eggs, sandwiches, salads, pastas and a few more exotic dishes like Malaysian flat bread—but the setting is anything but ordinary. Inside you'll find aquariums stocked with giant fish and stained glass windows, but outdoor is where to eat. The garden features suspended grape arbors, a fountain with a trickling stream and live flowers on the tables.
Cucina di Pesce – East Village
87 East 4th Street between Second and Third Avenues
This bustling Italian spot has a small section of tables on the sidewalk, but ask to be seated on the back patio. Not only is it much quieter, but the wooden deck and carefully placed plants make it feel like you've left the gritty neighborhood. The pumpkin ravioli is a real kid pleaser!
Fairway Café – Red Hook
480-500 Van Brunt Street near Reed Street
With its sweeping view of the harbor with ships and ferries passing by, and the Statue of Liberty just beyond, this little spot is all about the view. The restaurant serves a basic selection of sandwiches, chips, salads and is open for breakfast, lunch and dinner. After your meal, be sure to explore the surrounding dock area with its old trolley car tracks and long piers reaching far out into the water.
The Farm on Adderley – Ditmas Park
1108 Cortelyou Road near Stratford Road
The garden is lovely and mellow, yes, but it's the supremely scrumptious cuisine that puts the Farm on Adderley on our list of favorites. The children's menu includes staples such as grilled cheese, buttered noodles and organic hot dogs.
Frankies 457 – Carroll Gardens
457 Court Street between 4th Place and Luquer Street
Savor this neighborhood staple's Italian comfort food in its serene and spacious garden, which invites you to linger. Note: The restaurant doesn't accept reservations and the wait can be long so come early.
Franny's – Prospect Heights
295 Flatbush Avenue between St Marks Avenue and Prospect Place
At Franny's you'll find crispy, delicious pizza pies, well made pasta dishes, great small dishes like sugar snap peas with homemade ricotta, scallions, and herbs, and a lovely large garden with enough room for kids to stretch their legs after an early dinner. It's hard to believe busy Flatbush Avenue is just steps away.
Habana Outpost – Fort Greene
757 Fulton Street near South Portland Avenue
This self-dubbed "eco-eatery"—think solar panels and a bike-operated blender—serves Mexican and Cuban fare from a truck on a patio with picnic benches. The restaurant frequently hosts family events, including a free Sunday night outdoor movie series and weekend arts and crafts for kids. It's also a great place to visit before or after a trip to Fort Greene Park.
Hudson River Café – Harlem
697 West 133rd Street near Twelfth Avenue
Head to Harlem for Latin food at this cafe, the ultimate in outdoor dining: a two-level patio enclosed by gated garden walls, plus a courtyard bar.
La Bottega – Chelsea
363 West 16th Street near Ninth Avenue
With bright blue and white umbrellas, and lots of paper lanterns, the huge patio at La Bottega—an Italian restaurant at the Maritime Hotel—feels more like Miami than Manhattan. It's a total bar scene at night, but a good place for pasta, pizza or panini during the day.
Le Pain Quotidien – Central Park
North side of Sheep Meadow, inside the park around West 69th Street
A few summers ago we did an entire post about where to eat in Central Park, besides the pretzel guys. While there are many options, we really like the "Mineral Springs" (a.k.a. Central Park) location of this international chain. There's a lovely 100-seat terrace and highchairs are available. The food is the same as at all its outposts: soups, salads, sandwiches and baked goods, plus a kids' menu. Get the cheese and fruit plate to share.
New Leaf Restaurant – Inwood
1 Margaret Corbin Drive in Fort Tryon Park
Located in the stunning northern Manhattan green space and formerly run by the New York Restoration Project, New Leaf closed for renovations in early 2015 and will reopen under the management of Coffeed in the spring. We're waiting to see how the menu and prices change, but regardless, the big attraction here is the gorgeous park setting, which can't be beat. Afterward, be sure to check out the Cloisters, which is just a short walk away.
Quaint – Sunnyside
46-10 Skillman Avenue between 46th and 47th Streets
This low-key eatery brings New American cuisine to the family-friendly Queens nabe and boasts an outdoor patio that's perfect for warm summer days.
Riverdale Garden – Riverdale
4576 Manhattan College Parkway at Post Road
This restaurant made our list of the best family-friendly restaurants in Riverdale due to inexpensive kids' menu and proximity to Van Cortlandt Park. But it also boasts an adorable backyard patio, with evergreen bushes and other plantings, and umbrellas keep you out of the sun.
Shake Shack – Flatiron
Madison Square Park near Madison Avenue and 23rd Street
We doubt we need to tell you about Danny Meyer's ubiquitous chain. People flock to this "roadside" outpost in Madison Square Park for burgers, hot dogs, French fries and frozen custard. When visiting with young kids, try to go with two adults. One can wait in the inevitably long line while the other takes the little ones to the park's lawn or playground.
Yaffa Cafe – East Village
97 Saint Marks Place between First Avenue and Avenue A
Want a taste of the old East Village? Then hit this funky spot which has been serving up sandwiches (often in pitas) and salads (with the tasty carrot house dressing) since 1983. Inside you'll find wall-to-wall kitsch: velvet paintings, beaded curtains and '60s lamps. The wooden deck in the backyard is less campy and more serene, and while the place is big with college kids, the staff is very nice to families.
Vinegar Hill House – Dumbo
72 Hudson Avenue near Water Street
With a charming garden, this off-the-beaten-path restaurant is perfect for date night or an early dinner with the kids. Whichever you choose, make sure to save room for dessert: The eatery's Mexican Chocolate Bar with peanut brittle is out of this world.
Still hungry? Check out our other food posts.
For other outdoor ideas and seasonal fun, check out our Summer Fun Guide.
Lia Wiedemann also contributed to this post.