Beyond Macy's: Free Summer Fireworks in NYC 2014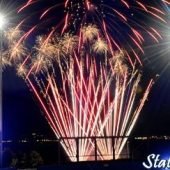 There's no denying that when it comes to sparklers Macy's 4th of July Fireworks is the main event in NYC. But it's certainly not the only explosive display in town this season. Some of these fireworks shows honor our nation's birthday, others just celebrate summer in the city.
Here are a bunch of places and dates you can catch fireworks in New York City—besides the East River on the Fourth of July.
Manhattan
New York Philharmonic Concerts in the Parks – Central Park
The Great Lawn
Friday, July 11 and Monday, July 14 at 8pm
FREE
The famed orchestra is playing outdoor evening concerts in four boroughs and there will be fireworks by Bay Fireworks after four of those performances, including these two in Central Park.
Jersey City Freedom and Fireworks Festival – Lower Manhattan
Liberty State Park in Jersey City, NJ
Friday, July 4 at 8pm
FREE
Although this fireworks display is technically on the NJ side of the Hudson, since the Statue of Liberty and Ellis Island will serve as the backdrop, you should be able to see the sparklers from Lower Manhattan. Battery Park and Battery Park City will offer the best views, and you might even be able to glimpse them from Brooklyn's eastern waterfront.
 
Brooklyn
July 4th Fireworks Show – Coney Island
Coney Island Beach and the Boardwalk near Steeplechase Pier
Thursday, July 4 at 9:45pm
FREE
Want to see sparklers on July 4th but don't want to deal with the Macy's Fireworks crowds? Then head to Coney Island for a fireworks display right on the beach in honor of our nation's birthday. Better yet, make a day of it by arriving in time to catch another Independence Day tradition, Nathan's Famous Hot Dog Eating Contest, and then hitting Luna Park, Deno's Wonder Wheel and the New York Aquarium.
Coney Island Boardwalk – Coney Island
The boardwalk between West 10th and West 15th Streets
Fridays at 9:30pm through August 29
FREE
Can't make it out to Coney on July 4th? There are fireworks displays every Friday night right on the boardwalk through the end of August.
New York Philharmonic Concerts in the Parks – Prospect Park
Long Meadow Ballfields
Wednesday, July 9 at 8pm
FREE
After the top-notch classical program, enjoy a fireworks display.
MCU Park – Coney Island
1904 Surf Avenue at West 17th Street
Select home games through Sunday, August 31. Click here for the complete schedule.
Free with admission
More fireworks in Coney: Regardless of which team wins, the Brooklyn Cyclones will set off sparklers over the baseball diamond after a half-dozen games this season, mostly on Saturday nights. Plus the stadium offers a perfect view of the Friday night sparklers. Read more about minor league baseball in NYC.
 
Staten Island
Richmond County Bank Ballpark – St. George
75 Richmond Terrace at Hamilton Avenue
Select home games through Monday, September 1. Click here for the complete schedule.
Free with admission
Not to be outdone by their Brooklyn rivals, the Staten Island Yankees also sponsor pyrotechnics at their stadium, (just steps away from the ferry terminal), usually on Friday or Saturday evenings. So spend the day in the attraction-filled St. George and then end your outing with a bang.
Sunset Family Festivals – South Beach
Father Capodanno Boulevard at Sand Lane
Wednesdays, July 2, 9, 16, 30, August 13, 20 and 27; Sundays, August 3 and 31 all at 9pm
FREE
Hit the beach for a day of sun, surf and incredible views of the Atlantic Ocean and stay for late-afternoon entertainment and a climatic fireworks display. There are bunch throughout the summer!
 
Queens
Fireworks at Citi Field – Flushing
123-01 Roosevelt Avenue
Friday, July 4, Saturdays, August 2 and September 13
Free with admission
After select Mets home games, the team will set off sparklers inside the stadium but the fireworks should be visible outside to those in the vicinity.
 
The Bronx
New York Philharmonic Concerts in the Parks – Van Cortlandt Park
Enter from Broadway near West 251st Street. Concert site is north of the baseball fields.
Tuesday, July 15 at 8pm
FREE
After the classical program, enjoy a fireworks display.
It's also worth checking out nyc-fireworks.com which has a pretty comprehensive list of fireworks shows in the tri-state area.
Check out our Summer Fun Guide for additional seasonal fun.
This post was originally published in July 2010.