11 Best Brooklyn Craft Studios for Kids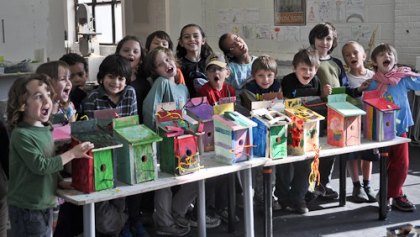 March may be National Craft Month but we love crafting all year round. One thing we don't love though is the mess crafting makes in our already cluttered apartment.
Luckily my family lives in Brooklyn, which just may be the crafting mecca of the world (or at least New York City). There are a slew of craft studios where kids can paint pottery, work with wood, try fiber arts like knitting and sewing, or make something more offbeat (robot trash can anyone?)—and best of all, someone else cleans up after them. Although some spots require that you sign up for an entire semester of classes, many offer drop-in options for occasional crafters, summer camps, school break programs and even birthday party packages. Here are our top 11 Brooklyn craft studios where kids can get creative.
Barking Cat Studio – Boerum Hill
65 Bond Street between Schermerhorn and State Streets
Founded by toy designer and art teacher Karen Merbaum, this lovely studio offers a variety of craft projects for all ages, from making instruments and puppets to playing with wood, clay and paper maché to creating sculptures and self-portraits. Although families are encouraged to sign up for a full semester of classes, drop-ins are allowed if space is available. Call for advance reservations: 718-855-8050.
Brooklyn Craft Farm – Carroll Gardens
Court Tree Collective, 371 Court Street between Carroll Street and First Place, second floor
The Farm's eclectic craft classes are great for school-age kids, like designing tote bags, creating robot trash cans, and making funky T-shirts and key chains. The schedule and themes change seasonally based on demand. Individual drop-off classes are $25 each, and your child comes home with something she can actually use.
Makeville Studio – Gowanus
119 8th Street between Second and Third Avenues
Unfortunately Makeville is no longer offering classes for kids, just adults. Just a block away from the Farm you'll find this awesome woodworking studio, which is owned and operated by a local mom. School-age kids can sign up for a semester of after-school classes, or try an occasional one-off workshop. Next one up: Wood Shop Hot Rods, in which first-time builders learn how to safely use saws, hammers and drills to make cool wooden toys. Class takes place on Saturday, April 7 at 10am. $45.
Third Avenue Clay – Gowanus
418 Third Avenue between 7th and 8th Streets
This studio's pottery classes require a real commitment: Kids must sign up for a semester and each session lasts two hours, so it's not for the fidgety. Children ages 6 and up learn basic pottery techniques like throwing on the wheel, and work with stoneware clay, glazes and stains. Learn about the history about the program here.
Brooklyn Design Lab – Park Slope
413A Seventh Avenue between 13th and 14th Streets
We love the funky crafts offered at this studio so much, we already named it one of the best places for kids' classes in Park Slope. The Sensory Lab invites preschoolers to examine wood, sand, paper and other items before creating simple crafts. School-age kids can work on a variety of cool projects, from comic books to sculptures to art boxes. Classes change every season, so visit the website for an up-to-date schedule. Must sign up by semester.
The Painted Pot – Brooklyn
Multiple Brooklyn studios. Visit the website for locations.
Already a family favorite in Carroll Gardens and Bay Ridge, this local chain just opened a Park Slope location this month. My daughter and I visited this new outpost, and we loved the light and airy space where visitors can drop in and paint pre-made pottery. For more serious pottery people, the studio offers a variety of classes, including handbuilding and wheel classes for kids.
Baked in Brooklyn – Williamsburg
242 Wythe Avenue near North 3rd Street
Despite the name, you won't find any cookies or cakes here. Instead, this paint-your-own-pottery place invites families to decorate ceramic mugs, frames and small statues. Drop-ins are welcome throughout the day, and the studio also offers birthday party packages for kids (and adults if you're so inclined).
Textile Arts Center – Gowanus
505 Carroll Street between Whitewell and Denton Places
This fiber arts spot is so popular, it opened a West Village outpost last year. Kids can learn how to knit, felt, sew, weave and dye in after-school classes and summer camp. There are even Mommy and Me Textiles for Tots sessions. One-offs aren't offered so kids must sign up by semester. However, currently enrolled students get free studio time to work on their projects, and the center occasionally holds open houses.
Lemon Sky – Williamsburg
330 Wythe Avenue Suite 2C near South 1st Street
At this other top textile spot, kids can learn to sew (with or without a machine), weave, knit, embroider and crochet, so you know grandma will be proud.
ConstructionKids – Brooklyn Navy Yard
Building 92, Brooklyn Navy Yard, 63 Flushing Avenue near 4th Street
This popular Prospect Heights program's new studio sounds amazing, with more space and state-of-the-art equipment. Sign up for after-school classes or special events. Kids will learn how to build small wooden structures and toys using real grownup tools.
Zelda's Art World – Midwood
2291 Nostrand Avenue near Avenue I
A hardcore art supply store, gallery and education center, Zelda's offers fashion and jewelry classes for tweens and teens that go way beyond just stringing beads. There are also fine art workshops for younger children. Kids must sign up by semester, but currently enrolled students enjoy free studio time.
Toyriffic – Midwood
Unfortunately, this shop has closed.
This educational toy store hosts drop-in arts and crafts workshops, crafty Mommy and Me classes and scrapbooking sessions. Call the store for schedule and further details.
Read more about crafting with kids in New York City.