Professional Holiday Portraits in NYC: Photo Studios and Photographers for Families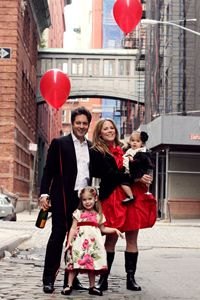 If you're anything like me, you don't know your aperture from your autofocus. So the holiday season is the perfect time to commission a professional family portrait. Whether your picture ends up on your wall or on your holiday card (or both), sitting for a family photo should be fun and reasonably affordable—let's face it, it's going to be a bit of a splurge unless you go to a department store.
The most stressful part about booking a family photo shoot? Figuring out where to start. There are so many photographers and portrait studios out there, especially in New York City. We've tried to help simplify your research by rounding up some of the best NYC spots specializing in child and family photography. We also included some department store options which, while less personalized, are also less expensive.
Photo courtesy of Sarah Sloboda Photography
Photography Studios
Classic Kids Photography
1182 Lexington Avenue at 81st Street, 212-396-1160
395 Amsterdam Avenue at 79th Street, 212-799-3730
This high-end portrait studio was founded by a former tax attorney (!), but you'd never think that by looking at the warm family photos. Classic Kids specializes in black-and-white portraiture and has locations in various U.S. cities, yet doesn't seem like some impersonal chain. Photo packages vary so call for pricing.
PhotoOp
1475 Third Avenue, between 83rd and 84th Streets, 212-988-8714
This studio, relocated from the Upper West Side, offers a variety of backdrops, a designer dress-up wardrobe and props, customized playlists or an iPod dock for your own tunes to get you into the paparazzi spirit. Studio sessions are $200 for up to an hour sitting, which includes online viewing of photos and professional re-touching. Printed photo packages start at $325. Location shoots are also available for an additional $100.
Big Apple Portraits
143 West 72nd Street between Amsterdam and Columbus Avenues, 212-600-4457
We're big fans of this colorful Upper West Side photography studio that offers high-end portraiture at inexpensive prices. There's no charge for the sessions; you pay only for the prints you select. Photo packages start at $125 for one 8"x10", two 5"x7", two 4"x6" and a set of eight wallet-sized pics.
Department Store Photography Studios
If the prices above make you want to break a camera, then consider the department store option. No, you won't be able to get candid, black-and-white shots, but you will get inexpensive professional photos. Plus most of these studios are offering holiday discounts and deals.
JCPenney Portrait Studios
Various locations throughout New York and New Jersey.
Sitting fees are $9.99 per person. Discounts are available for military families, senior packages, new baby and everyday portrait coupons. In addition, if you spend $100 or more at JCPenney during one visit through January 1, you receive a $50 coupon toward your photo purchase.
Sears Portrait Studio
Various locations in New York and New Jersey.
These studios offer free sitting fees and a variety of rotating specials throughout the year. The current promotion will give you four free holiday cards, printed while you wait.
Target Portrait Studio
Elmhurst, Queens; various New Jersey locations
Current offers will get you 40 percent off your portrait package or allow you to purchase a basic photo package for just $7.99. The studios always have coupons online and are advertising fresh, new holiday backgrounds this season.
Independent Photographers
If you really want to splurge, you can go outside a studio and work with professional photographers who snap families in parks, the streets or in their homes. There are an overwhelming number of NYC shutterbugs offering family portraits. We've picked a few whose work we know personally and love, or ones who come highly recommended. All of their websites feature online galleries so you can browse their work before you book a session.
Sarah Sloboda Photography
rsvp@sarahsloboda.com
We adore Sloboda's work (that's her gorgeous shot at the top). And we love the fact she really knows how to use NYC as an evocative backdrop for one-of-a-kind family photos. Shoots are held on location in Manhattan or Brooklyn, or in your home. Sessions start at $250—prints, digital files and collections with printed proofs are available for purchase after the shoot. Fully inclusive digital packages are also available. Sarah Sloboda's twitter followers and newsletter subscribers get special Friends & Family mini package offers for $200 seasonally. E-mail rsvp@sarahsloboda.com for scheduling.
Eliza's Eye
917-213-1467
This Brooklyn mom and photographer was trained as a set designer, which explains why her shots are so dramatic. She shoots families on location or in their homes during the day only, since she prefers using natural light. Sessions are $250 and include a pre-shoot consultation, a one-to-two-hour shoot, post-production editing, an online gallery of the best images and one 8×10 print, with additional pictures available for a fee. Eliza also offers frames, canvas wraps, albums and cards.
Amanda Gentile Photography
amandatakesphotos@gmail.com
Gentile wants her subjects to look comfortable and natural, which is why she photographs families in their homes or outdoors in Brooklyn or Manhattan, capturing both posed and spontaneous looks. For the holidays, she even has some seasonal props available, like small Christmas trees, vintage Santa figures and tinsel. Sessions are $350 for a one-hour sitting, which includes approximately 100 high-resolution images on DVD, access to full-size images on an private online gallery and minor touch-ups.
Find lots of other seasonal fun in our Holiday Guide.
This post originally published in December 2011.