No-Car Skiing Day Trips: Ski Bus Deals and Packages from NYC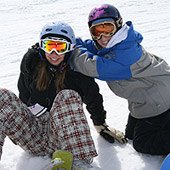 Don't let the lack of a car keep you from hitting the slopes this winter. Nearly all of the big (and small, for you first-timers) local ski resorts offer bus and train package deals from New York City. These packages are convenient and wallet-friendly, and they often include discounted lift tickets and equipment rentals so you don't have to lug your own skis. Even if you own a car, these deals are worth considering: After a hard day on the slopes, it's wonderful to kick back and relax while someone else battles traffic back to NYC. Here are six ski resorts in New York and New Jersey that offer ski packages to get your family on the mountains in no time.
Thunder Ridge Ski Area – Patterson, NY
Less than 90 minutes from midtown Manhattan, this small ski resort caters to families. It offers trails for all experience levels, including several areas especially for kids that contain lots of "green circle" trails.
Thunder Ridge Ski Train Package: The Metro-North Ski Train runs weekends and holidays. Check the website for specific dates. Packages can be purchased online or from any ticket office or vending machine—be sure to ask for the ski train when buying your ticket. The package includes round-trip travel, shuttle to and from the train station, lift ticket and discounts on rental equipment.
Price: $58.75 for adults, $46.75 for 12-year-olds,  $23.50 for children ages 6-11, $10.50 for 5-year-olds, $8.50 for kids under 5.
Hunter Mountain – Hunter, NY
The granddaddy of New York ski resorts, Hunter welcomes skiers and snowboarders of all skill levels, so it's a popular and crowded spot. There are many bus operators that can take you to Hunter, but Emilio's Ski Shop in Forest Hills, Queens seems to offer the most comprehensive package.
Hunter Ski Bus Package 1: Emilio's Ski Bus includes round-trip bus fare and access to all three mountains.
Price: $76.99 per person. You can also purchase bus fare only for $41.50 or purchase the beginner lesson package for $114.99. Visit the website to book.
Hunter Ski Bus Package 2: Paragon Sports bus trips run from its Union Square store. Visit the website for a complete schedule. All packages include round-trip bus fare, a light breakfast, movie on the bus and a lift ticket. The store also offers bus fare only for anyone with a season pass. Call 212-255-8889 to book your reservation.
Price: $79-84 per person.
Tuxedo Ridge at Sterling Forest – Tuxedo, NY
Less than one hour from midtown Manhattan and near mass transit, Tuxedo Ridge is a favorite for NYC families. This small resort has only seven trails and four lifts, but it still manages to offer something for everyone—skiing, snowboarding and tubing.
Tuxedo Ridge Ski Bus Package: The Short Line Bus from Port Authority leaves at 9:10am on weekends. The package includes round-trip transportation and a daily pass for the ski lift. Visit the website for more info.
Price: $52.50 for adults, $44.50 for children ages 5-11.
Tuxedo Ridge Ski Train Package: There are New Jersey Transit trains that run from Penn Station to Tuxedo, and then you can take a taxi.
Price: $26 for adults, $12.50 for children ages 5-11.
Mountain Creek – Vernon, NJ
One of the largest ski resorts in New Jersey, the recently renovated Mountain Creek features 41 trails, night skiing, an all-mountain terrain park and snow tubing. There are lots of nice, long trails for beginners and ski camp options for kids, all less than 50 miles from midtown Manhattan.
Mountain Creek Ski Bus Package 1: There's a package available from Urban Sherpa, on weekends with pickup points at Times Square and Union Square. The package includes round-trip transportation and lift ticket.
Price: $85 per person.
Mountain Creek Ski Bus Package 2: The NYC Snow Bus offers a package to Mountain Creek, too, and picks up at the Barclay's Center, in Williamsburg, in Astoria and at Union Square. There are various packages to choose from. Visit the website for more details.
Price: $72 per person for transportation and lift ticket.
Belleayre Mountain – Highmount, NY
This popular Catskills resort is run by New York State and boasts more than 50 trails covering all levels of skiing, a good beginner's program, snowboarding and even cross-country skiing trails.
Belleayre Mountain Ski Bus Package: The Adirondack Trailways bus runs from Port Authority. The package includes round-trip transportation and lift ticket. Overnight packages are also available. Visit the website for details.
Price: $93 per person.
Windham Mountain – Windham, NY
This family-friendly destination is located in the Northern Catskill Mountains. The huge resort offers everything from ice-skating to snowmobiling and is well-known for its great skiing school.
Windham Mountain Ski Bus Package: Island Ski Tours has departures from East 42nd Street in Manhattan. You can also add on optional services such as lessons and equipment rental for an extra charge. See the website for details.
Price: $55 per person for bus fare only. 
Find other great winter day trip ideas in our Family Travel Guide and additional seasonal fun in our Winter Guide.
This post originally published in January 2010.