NYC Gyms with Childcare: Where to Work Out With Kids in Tow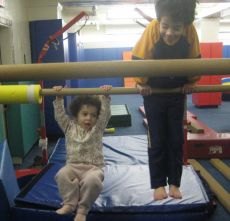 As the New Year approached, a number of our readers emailed us asking if we knew of any New York City gyms with childcare. With a gym seemingly on every corner in Manhattan, it's no surprise that a bunch of them do offer childcare services.
So whenever you resolve to get in shape (January or otherwise), don't sweat it. Here's a list of NYC gyms that allow parents to work out without shelling out big bucks for a private babysitter.
Reebok Sports Club NY – Upper West Side
160 Columbus Avenue at 67th Street
The Sports Club/LA/New York – Upper East Side
330 East 61st Street between First and Second Avenues
Both Manhattan sites of this national chain offer For Kids Only, an enrichment program for children ages six months to 12 years. Activities include everything from infant music classes to hip-hop for tweens, soccer, lacrosse, tennis and basketball, ballet, tap, tumbling and art, so your kids can learn while you work out. Drop-ins are offered and there are even Family Days when everyone can get fit and have fun together.
New York Sports Club – Citywide
Visit the website for locations.
With locations throughout the five boroughs, NY Sports Club will watch your child ages three months to 10 years while you work out. Reservations are recommended and parents must remain on the premises at all times. If a diaper change is required, the parent will be paged. The maximum stay is two hours. Hours and prices vary by location.
New York Health and Racquet Club – Flatiron
60 West 23rd Street between Fifth and Sixth Avenues
Though NYHR has multiple clubs in NYC, the 23rd Street location is the biggest, with strength training equipment, a Jacuzzi, Turkish rock sauna and steam room, an elevated cardio deck and a babysitting service that's free to members.
YMCA – Citywide
Visit the website for locations.
Like NY Sports Club, there are Ys all over the city and many offer classes for toddlers through teens, as well as half-day and full-day childcare for working parents. That said, Child Watch is the program for moms and dads who just need coverage while they work out. Children as young as two months are welcome, and rates vary depending on location and the kid's age. Multi-hour cards are available at a discount and there is a two-hour maximum per drop off.
92nd Street Y – Upper East Side
1395 Lexington Avenue at 92nd Street
When is a Y not a Y? When it's the 92nd Street Y, which is not a Young Men's Christian Association but a Jewish community center. Its babysitting service accepts children ages four months to four years and costs $13 per hour for a maximum 90-minute stay on weekday mornings. Reservations are mandatory and hard to come by. In fact, the service is so popular there is a waiting list.
Asphalt Green – Upper East Side
555 East 90th Street between York and East End Avenue
The Upper East Side athletics complex offers babysitting by appointment only on Mondays, Wednesdays and Fridays for members from September through mid-June. Children ages six months to six years cost $17 per two-hour session. Babies under nine months must be dropped off in a car seat or stroller, and parents will be notified by pager for diaper changes. All childcare workers are first-aid/CPR certified.
Citibabes – Soho
52 Mercer Street between Broome and Grand Streets
Instead of being a gym with childcare, Citibabes is a kiddie play space with something for adults, too. Members have access to a state-of-the-art gym with personal trainers and classes in kickboxing, muscle sculpting and more. Complimentary childminding comes with each personal training session and is available for children ages three months to five years. Citibabes also offers childcare services for select Equinox clubs in the city, but rates are higher on site, and hours vary.
Eastern Athletic – Tribeca and Brooklyn
Visit the website for locations.
Eastern Athletic offers parents up to three hours of Me Time. Staff will watch children ages six months to six years for $8 an hour (or a pack of ten for $60) Monday through Saturday. The club only has space for eight kids at a time so sign up in advance and be aware that your childcare vouchers have expiration dates.
This post was originally published on January 6, 2013.