Foreign Language Camps for NYC Kids: Learn to Speak Spanish, French, Chinese and More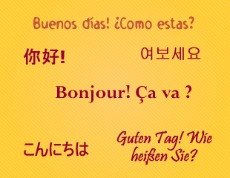 In our melting pot of a city, kids are exposed to lots of different languages, and the summer is a great time for children to try to pick up a new one. Whether your child yearns to master Chinese, French, German, Italian or Spanish, New York City is home to lots of language immersion summer camps. No textbooks at these programs. Instead, kids experience the usual seasonal fun—swimming, sports, arts—in their non-native tongue. The instructors and counselors are all fluent and not only teach kids the language, they expose them to the culture, too. Here are 10 language immersion summer day camps that will have your kids saying hola, bonjour or ciao in no time.
Bilingual Buds Mandarin Immersion Camp – Upper West Side
175 Riverside Boulevard between 68th and 69th Streets

Ages 2½-10
Campers enjoy crafts, music, science, cooking and outdoor play while learning the language from native Mandarin speakers. Kids are organized by age with the youngest set attending half days. All Mandarin skill levels welcome. Read our post about other Chinese language programs.
Pusteblume International Preschool Camp – Chelsea
244 West 14th Street between Seventh and Eighth Avenues
Ages 3-5
Campers pick either German or Spanish and learn the language through age-appropriate themes like Prancing Puppets, Ocean Explorers and Ooey, Gooey Scientist. Read our post about other Spanish language programs.
The Language Workshop For Children – Upper East Side
888 Lexington Avenue at East 66th Street
Ages 3-9
Using the Thibaut Technique, which employs music, props and play to learn a new language, instructors teach Spanish, French and Mandarin in a half-day summer enrichment program. Activities include baking, art, crafts and theme days. For the younger children, there are class-like immersion options such as Languages for Tots (6 months to 3 years) and Family Preschool (20 months to 3 years).
Collina Italiana – Upper East Side
1556 Third Avenue at 87th Street
Ages 2-7
Kids learn Italian through a variety of programs like Giochiamo in Italiano (Italian language through play), Cinema Italiano and Piccolo Teatro (acting in Italian). Campers can attend two, three or five days per week.
La Petite Ecole – Upper West Side & Tribeca
159 West 82nd Street at Amsterdam Avenue
45 White Street between Broadway and Church Street
Ages 3-6
At LPE, campers learn French via sightseeing and art-related field trips throughout the city. Other activities include cooking, singing, outdoor and water play.
Lycée Français de New York – Upper East Side
505 East 75th Street at York Avenue
Ages 2-11
For a thoroughly authentic bilingual experience, try the camp at this French elementary school. Participants practice English and Français through art, music, swimming, science, cooking and field trips. Some children are native English speakers, others grew up speaking French, so it's kind of like a cultural exchange.
Bonjour NY French Summer Camp – Carroll Gardens & the Upper West Side
PS 58, 330 Smith Street at First Place
PS 84, 32 West 92nd Street between Columbus Avenue and Central Park West
Ages 3-11
Weeks are based around themes such as La Légende de Paris or Les Chevaliers de la Table Ronde at this full-day French immersion camp. Activities include lots of outdoor play, art, games, sports and local field trips.
Little Language Studio – Dyker Heights
7921 Seventh Avenue between 80th and 81st Streets
Ages 4-8
Learn Italian in half-day summer sessions that include music, educational play, dance, theater, drawing, cooking and yoga.
LIU Brooklyn Children's Academy – Fort Greene
1 University Place between DeKalb and Flatbush Avenues
Ages 3-12
While younger kids learn Mandarin or Spanish through play, songs and stories, seven- to 12-year-olds can study American Sign Language (or try a non-language camp like photography, robotics or sports). Since LIU has a great pool, all participants get lots of swim time.
Language Immersion Camp at ISB – Brooklyn Heights
477 Court Street at Nelson Street
Ages 3-9
With French and Spanish camps, the International School of Brooklyn arranges language immersion programs around themes such as cultural explorations, toy design, wacky science and design studio.
Find out about other awesome kids' programs in our NYC Summer Camp Guide.