< Event Calendar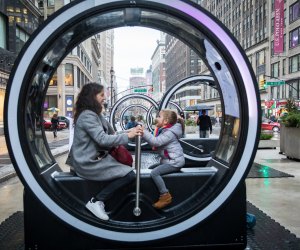 'LOOP' Installation
For the first time ever, New Yorkers and visitors can create their own electrifying light shows on Broadway in the Garment District, as the Garment District Alliance unveiled LOOP, an immersive art installation that invites the public to bring animated flipbook-style musical movies to life by activating large, retro-futuristic cylinders. LOOP is making its U.S. debut on the Garment District pedestrian plazas on Broadway from West 37th to West 38th Streets, with six cylinders.
Inspired by the zoetrope, an optical toy invented in the 19th century, LOOP creates animated fairy-tale loops. The public can activate the large-scale cylinders by sitting inside and working together to pump the lever. Once the cylinders begin to spin, each will light up and play musical movies that are inspired by 13 fairytales, accompanied by a flickering strobe effect. The speed of the images, frequency of the lights, and tempo of the music are determined by how fast the participants move the lever.
Garment District pedestrian plazas on Broadway
From West 37th to West 38th Streets
New York, NY 10018
** Event dates/times are subject to change. Please click through to the event website to verify.