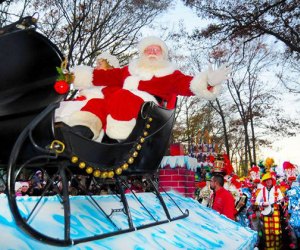 Weekend Fun for NJ Kids: Trains, Nature Walks, Santa's Arrival
After you cast your vote today, take your mind off the election (or try to, anyway) by looking ahead to the weekend. There are plenty of seasonal activities on offer, including apple cidering in Chatham, an old-fashioned Thanksgiving in Morristown, and a hibernation-themed guided hike in Short Hills. There are also tons of events happening in museums throughout the state, as well as little hints of Christmas popping up here and there – a production of A Christmas Story at the Count Basie Theatre, for instance, and St. Nick's arrival at Storybook Land. For even more fun things to do this month, be sure to check out our November GoList, and look to the Events Calendar for a more complete picture of what's happening this weekend and beyond.
All Weekend
Train Celebration – Camden
Bring your little train lover to Camden Children's Garden this weekend for train-themed games, crafts, and stories. This event is geared to the 2–5-year-old set; kids under 2 are free.
Apple Cidering – Chatham
This is one of the last weekends to make cider at the Great Swamp Outdoor Education Center. Use an old-fashioned, hand-crank cider press while you learn fun facts about apples, and then make a day of it by taking a walk in the Great Swamp Wildlife Refuge.
A Christmas Story – Red Bank
Ralphie pines for a Red Ryder BB gun in this musical version of the beloved Christmas movie, playing at the Count Basie Theatre through next Sunday, November 20.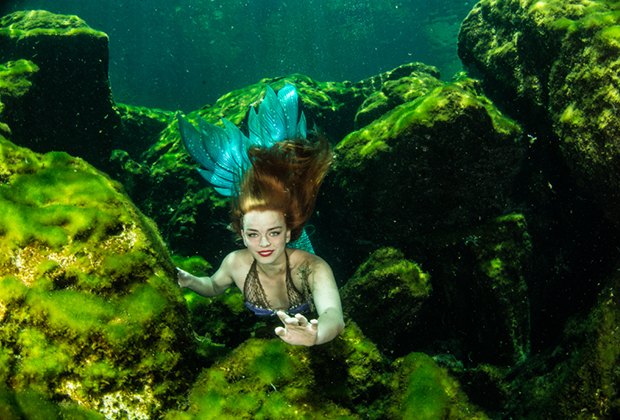 Meet a mermaid at Adventure Aquarium this weekend. Photo courtesy of the aquarium.
Mermaids at Adventure Aquarium – Camden
This is the last weekend to catch the mermaids in Camden before they swim away. You can watch mermaids swim in the aquarium's 760,000-gallon Ocean Realm exhibit, visit with them on dry land for pictures and autographs, meet a pirate captain, make mermaid-themed crafts, and more. Free with aquarium admission.
Saturday, November 12
SMASH: Toys and Games – Trenton
New Jersey State Museum's SMASH series explores the intersection of science, art, and history. Saturday's event is all about toys and games – specifically, the math, science, and engineering that goes into creating them. Participants can make a toy to take home, build with LEGOs, learn about toy making in New Jersey, and create a mobile wire sculpture inspired by Alexander Calder.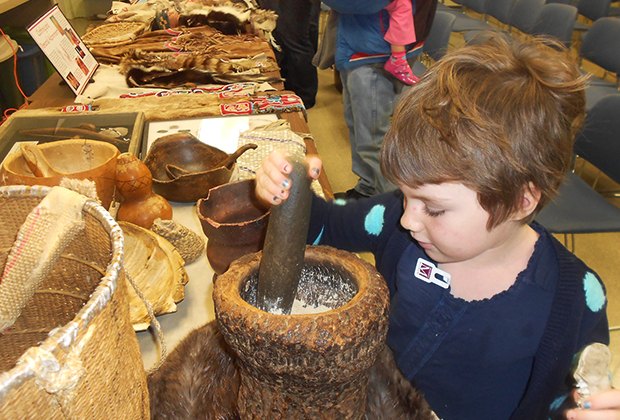 A young visitor takes part in hands-on activities at Lenape Family Day. Photo courtesy of the Morris Museum.
Lenape Family Day – Morristown
Learn all about the original inhabitants of New Jersey, the Lenape Indians, in this interactive introduction to our state's Native American heritage at the Morris Museum. Kids will learn about Lenape culture while they listen to Native American legends, try "wampum" beading, and take part in and other Lenape-inspired crafts and games.
My Fairytale Party: Frozen Performance – Paramus
​Little Annas and Elsas can sing along to their favorite songs from the hit Disney movie in this performance at Garden State Plaza. Catch one of four 30-minute shows that will take place throughout the morning and early afternoon. FREE
Milk & Cookies: Julie Pasqual – New Brunswick
Performer Julie Pasqual combines her talents as a dancer, clown, and actress to present a lively tale filled with colorful characters in this performance at State Theatre of New Jersey. Geared toward kids ages 3–8, the show is part of the theater's Milk & Cookies series, an interactive music and storytelling series designed to introduce kids to live theater. FREE
Christmas Fantasy with Lights Parade at Storybook Land – Egg Harbor
Welcome Santa and Mrs. Claus to Storybook Land in a festive holiday celebration that includes a parade featuring some of your favorite storybook characters. After the parade, Santa will magically set the park aglow with more than a million Christmas lights.
Sunday, November 13
Thanksgiving Harvest Home & Armistice Observance Day – Morristown
Step back in time to 1918 during a visit to Fosterfields Living Historical Farm, where you can witness – and take part in – preparations for Thanksgiving and a celebration of Armistice Day. Activities include interactive farm chores, a wagon ride, and family-friendly crafts, followed by a ceremony honoring U.S. military personnel and veterans.
Second Sundays at the Newark Museum – Newark
This Second Sunday celebration is all about Native American artwork, in honor of the museum's newly designed Native Artists of North America galleries. The day's events will include artist demonstrations, a craft workshop for kids ages 3–5 and their caregivers, a performance by Native American drummers and dancers, a planetarium show based on Navajo stories, and more.
Open Arms: Family Evenings at Garden State Discovery Museum – Cherry Hill
This event, held on select Sundays throughout the year, is an opportunity for kids on the autism spectrum to explore the museum and socialize in a safe, supportive environment. FREE
Seasonal Guided Hike – Short Hills
Take a hike with a teen guide at Cora Hartshorn Arboretum on Sunday and learn all about hibernation. Hikers will also get the scoop on conservation and how to become a Citizen Scientist. There will be three hikes throughout the day, about 45 minutes each. Register online.
Zoo Explorers – West Orange
This drop-off program for kids 4–5 uses movement, crafts, games, and stories to teach kids all about animals. The hour-and-a-half-long program includes a supervised outing to areas of the zoo that are related to the lesson. Advance registration required.
Top image: Santa arrives at Storybook Land. Photo courtesy of Storybook Land.