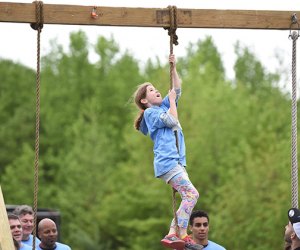 Weekend Fun for LI Kids: Enchanted Forest Trail, Spooky Fest October 15-16
Hop into autumn at the Sands Point Fall Festival or enjoy not-so-spooky attractions and activities at Spooky Fest at the Center for Science Teaching and Learning. Art and adventure await at the Westbury Street Fair. And approved for adults and children of all ages and abilities is the HappyFest Obstacle Course in Calverton.
Also, as the temperature starts to drop, now is the perfect time to peruse our Long Island Classes Guide to find indoor, educational opportunities for children of all ages.
Don't see your event listed here? Add it to our events calendar. And if you don't receive this post in your inbox, subscribe to our newsletter.
All Weekend
Kids Not So Scary Days - Bayville
At the Bayville Adventure Park, these days feature less scary versions of the nighttime haunted house. No live actors. Fun house, mirror maze, Halloween express train ride, pumpkin bounce, miniature golf, indoor rock climbing, bumper boat safari, spooky tree top adventure, bungee bounce dome, wild water balloon wars, tombstone treasure hunt and more. Sunday and Monday too.
Darkside Haunted House Family Friendly Days - Wading River
The Haunted Village is appropriate for all ages before 5pm.
Spooky Fest - Rockville Centre
Take a walk through the haunted woods for a real scare, or try the not-so-spooky walk (great for the younger ones). Fortune telling, arts and crafts, a live animal exhibit, and much more, including Halloween theater.
Fall Festival at Hicks Nurseries - Westbury
Otto the Ghost's animated show will be available. Plus, hayrides, farm animals, and a huge selection of seasonal decorations.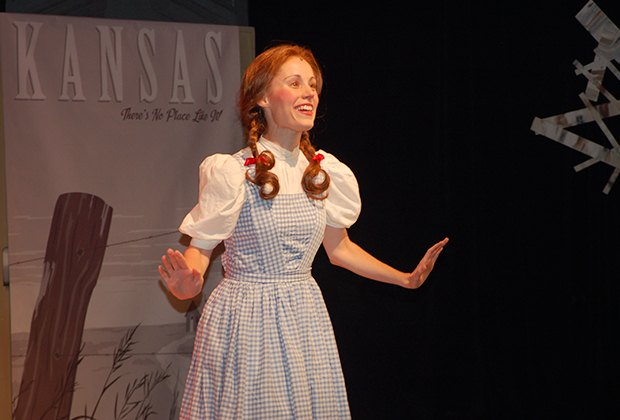 A fresh take on The Wizard of Oz comes to the John W. Engeman Theater.
The Wizard of Oz - Northport
This fresh take on the classic story contains adventure, friendly characters, and humor. People of all ages will enjoy this colorful classic fairy tale from somewhere over the rainbow.
James and the Giant Peach - East Islip
​A delightfully offbeat adaptation of the classic Roald Dahl adventure about a boy and his insect friends who take an amazing journey across the ocean.
Saturday, October 15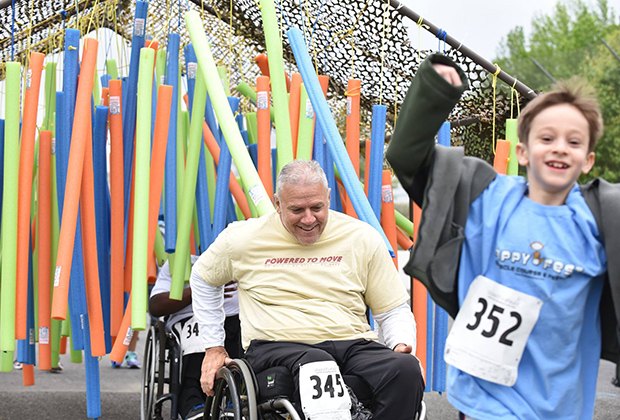 HappyFest is an all-ages all-abilities inclusive course being held in Calverton this weekend.
HappyFest Obstacle Course & Festival - Calverton
The country's first all-ages, all-abilities, accessible obstacle course. HappyFest is designed so that every member of every family and their friends can do the 1+ mile obstacle course and cross the finish line.
Street Fair - Westbury
Merchants and specialty vendors take to the streets. Entertain the kids with inflatable kiddie rides, a petting zoo and pony rides. Try your luck at their balloon bust raffle where every balloon is a winner. Visit the Westbury Arts Councils' pop-up gallery and add your chalk drawing to their street mosaic.
Crestwood Fall Fair - Melville
Some of their most popular activities will be available for children to try: Adventure Ropes Course, Treetop Playground, Carousel, Ferris Wheel, Jumping Pillow, Bungee Trampoline, Sports, Arts & Crafts, and more! Plus, face painting and a scavenger hunt.
Pumpkin Patch Magic - Port Jefferson
A Halloween-themed live performance. Special Sensory Sensitive Performance on Sunday, Oct. 9, 11am. House lights will remain on throughout the performance! Kids are free to move around the theater.
The Royal Villains - Oakdale
You've enjoyed tea with the Princesses and heard their stories too, but now it's time to hear our story in this wickedly good show.
Pumpkin Painting Workshop - Greenlawn
Children ages 4 to 6 will learn how to paint a pumpkin, just in time for Halloween.
Sunday, October 16
Enchanted Forest Trail - Quogue
Follow your guide at the Quogue Wildlife Refuge to meet whimsical, fun, and educational characters along forest trails. The parking lot will be full of games and activities! Costume optional.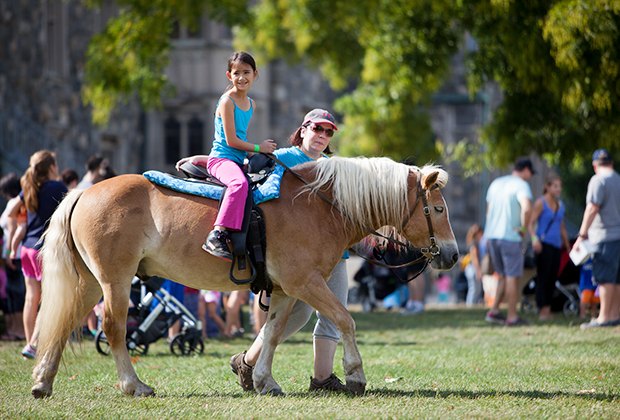 Enjoy a pony ride and more at Sands Point Fall Festival.
Fall Festival - Sands Point
The fall harvest season will be celebrated with outdoor activities for guests of all ages, including a petting zoo, hayrides around the Great Lawn, pony rides overlooking the Long Island Sound, pumpkin painting for budding artists, and a Green Grocer with fresh produce.
Going Batty for Bats - Oyster Bay
In honor of Theodore Roosevelt's fascination with wildlife, as well as the third annual Bat Week 2016 (October 24-31), explore the intriguing lives of bats! A free ranger-led presentation includes activities and crafts. This program is for explorers of all ages. Kids can earn a special Junior Bat Ranger Certificate.
The Listening Walk - Bridgehampton
A big part of being a naturalist has to do with listening to the sounds of nature. Join us for a lovely story about how important it is to listen, both in the natural world and in our everyday lives. Participants will read our story and then go out for a walk in Vineyard Field to listen to autumn's nature sounds and try to identify who is making these sounds.
Bunnicula: Tales of the Vampire Bunny - Bay Shore
A dancing cat, a howling dog , and a vampire bunny in one spooktacular show.
Sunday Seatuck Family Nature Club - Islip
At the Suffolk County Environmental Center, the whole family can learn about the great outdoors.
Top image: HappyFest is an all-ages all-abilities inclusive course being held in Calverton this weekend. All photos courtesy of the events.