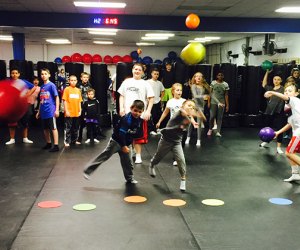 13 Kid-Friendly Things to Do in Deer Park
Perhaps best known for the Deer Park outlets and the Deer Park theater, there is an exceedingly great number​ of kid-friendly things to do in the northeast corner of Babylon. While the deer the town was named for no longer roam Deer Park Avenue, there is still plenty for children to explore and do.
Tanger Outlets at the Arches
152 The Arches Circle
631-667-0600
This village-like shopping experience offers plenty to do for kids. After sizing up at Stride Rite, perusing The Children's Place Outlet and exploring Toys "R" Us Express, be sure to visit the kiddie rides sprinkled throughout the 100 shops. The ice rink is a hit in the winter (November 27th through March 6th), offering lessons on Saturday mornings. Concerts fill the air with tween-friendly sounds during the spring/summer and the Christmas tree lighting event is an annual highlight.
Regal Deer Park Stadium 16 IMAX & RPX
455 Commack Rd.
844-462-7342
Generally clean and highly rated on Yelp, this theater, located in the Tanger Outler center is big, offering many screen sizes and stadium seating, ensuring your littler one doesn't miss a frame.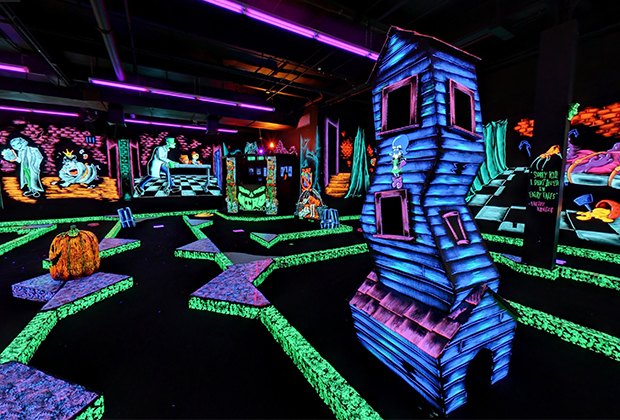 Eighteen holes of glow in the dark monster-themed golf awaits children of all ages.
Monster Mini Golf
410 Commack Rd.
631-940-8900
Hidden in a nondescript former warehouse in western Suffolk County you'll find the ultimate rainy day activity: 18 holes of colorful, day-glow miniature golf. A small arcade features favorites such as air hockey, basketball hoops, Mario Kart and the obligatory crane machines. Earn tickets and exchange them for small prizes.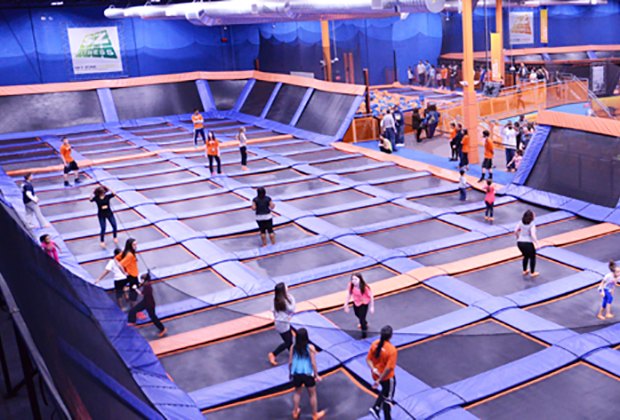 Sky Zone Trampoline Park.
Sky Zone Trampoline Park
111 Rodeo Dr.
631-392-2600
Home of the self-proclaimed first all-trampoline, walled playing court, the venue delivers a fully dimensional experience for children of all ages. A great end-of-the-day stop if you're looking to tucker the kids out before heading home. If you're looking for a "tamer" experience, consider Kangaroo Kids Inflatable Party Center, which offers two-hour open-bounce-play sessions by appointment for kids ages 2 to 12.
Strike 10 Lanes
849 Long Island Ave.
631-667-7750
This full service, no-frills bowling alley can hit the spot when it comes to introducing your children to the sport. Its small size helps cut down on the over-stimulation your child might experience at larger, flashier alleys.
NYZ Apocalypse
450 Commack Rd.
631-392-4700
This interactive live-action theatrical production allows teenagers (16+) and parents to unite as they traverse the "Apollo Prison System" to fend off zombies with infrared laser beam "guns" that fire up to 500 yards. Teamwork required!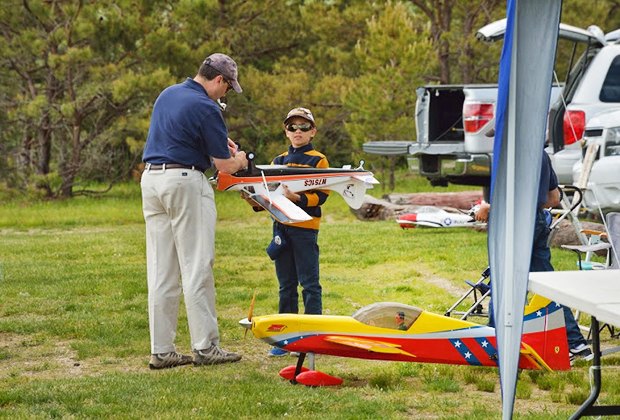 It's a bird...it's a plane...it's the Edgewood Flyers!
Edgewood Flyers
Commack Rd.
631-444-0200
Nestled within the Edgewood Forest Preserve off of Commack Road you will find The Edgewood Flyers, a model aviation group that has been in existence for over 40 years. Kids marvel at the life-like aircraft taking flight and learn valuable lessons in math and science.
Total Body Shaping - Dodgeball
1008 Grand Blvd.
631-254-5425
Bring friends or make new ones during a Friday-night, two-hour dodgeball session. Children ages 7-13 years old use a kid-safe soft foam core dodgeball during safe and supervised games.
Theory of Arts & Sciences
1915 Deer Park Ave.
888-827-8188
Unleash your child's creativity during a Create & Meditate session. Kids get artistic in a serene setting, surrounded by candles and incense. All art materials are provided.
Strikeforce Sports
450 Commack Rd.
631-242-1197
Depending on age, children can grab a Nerf blaster or Airsoft gun and take to the safe, climate-controlled 65,000 square foot gaming floor to face off against each other. An adult-only waiting lounge lets you view the action on a series of monitors.
Slides, Swings and More
Birchwood Park
Sunburst Dr.
Baseball fields, turf fields for football/soccer. Facility also includes a playground, restrooms, and free Wi-Fi access.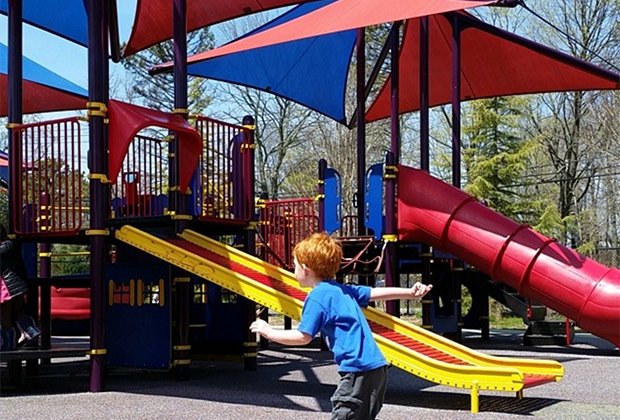 Pine Acres playground. Photo by Phil Rine via Instagram.
Pine Acres Park
Pine Acres Blvd.
Junior baseball fields, a playground, restrooms and free Wi-Fi access.
State Trooper Fabio Buttitta Memorial Park
Acorn St.
Basketball and tennis courts and a roller hockey rink. Facility also includes a playground, swimming facility, restrooms and free Wi-Fi access.
Deer Park is also home to pretty much every chain restaurant on the planet, including one of New York's only Sonic Drive-Ins. If you're a first-timer, the kids will get a kick out of the 22 carhop stalls. Kid's menus are rampant pretty much everywhere and food options are generally accessible and affordable throughout.
Top image: Total Body Shaping dodgeball. Unless otherwise noted, all photos courtesy of the venues.