Staten Island's Snug Harbor Cultural Center is Worth the Trip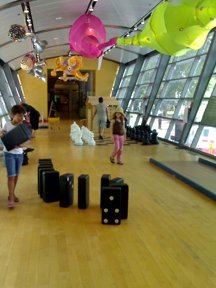 Have you ever wondered what would happen if you actually got off the Staten Island Ferry when you got to Staten Island? I know, it seems like a radical idea, but Staten Island actually has plenty to do for kids to make it well worth your while to get off the ferry on the other side. This weekend we went to the Snug Harbor Cultural Center. A five minute bus ride takes you right from the ferry terminal, through some really nasty industrial neighborhood, and drops you off in front of a dilapidated gate. Stepping through the gate, however, takes you into an entirely different world. The Snug Harbor Cultural Center was once a Naval retirement home. (If you ever doubted that the Navy takes care of its own, you can stop now). Snug Harbor has the feeling of a grand estate with beautiful grounds and elegant buildings. It's all now been turned into a Botanical Garden, The Staten Island Children's Museum and several other cultural institutions.
My kids had a blast at the Staten Island Children's Museum exploring its three floors of fun. The first floor has a hall of giant games. Kids can play giant chess, tic tac toe, bowl and more. The rest of the first floor is taken up by an exhibit that lets kids explore different environments (undersea, polar, rain forest, etc). Most of this exhibit seemed to be lost or broken, but my kids didn't seem to notice or care much. The third floor was the highlight with a bug exhibit that had terraniums of live bugs, including a working bee hive, a giant ant hill kids can climb through, and educational games. Despite the somewhat spotty nature of the museum, my kids spent about two hours there and could probably have stayed longer. And since it's in Staten Island, it was not crowded, even on a Sunday. There was other stuff at the museum that we didn't have time to do, like an outdoor playground, a theater that was showing little plays, and other activities. Even though my kids had a great time at the museum, I am not sure I would recommend going all the way out there just to visit it if that's all there was, but the museum was only the beginning of our day. There is also the wonderful Staten Island Botanical Garden featuring an incredibly beautiful Chinese Scholar's Garden, a butterfly garden and a formal vegetable garden among others. The gardens are just a joy to walk through and my kids loved discovering all the different plants and gardens. To put the icing on the cake for this wonderful day was the Cafe Botanica, an elegant little restaurant with outdoor seating and one little room indoors. Cafe Botanica is my ideal dining experience. Elegant, but relaxed with outdoor seating shaded by umbrellas and old trees. The restaurant serves lunch and on Fridays and Saturdays stays open after the gardens are closed to serve dinner. We just missed the lunch and were forced to fill up on desserts (what I do for you, my dear readers). They serve several kids of sorbet in the fruit shell and pies. YUM!
Find more must-see museums and hot spots in our Culture Guide.