Free Summer Outdoor Sports Programs for NYC Kids: No-Cost Swimming Lessons, Tennis, Kayaking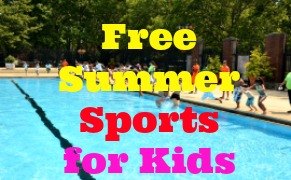 Just because we live in a concrete jungle doesn't mean our kids can't enjoy a summer filled with great outdoor, athletic activities. And you don't even need to be a Hilton to afford it.
New York City offers many opportunities for kids to learn team sports and also try swimming, tennis, golf, fishing, kayaking and more at no cost. Of course registering for these FREE programs takes a little legwork and, since many are first-come, first-served, punctuality. We've got the scoop on what's available, and how your kids can vie for spots. You can find more no-cost activities in our Free in NYC Guide.
Note: A few of these programs haven't finalized details for summer 2015. Please check back as we'll be updating this post as info comes in.
CityParks Sports
The CityParks Foundation runs free tennis, golf, and track & field programs for kids who reside in NYC. All equipment is provided. Call 718-760-6999 or email Sports@CityParksFoundation.org for additional info about any of the following programs.
CityParks Tennis offers instruction for children ages 6 to 16 of all skill levels, from beginner lessons to tournaments and leagues.
How to register: Just pick a location and sign your kids up for the full session at the first lesson, no advance registration is required. According to the staff, no one is ever turned away. Is your kid an aspiring pro? Then consider the Junior Tennis Academy, a free tournament-training program held at the USTA Billie Jean King National Tennis Center. 2015 tryouts will be held on Saturday, May 16 and 50 players ages 8 to 16 will snag coveted spots.
In CityParks Track & Field, children ages 5 to 16 can jump hurdles, participate in relay races, and try the long jump, shot put and javelin throw.
How to register: Just pick a location and sign up your kids at the first lesson, no advance registration required. According to the staff, no one is ever turned away.
CityParks Golf offers lessons for children ages 6 to 17.
How to register: Unlike CityParks Tennis and Track & Field programs, Golf requires advance registration, so sign up online once registration goes live.
Learn to Swim
The NYC Department of Parks & Recreation offers free summer swimming lessons for children as young as 18 months through adulthood at public pools. There are multiple summer sessions. In addition, children ages 6 to 18 who can swim 50 meters in reasonably good form can join free swim teams.
How to register: The Parks Department will hold an online lottery in June. You can find additional details in our in-depth free swim lessons post.
 
New York Junior Tennis Community Tennis Program
NYJTL offers free programs in all five boroughs for children ages 5 to 18 throughout the spring, summer and fall. All skill levels are welcome and loaner rackets are available. Visit the website for a list of locations and schedule.
How to register: Since registration is ongoing, children can join anytime. Just head to the location of your choice. Registration must be done in person and your child must be present. For more info, call 347-417-8177 or email tc@nyjtl.org.
 
Urban Park Rangers
Despite cutbacks in recent years, the Urban Park Rangers continue to offer lots of free outdoor programs for kids. The organization's online calendar includes hiking, orienteering, canoeing, birding and fishing activities for families. It's also smart to subscribe to the quarterly Nature and Outdoors newsletter since some cool events don't seem to make it online until the last minute.
The Urban Park Rangers Weekend Adventures include canoeing, birding, hiking, survival skills, astronomy and more. These activities let you experience New York City's thousands of acres of parkland as you never have before. You'll forget you're in the city entirely!
How to register: For many outings, you just show up and enjoy. Others require entering an online lottery. Visit the website for more info.
The Rangers also oversee the Alley Pond Park Adventure Course in Queens, designed to foster trust, problem solving and team-building in a safe and secure environment. Families with children ages 8 and up can try to tackle it on Sundays from May 10 through November 1.
How to register: Only 40 slots are available each Sunday so arrive early! Due to demand, in July and August you must enter an online lottery the Monday before to vie for a spot.
The Urban Park Rangers also offer free family camping at various city parks. Currently, camping dates are listed through June on the website, but check back as more will be added by late spring.
How to register: You must enter an online lottery to vie for spots. Usually the lottery takes place over a 24-hour period about 10 days before the outing. Space is extremely limited. I have yet to win a spot for a Central Park sleepover despite trying four years in a row! The first family campout of the season is coming up on Saturday, May 30 in Van Cortlandt Park and you can enter the lottery on Wednesday, May 20. Check the registration page regularly for other family camping lotteries.
 
The Central Park Conservancy
The Central Park Conservancy has free kits families can borrow for a few hours. Birding Discovery Kits containing binoculars, a guidebook, maps and sketching materials are available free of charge at Belvedere Castle (mid-park at 79th Street) so kids can go bird-watching. Meanwhile, Field Day Kits are available at the North Meadow Recreation Center (mid-park at 97th Street) and include a variety of balls, bats, Frisbees and jump ropes. In order to borrow the kits, parents or caregivers must leave a valid picture ID.
 
Battery Park City Parks Conservancy
This organization sponsors many free (or inexpensive) programs for children of all ages, including gardening, bird-watching, fishing and more. Toys, games and play equipment can also be borrowed from the kiosk just south of Rockefeller Park. Registration varies depending on the offering. Visit the website for a complete schedule.
 
Kayaking
A number of volunteer-run organizations offer no-cost, walk-up kayaking at various launch points throughout NYC. Rules vary but usually children under age 16 must ride in a double kayak with an adult. No registration is required but you may have to wait on a line.
Downtown Boathouse at the newly renovated Pier 26 offers kayaking from May to October.
Manhattan Community Boathouse offers kayaking at 56th Street and 72nd Street on the Hudson River on weekends. Check the website for schedule.
Brooklyn Bridge Boathouse offers kayaking every Saturday from 10am to 3pm and Thursday from 5:30pm to 6:45pm from June 6 to August 29 in Brooklyn Bridge Park between Piers 1 and 2.
Long Island City Boathouse hosts kayaking at Hallets Cove in Long Island City, Queens. See the website for schedule. In 2014, the organization debuted kayaking at Gantry Plaza State Park, too.
Kayak Staten Island operates from South Beach. Check the website for the complete schedule.
 
Catch-and-Release Fishing in Central Park
The Harlem Meer, located at the northeast corner of the park, is probably the best spot to fish with kids in the city. The lake is stocked with a wide variety of fish, including golden shiner, largemouth bass, pumpkinseed sunfish, bluegill sunfish, carp and chain pickerel. Bamboo fishing poles are available free of charge (you must leave a valid picture ID) from mid-April through mid-October at the Charles A. Dana Discovery Center, located on the north shore of the Harlem Meer at 110th Street between Lenox and Fifth Avenues.
There are lots of other places for catch-and-release fishing in NYC. Check the Parks Department's website for a complete list.  
Summer Play Streets
There are two programs that turn designated streets into makeshift play spots: The Police Athletic League Summer Play Streets and the Parks Department Play Streets. The summer 2015 schedules have yet to be determined, but we'll update this post once they're available.
Big Apple Games
Big Apple Games takes place indoors not outside, but these activities are worth knowing about: The Public Schools Athletic League sponsors this program, which runs Tuesday, July 7 to Thursday, August 6. From Monday-Thursday, 1pm-5pm and 6pm-9pm, students in ninth to 12th grades can hit the Afternoon & Evening Teen Recreational Centers for wrestling, volleyball, basketball, softball, floor hockey, team handball, gymnastics, ultimate Frisbee, arts and crafts, and swimming lessons. The Junior High School Program for students in fourth to eighth grades is open from 9am-3pm on weekdays, and offers a variety of activities including arts and crafts, game room fun and sports. All sites are staffed with licensed teachers and school safety officers. Visit the website for a list of locations and schedule.
How to register: Kids can show up at the location of their choice on the days they want. Call 718-707-4208 for more info.
 
Kids Bowl Free
Again, we're cheating a bit with this one since it's also indoors, but it's still free (and air conditioned)! Astoria Bowl (April 15-September 7) and Jib Lanes (May 1-September 4) in Queens, and Brooklyn's Shell Lanes (June 21-August 31) offer Kids Bowl Free programs. Children under 16 can bowl up to two free games per day—times vary and shoe rental is not included.
How to register: Sign up online at the respective websites and receive your coupons via email.
If you'd like to find out about additional programs, here are two sites to bookmark. BeFitNYC on the Parks Department website allows you to search for all sorts of athletic activities for any age. Some programs are free, others aren't. But it's a useful tool, just be mindful of the details. Also, check out the Parks Department's list of Youth Sports Programs & Instructional Clinics. All programs are free, but often participants must be registered members of a NYC recreation center. Happily, children under 18 are eligible for free annual memberships.
Find lots of other no-cost fun in our Free in NYC Guide, including info on free and cheap summer camps.
This post was originally published in May 2010.