Where to See Macy's 4th of July Fireworks in New York City 2014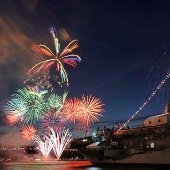 See ya Hudson River: On Friday, July 4, Macy's Fireworks Spectacular will illuminate the skies over the East River for the first time in five years. This is a very exciting change for many New Yorkers since the fireworks will now be visible from lower Manhattan and parts of Brooklyn. (If you just must see fireworks on the Hudson, Liberty State Park's Freedom and Fireworks Festival promises sparklers on the New Jersey side of the Hudson near the Statue of Liberty at 8pm.)
The glorious Brooklyn Bridge will serve as the backdrop for the sparklers. More than 40,000 fireworks are scheduled to burst forth from the landmark and three floating barges on the water, synchronized to a soundtrack of patriotic standards. And if you're worried about the weather, Macy's says the show will go on rain or shine (though perhaps a little late).
If you're hoping to watch Macy's 4th of July Fireworks live, it's never too early to start planning your viewing strategy. Tickets for paid viewing options like 4th of July Fireworks cruises are already on sale and going fast. Of course you don't need to spend a penny see the sparklers, but there are some important things to know before you go. We've got the scoop on how to find the best places to watch Macy's 4th of July Fireworks with your family.
The Basics
Macy's 38th annual 4th of July Fireworks will take place on the East River by the Brooklyn Bridge. The official start time is 9pm, however, the show usually begins around 9:25pm and lasts approximately 40 minutes. Rain could delay the show further.
Of course you need to claim your viewing spot long before sundown. Plan to arrive around 5pm or even earlier. There will be some cool extras to keep you entertained while you wait. At 7:30pm, two US Navy F-18 jets will fly over the area, followed by the NYPD helicopter unit. At 8pm, FDNY fire boats will put on a water show on the river. Be prepared to stand or sit on the ground: The New York Police Department won't allow you into the area with backpacks, lawn chairs or other large items, and they often search your bags.
If you're not up for fighting for a great spot, you can always watch Macy's 4th of July Fireworks live on NBC. This year's telecast will be hosted by Nick Cannon and feature live performances by popular pop stars Enrique Iglesias, Ariana Grande, Hunter Hayes, Miranda Lambert and Lionel Richie. Wherever you are, you can tune into 1010 WINS-AM radio to hear the synchronized fireworks soundtrack featuring re-imagined versions of patriotic tunes like "This Land is Your Land" and "America the Beautiful." In honor of the 200th anniversary of "The Star-Spangled Banner," Frozen star Idina Menzel recorded a special edition of our National Anthem that you can listen to for free on Macy's website through Saturday, July 5.
 
Best Viewing Locations
It's been five years since Macy's 4th of July Fireworks took place on the East River, which means our usual go-to viewing spots are no longer valid. It also means we don't have personal experience with bringing our kids to see the fireworks in this new location, so we're doing a bit of guesswork to figure out the best places to watch.
Anywhere you have a good view of the Brooklyn Bridge and the sky above it should work. According to Macy's website, here are the official public viewing locations:
Manhattan's FDR Drive between the Manhattan Bridge and Montgomery Street - enter at Montgomery Street or South Streets
The Manhattan entry ramp to the Brooklyn Bridge - enter from St. James Place/Pearl Street to Wagner Place and you'll find viewing both north and south of the bridge
Broad Street and Old Slip at Water Street - viewing between the Heliport and the south side of the Brooklyn Bridge
Piers 1 to 6 in Brooklyn Bridge Park - enter at Old Fulton and Furman Streets or Atlantic Avenue and Furman Street. Many attractions in the park are closing early including the Pier 2 Pop-Up Pool, Jane's Carousel, the Squibb Park and Bridge, and the playgrounds so if you had visions of playing until showtime, that's not going to happen. The NYPD will also be checking all bags, and backpacks and chairs are not allowed.
The Brooklyn Heights Promenade - enter at Columbia Heights and Pineapple Street, Montague Street and Pierrepont Place, or Remsen Street and Montague Terrace (note: Macy's site says "Pierrepont and Remsen Streets" however that intersection doesn't exist. We're pretty sure this is what they meant).
Since this information may change before July 4 arrives, make sure you check Macy's website before you head out the door or you can call the store's dedicated Fireworks hotline at 212-494-4495. Many streets will also be closed to traffic (including sections of Montague Street, Remsen Street, Old Fulton, Furman Street, Columbia Heights and Hicks Street), so whatever you do, don't drive!
Although they're not listed as official viewing locations, you should be able to see the fireworks from lower Manhattan's East River Park, and the waterfront area between the Brooklyn and Manhattan Bridges. However, it's possible the NYPD is planning to close off these areas. Remember, the police have the power to shutter any street at any moment (and they often do)! Williamsburg's Grand Ferry Park and East River State Park might offer views, depending on the placement of the fireworks barges, but good sight lines are not guaranteed. Wherever you go to watch the fireworks, expect huge crowds.
If you have an elderly or disabled person in your party, head to the Murry Bergtraum High School track and field facility at the base of the Manhattan Bridge, which has been specially set aside for people with physical challenges. Use the entrance at Market and Cherry Streets.
 
Where Not to Go
The South Street Seaport's Piers 15-17 will be closed to the public.
The East Side of Manhattan above the Williamsburg Bridge won't offer views unless you're up very high.
Battery Park won't offer views of Macy's fireworks, though you should be able to see Liberty State Park's Freedom and Fireworks Festival near the Statue of Liberty at 8pm.
 
Paid Viewing Options
If you feel like splurging, consider hopping on a boat. We have a post about 4th of July fireworks cruises sailing out of Manhattan, Brooklyn, the Bronx and New Jersey.
Find out about other family-friendly ways to celebrate our nation's birthday in our July 4th weekend events post.
Sign up for our FREE newsletters to get posts like this delivered to your inbox.