Thanksgiving Weekend 2014 for NYC Kids: Macy's Parade, Santaland, Holiday Train Shows, Brooklyn Nets Kids' Day, Nostalgia Trains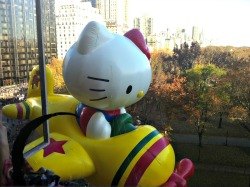 The big to-do in New York City this holiday is, of course, Macy's Thanksgiving Day Parade. If you plan on taking your kids to see it or the awesome Balloon Inflation the night before, we've got tips on how to scope out the best spots and other useful info about these must-see spectacles.
This weekend officially kicks off the holiday season and there are plenty of ways for families to get into the spirit (besides hitting a Black Friday sale). The New York Botanical Garden's beautiful Holiday Train Show is up and running, Santa is setting up shop at Macy's and the big department stores have unveiled their over-the-top holiday windows. There's non-holiday fun, too, like cool animated films at the Museum of the Moving Image, Swiss mime troupe Mummenschanz at the Skirball Center and kids' day at the Brooklyn Nets.
These are just some of the great things going on this Thanksgiving weekend. Read on for all of our picks and remember, you can find additional options in our Event Calendar and our Holiday Fun Guide.
All Weekend
Santaland at Macy's Herald Square – Midtown West
One of our November GOList picks: Santa Claus flies into the famed department store on the heels of the Thanksgiving Day Parade. Macy's mounts an entire North Pole village with live elves, an enchanted forest featuring animatronic toys and a train display. Even if you do end up on a long line, there's so much to look at the kids don't mind the wait (much). And the lines tend to be shorter the earlier you go in the season. Read our in-depth post with tips about how to skip the line completely. Friday-Sunday. Free admission; photo packages are $20-$60
The Three Bears Holiday Bash – Upper West Side
Hit Central Park's Swedish Cottage Marionette Theatre for its annual seasonal show featuring the three bears and all of their fairy-tale friends. This spirited puppet performance celebrates all of the holidays: Christmas, Kwanzaa and Hanukkah. Friday-Sunday. $10 for adults, $7 for children under 12
Big Apple Circus: Metamorphosis – Upper West Side
Marvel at top-notch acrobats, aerialists, animal acts (including camels and a porcupine) and the most amazing contortionist ever at the Big Apple Circus' brand-new spectacle. My son and I saw it opening weekend and really loved it. $25-$175 but save money on tickets through our affiliate Goldstar
Mummenschanz – Greenwich Village
Another November GOList pick: The amazing Swiss mime troupe is back with an overhauled 80-minute show at the Skirball Center for the Performing Arts. In addition to some of the troupe's signature acts—clay masks, a voracious giant green ball, those iconic toilet paper creatures—there are a slew of brand-new whimsical vignettes sure to inspire laughs in audiences of all ages. Two Mommy Poppins bloggers and their kids went this past weekend and were totally charmed. Friday-Sunday. $49-$85 but save on select performances at BroadwayBox.com.
New York Botanical Garden Holiday Train Show – the Bronx
And another November GOList pick: One of my family's must-do holiday events, the NYBG's 23rd annual train show features model trains whizzing by more than 150 NYC landmarks made out of acorns, twigs, bark, berries and leaves. Friday-Sunday. Free with All-Garden Pass: $28 for adults, $16 for children ages 2-12
Holiday Train Show at Grand Central Terminal – Midtown East
A more low-key and less expensive holiday train show can be found in the New York Transit Museum gallery annex in Grand Central Terminal. It's a modest display but my son loves it, plus it's FREE. Friday-Sunday.
Holiday Windows Walk – Midtown East
Yet another November GOList pick: By Thanksgiving, all of the big department store holiday windows will be up (we already saw the displays at Macy's, Lord & Taylor and Barneys this past weekend and they're all amazing). Crowds are usually surprisingly sparse Thanksgiving weekend so it's a great time to gawk. Look for our official holiday windows walk post next week! FREE
See it Big! Animation – Astoria
Catch awesome animated flicks like Princess Mononoke, Fantastic Mr. Fox and the classic Fantastic Planet (La planète sauvage) at the Museum of the Moving Image's brand-new film series, which kicks off this weekend. Friday-Sunday. Most (but not all) screenings are free with admission: $12 for adults, $6 for children ages 3-12
The Illusionists: Witness the Impossible – Midtown West
Watch in amazement as seven magicians make their collective NYC debut with an over-the-top trick-filled spectacle. Each performer specializes in a different type of illusion, so expect feats of mind-blowing levitation, mind-reading, disappearing and a full-view water escape à la Harry Houdini. Friday-Sunday. $67-$147 
Thursday, November 27
Macy's Thanksgiving Day Parade – Upper West Side to Midtown West
Our final November GOList pick for the weekend: The only thing that's not family-friendly about this procession of pop-culture-inspired floats and giant balloons is the fact that you need to arrive around 6am to stake out your spot. Be sure to read our tips about the best places to watch the Thanksgiving Day Parade. FREE
Also take note: Many Black Friday sales now start on Thursday evening, in case you're looking to take advantage of the deals.
Check out our post about what's open on Thanksgiving in NYC for more ideas about what to do with your downtime between the parade and turkey.
Friday, November 28
Day After Thanksgiving Hike – Staten Island
Work off that second slice of pumpkin pie at this guided two-hour hike through Staten Island's Greenbelt. FREE but preregistration is required so email naturecenter@sigreenbelt.org
Saturday, November 29
Holiday Tree Lighting – Park Slope
Watch the tree light up at local cafe S'Nice, plus enjoy face time with Santa and Frosty, performances by Puppetry Arts, and complimentary hot chocolate, cookies and brownies. FREE
Kids AM Skate with Clifford the Big Red Dog – Prospect Park
Take a spin around the Lakeside rink with every preschooler's favorite giant red pooch. Storytime, crafts, screenings of Clifford cartoons and photo ops are also on tap. $15 includes admission, skate rental, breakfast and activities
Sunday, November 30
MTA Holiday Season Nostalgia Trains – Long Island City to the Lower East Side
For just a swipe of your MetroCard, you can enjoy a classic ride on vintage R/1 through R/9 subway trains that date from the 1930s through the 1970s. These special trains run on the Sixth Avenue line between Queens Plaza and Second Avenue stations on four consecutive Sundays beginning November 30. Old-school advertisements, from quaint to downright funny, and overhead displays have all been maintained and refurbished by the New York Transit Museum. $2.50
Brooklyn Nets Kids' Day – Fort Greene
Enjoy a special family-centric game between the Nets and the Chicago Bulls at Barclays Center featuring a kid co-announcer and the debut of the Brooklyn All-Star Kids dance troupe. There will games, giveaways and activities for children including face painting and balloon twisters, and Mommy Poppins will be there with a booth, too. $45 and up but Mommy Poppins readers can save up to 33% off select tickets by using promo code KIDS
The Sound of Music – Fort Greene
Introduce the kids to this beloved movie musical on the big screen at BAM. $10 for adults, $7 for children under age 13
Don't forget: There's lots more fun in our Event Calendar, and our Thanksgiving and Holiday Fun Guides.