Thanksgiving Weekend for NYC Kids: Macy's Parade, Santaland, Dyker Lights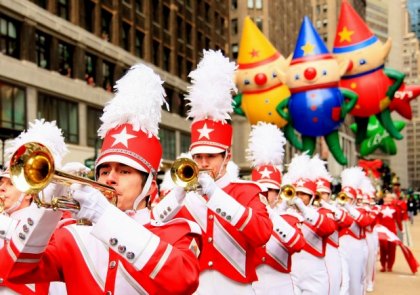 Whether you're visiting NYC or staying local for Thanksgiving, there is plenty for kids and families to do over the holiday and long weekend while school is out.
Have we mentioned the Macy's Thanksgiving Day Parade yet? There will be a dozen marching bands! Plus, the New York Botanical Garden's beautiful Holiday Train Show is up and running, Santa is brunching with kids all over town, the big department stores are unveiling those over-the-top holiday windows, and Christmas tree and other holiday lights are being switched on all over NYC.
There's lots of non-holiday fun to enjoy, too, like a feline-themed stop-motion animation workshop, a Black Friday non-shopping event for families and plenty of theater, including preschool favorite Clifford the Big Red Dog.
These are just a few of the great things going on this Thanksgiving weekend. Read on for all of our picks, and remember, you can find additional options in our Event Calendar. Happy Thanksgiving!
Thursday, November 26 — Thanksgiving
Macy's Thanksgiving Day Parade — Upper West Side to Midtown West
The big attraction today is the Thanksgiving parade. The only thing that's not family-friendly about this procession of pop-culture-inspired floats and giant balloons is the fact that you need to arrive around 6am to stake out your spot. Be sure to read our tips about the best places to watch the Thanksgiving Day Parade. FREE
Check out our post about what's open on Thanksgiving in NYC for more ideas about what to do while you wait for turkey time.
Friday, November 27
Day After Thanksgiving Hike — Staten Island
Work off that second slice of pumpkin pie at this guided two-hour hike through Staten Island's Greenbelt. FREE but preregistration is required.
The Lion, the Witch and the Wardrobe — Flushing
Watch a charming, musical adaptation of C.S. Lewis' beloved tale of the four young children that discover Narnia at the Queens Theater.
Hands on Nano Demo — Midtown East
Head to the Sony Wonder Technology Lab to learn about the world of nanoscience and nanotechnology, and participate in activities that explore the properties, structures, materials and scale of this field of science. Afterward, stay and play at the interactive tech museum. FREE
Buy Nothing Day — Staten Island
Not ready for holiday shopping yet? Visit Clay Pit Ponds Park Preserve where the park rangers are organizing recycling relay races, crafting and other amusements for families. FREE
All Weekend
My son hands Santa his wish list at Macy's Santaland.
Santaland at Macy's Herald Square — Midtown West
One of our top holiday picks: Santa Claus flies into the famed department store on the heels of the Thanksgiving Day Parade. Macy's mounts an entire North Pole village with live elves, an enchanted forest featuring animatronic toys and a train display. Read our in-depth post with tips about how to skip the line completely. Free admission
Dyker Lights — Dyker Heights
The over-the-top house displays in Dyker Heights are illuminated for the season this weekend. The neighborhood is accessible via public transportation but you can also take guided bus tour. FREE to walk around, fees for the guided bus tour.
Fancy Nancy Splendiferous Christmas — Upper East Side
It's opening weekend for Vital Children's Theatre holiday hit revival. Watch as pint-size fashionista, Fancy Nancy, searches to find the most fabulous Christmas tree ever. Of course, things don't go quite as she plans, but it all turns out all right in the end, with her family trimming the tree with help from children in the audience. 
Purrfect Puppet Animations Workshops — Astoria
In conjunction with its "Cats Take Over the Internet" exhibit, the Museum of the Moving Image hosts a feline-themed stop-motion animation workshop for kids. Participants can create cat puppets and then give them a starring role in a short animated piece of their own. 
Revolutionary War reenactors will be stationed at the New-York Historical Society. Photo courtesy of the museum.
Living History Weekend: American Revolution — Upper West Side
The New-York Historical Society celebrates Thanksgiving with special visitors from the past: soldiers from the Third New Jersey Regiment fighting in the American Revolution. These reenactors portray members of the New Jersey militia and will teach kids about life during the Colonial-era fight for freedom and let them explore their gear and uniforms. Friday-Saturday. Free with paid admission.
Holiday Windows Walk — Midtown East
This is one of our favorite holiday traditions. Even though Midtown's department stores seem to decorate earlier each year, our family always spends an afternoon or morning of Thanksgiving weekend strolling past the elaborate holiday windows along Fifth Avenue and elsewhere. Crowds are usually surprisingly sparse Thanksgiving weekend so it's a great time to gawk. Check out the photos from one of our previous holiday window walks. FREE
The Illusionists: Live on Broadway — Midtown West
This amazing magician collective made its NYC debut last year with an over-the-top, high-tech spectacle. My son and I saw it and loved it so much, we've already bought our tickets for the this season! This year's edition has three new artist in the troupe, which will once again perform a show-stopping roster of incredible stunts and tricks.
Saturday, November 28
Holiday Tree Lighting — Park Slope
Celebrate Small Business Saturday by watching the tree light up on the corner of 5th Avenue and 4th Street. Families can also hang with Santa and Frosty, enjoy free treats, giveaways, live music, a sports-car riding Santa and a brand-new light show.
LARD Dog will delight kids with a zany live show, Life's a Real Dream. Photo courtesy of the production.
LARD: Life's a Real Dream — East Village
Check out this fun kid show that mashes rock-and-roll and animation together in a one-of-a-kind way. The musical extravaganza features LARD, an adorable cartoon character, who comes to Earth on a giant pretzel with his friends, the Band of Shy, for a zany musical experience.
Sunday, November 29
MTA Holiday Season Nostalgia Trains — Long Island City to the Lower East Side
For just a swipe of your MetroCard, you can enjoy a classic ride on vintage R/1 through R/9 subway trains that date from the 1930s through the 1970s. These special trains run on the Sixth Avenue line between Queens Plaza and Second Avenue stations on four consecutive Sundays beginning November 29. Old-school advertisements, from quaint to downright funny, and overhead displays have all been maintained and refurbished by the New York Transit Museum.
Nocturnal Wildlife — Central Park
Take a walk through Central Park at dusk with the Urban Park Rangers to learn and hopefully even see some of the nocturnal critters that call NYC home when they are active during the darkest hours of night. FREE
Clifford the Big Red Dog: Live — Staten Island
Fans of Norman Bridwell's enormous red pooch will enjoy seeing him, Emily Elizabeth and the rest of the Birdwell Island gang in this sweet family musical.
Don't forget: There's lots more fun in our Event Calendar, and our Thanksgiving and Holiday Fun Guides.
Top image: A dozen marching bands will play in the annual Macy's Thanksgiving Day Parade on Thursday. Photo courtesy of Macy's.