Night at the Museum: 7 Museum Sleepovers in New York City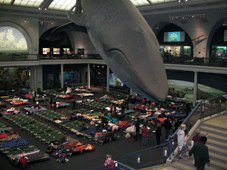 We recently wrote about the new Extreme Sleepovers at Ripley's Believe it or Not! Odditorium. Museum Sleepovers are all the rage ever since the Night at The Museum movie hit theaters. Not only can you spend the night at the Museum of Natural History, just like they do in the movies, but you can sleep over at 6 other cool spots as well.
However, these NYC-style pajama parties aren't just super cool, they can also be super expensive and sometimes super tough to get into. So if you want to splurge on an amazing overnight experience for your child this year, you may want to book early as spaces can fill up fast. Each event includes meals/snacks and requires adult chaperones to take part and some are exclusively for scout groups.
 
American Museum of Natural History's "A Night at the Museum"
Central Park West at 79th Street, Manhattan
See if things get as hairy as in the movie! The popular "Night at the Museum Sleepover" invites children and chaperones to explore after hours and then camp out in one of the exhibit halls. A flashlight fossil search is one highlight of this fun and educational tour.
Ages: 6-13
Cost: $129 per person
Schedule: Check schedule online. Some nights are exclusively for scouts. Dates fill up quickly.
More Information and Booking: 212-769-5200 or here.
Read our Mommy Poppins review!
 
 
The Bronx Zoo "Family Overnight Safari"
2300 Southern Blvd, Bronx
A slumber party with lions, tigers and bears - oh my! See for yourself what the animals get up to after the sun goes down at these "Overnight Safaris." Families have a front row seat for the zoo's own late night show where the guests are some interesting creatures. Your tent will receive nature's own wake up call from the peacocks.
Ages: 5 and up
Cost: $175 per person
Schedule: Check the schedule well in advance. The program is often sold out.
More Information and Booking: here.
Read our Mommy Poppins review.
 
 
Intrepid Museum's "Operation Slumber" 
Pier 86, West 46th St & 12th Ave
Try out your sea legs and spend a night on the Intrepid Sea, Air and Space Museum, docked on Manhattan's West Side. Overnight guests get to explore the Hangar and Flight Decks and take part in a treasure hunt.  Open to groups or individuals with chaperones.
Ages: 6 -17
Cost: $120 per person
Schedule: About one sleepover planned monthly.
More information and Booking: 646-381-5010 or here.
 
Historic Richmond Town's "Mystery, Murder and Mischief Sleepover"
441 Clarke Avenue, Staten Island
Step back in time at this Staten Island sleepover, only available for private parties and groups of up to 20 children.  Guests take a candlelight tour of the early American town and witness a mock murder trial at the 1837 courthouse, where they bunk down for the night. 
Ages: 8 - 12
Cost: $45 per child; $40 for each adult chaperone
Schedule: Available for groups year round
More Information and Booking: (718) 351-1611 ext. 281 or here.
 

Rubin Museum of Art "Peak Experience"
150 West 17th Street, Manhattan
Climb a virtual Mt. Everest in this one night only adventure at the Rubin Museum of Art. Expert guides teach the young mountaineers about camping safety, leadership and team work, as well as Himalayan art and Sherpa culture.
Ages: 9 - 12
Cost: $175 the last time it happened
Schedule: Sporadic, check site often and early.
More Information and Booking: 212.620.5000 x 344 or here.
 
 
New York Hall of Science "Science Sleepover"
47-01 111th Street, Queens
Make your own discovery at these overnight science parties offered to community groups and scout groups only. Kids can experiment with hands-on exhibits and see live science demonstrations before settling in for the night.
Cost: $69 per person
Schedule: Check site.
More Information and Booking: 718-699-0005 ext. 348 or here.

Ripley's Believe it or Not Odditorium "Extreme Sleepover" in Times Square
234 West 42nd Street, Manhattan
A freaky, fun offering, the "Extreme Sleepover", sends kids searching for oddities via flashlight and through a laser race, before settling down for a movie. Little ones are tucked in by a mummy and in the morning claim an official Survivor Certificate.
Ages: 6 - 18
Cost: At last check, $115 per participant not including tax but call for up-to-date pricing.
Schedule: Check website for upcoming dates.
More Information and Booking: 212-398-3133 or here.
Read our Mommy Poppins review.
 
Tips: 
Be sure to inquire about group or member discounts.
Activities go into the wee hours. If you have younger children in your group, you may want to have an extra adult to go to bed when they burn out.
A museum sleepover makes a super snazzy birthday experience. Ask if your chosen venue will serve your cake during snack for a small fee.

For other cool celebration and birthday party ideas, check out our Birthday Guide.