Ice Cream Shops Near Manhattan and Brooklyn Parks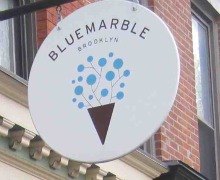 Playground season has arrived and already I'm preparing myself to hear the Mister Softee theme playing on a loop until September.
While there's nothing wrong with grabbing a cone from a generic truck, I admit that I prefer play spots that have really fantastic ice cream vendors nearby. Cold and sweet, a few scoops of mint chocolate chip or strawberry (my flavors of choice) make sticking out the sticky New York City weather that much more manageable. And my kids don't mind eating it either.
Here are some of my favorite spots to grab a scoop, plus fun places to play before or after.
The Scoop: Blue Marble - Brooklyn
This beloved mini-chain uses dairy from New York State grass-fed cows, organic sugar, and no additives, preservatives or corn syrup. If you like lots of mix-ins and wacky flavors, it's not the parlor for you. The folks at Blue Marble use seasonal ingredients and their strawberry is out of this world, especially when it sits atop a scoop of dark chocolate.
Where to play: The Prospect Heights shop (186 Underhill Avenue between Sterling and St Johns Places) is just a few blocks away from Underhill Playground (Underhill Avenue at Prospect Place), where you'll find swings, slides, a few sprinklers and a pair of play structures, one for preschoolers, the other for big kids. The playground's also full of communal toys and ride-on cars.
The Cobble Hill location (196 Court Street near Wyckoff Street) is near the charming Cobble Hill Park (Clinton Street between Verandah Place and Congress Street), which features tables, benches, a little patch of grass perfect for a picnic, and a small play area and sandbox that's best suited for younger children.
Blue Marble is also serving ice cream at the north end of Brooklyn Bridge Park's Pier 1 (hours are limited until summer kicks in), and keep an eye out for them at Summer Stage in Central Park, Smorgasburg in Williamsburg, and at the Brooklyn Flea in Greenpoint. In July they'll be opening a shop in Tribeca.
The Scoop: Uncle Louie G's - Brooklyn
This chain of Italian ices and ice cream stores originated on Coney Island in 1995. Now there are more than 30 of them in eight states (many of them right here in NYC). The 7th Ave outpost (319 7th Ave between 8th and 9th Streets) boasts so many flavors your head may spin. Kids tend to gravitate toward options like Bubbly Bubble Gum and Coney Island Cotton Candy, but you can get plain old vanilla and chocolate, too.
Where to play: Kids will love the Harmony Playground near the bandshell at Prospect Park West between 9th and 11th Street where they can make music and cool down in the water feature. If you want to stroll in the other direction in the park, head to the Garfield Tot Lot.
The Scoop: Brooklyn Ice Cream Factory - Brooklyn
Don't expect a million choices at this parlor; there are only eight classic flavors (think vanilla and chocolate), all made at the company's two locations. The original outpost is housed in an old fireboat house on the Fulton Ferry Pier (the intersection of Old Fulton and Water Streets), where your family can gaze at stunning views of the the Brooklyn Bridge, the Manhattan skyline and the Statue of Liberty.
Where to play: It's right next to Brooklyn Bridge Park's Pier 1. At 9 1/2 acres, it's the largest of the park's piers and has big lawns, an amazing playground, a waterfront promenade and a series of tree-lined pathways.
The Scoop: Van Leeuwen - Manhattan and Brooklyn
Made with hormone-free milk from Lewis County New York cows, Van Leeuwen serves ten pure and simple flavors (peppermint chip is my favorite), plus a few seasonal choices. Both of its storefronts are in Brooklyn, and its new Boerum Hill location (81 Bergen Street between Smith and Hoyt Streets) is about a five-minute walk from Cobble Hill Park. But the company also has a fleet of trucks that roam the city. The Panda starts off at Sixth Avenue and 22nd Street at 8am and sits at Fifth Avenue and 23rd Street from 10am-4pm.
Where to play: After visiting the Panda, head to Madison Square Park, where you can frolic on the lawn or hit the playground. Sure, Shake Shack is there, too, but its lines are painfully long.
The Scoop: People's Pops - Chelsea
If you prefer pops to cones or cups, swing by this Chelsea Market spot, which sells popsicles and shaved ice that put mass-produced frozen treats to shame. Made with local fruit and herbs, the pops come in fancy flavors such as Bartlett pear; cream and ginger; plum, yogurt and tarragon; and strawberry basil. If you somehow still crave ice cream afterward, Chelsea Market's got Ronnybrook Dairy and L'Arte del Gelato as well. You can also find them in Park Slope, at the Brooklyn Flea and at Smorgasburg as well.
Where to play: Exit Chelsea Market from the Tenth Avenue side and you'll be right by an entrance to the High Line, Manhattan's glorious elevated park. Perfect for a warm-weather stroll, the park's views, pretty plants, flowers and abundance of sprawl-worthy spots will give your gang time to come down from their sugar high. Their Park Slope location is a short hike from the Garfield Tot Lot, and tons of space to roam or nap under a tree.
Heading to Long Island? Then check out our six favorite ice cream parlors on the isle.
For more summer fun, check out our Summer Activity Guide.

Updated May 14, 2012.