Best High Tea in NYC: 9 Restaurants Serving Afternoon Tea for Kids and Families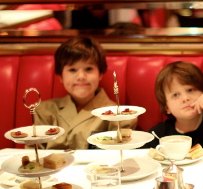 Editor's note: We're in the process of updating this post for 2015. Check back soon for the latest news. Having afternoon tea (popularly called high tea in NYC) can be a fun outing with kids whether you're celebrating a special occasion or just looking for a memorable experience. It's an especially great winter outing and particularly fitting during the holidays.
There are several places serving high tea in New York City, each with varying degrees of appropriateness for children of different ages. From the fancy Eloise Tea at the Plaza Hotel to the funky vegan tea served at Teany on the Lower East Side, there are teas for children of all ages and parents of all budgets. We took our kids to each of them and here's what we thought.
Madeline's Tea at the Carlyle – Upper East Side
Largely due to marvelous singer/pianist Tina deVaron, Madeline's Tea at the Carlyle Hotel ranks as one of our favorites in the city. Taking place in the famous Bemelmans Bar, Madeline's Tea pays tribute to the creator of the Madeline children's book series, Ludwig Bemelmans. Surrounded by the author/illustrator's delightful murals, deVaron explains that Bemelmans stayed in the Carlyle Hotel for 18 months painting the depictions of famous NYC monuments in exchange for room and board. The setting is small and intimate, the food and tea are plentiful and the music rocks. A big thumbs-up for that little French girl.
Kids Will Love: Kid-friendly foods and Madeline dolls, books, napkins and plates strewn about. The star of the show is deVaron, who gets the children up on their feet singing requests, including everything from The Sound of Music to the Twelve Days of Christmas to Taylor Swift.
Children's Tea: This is kid heaven. A buffet offers kid pleasers like banana and Nutella crepes, bacon mac and cheese, silver dollar pancakes, cupcakes and, of course, lemon madeleines, as well as more traditional tea sandwiches.
Best For: Children under 10 who love music and dressing up fancy.
Cost and Schedule: $70 per person, $35 for children under 3 plus tax and gratuity. Offered on Saturdays November 1-December 27, with seatings at 10am and 12:45pm. Reservations are a must. Call 212-744-1600.
Lady Mendl's Tea Salon – Gramercy
Lady Mendl's is a true Victorian tea salon in a brownstone on Irving Place that serves an elegant, classic English afternoon tea. Sit on couches by the fireplace or at elegantly-set tables.
Kids Will Love: The fancy room, service and touches like decorative rose sugar.
Children's Tea: There are no gimmicks here or children's menu. The five-course tea includes sandwiches, scones with Devonshire clotted cream and jam, desserts and bottomless pots of tea from a wide selection, including several of the spot's own blends.
Best For: A great spot for a special-occasion outing, whether for a family get together or a girl's birthday treat. Girls ages 8 and up will appreciate this more formal and grownup atmosphere the most. The five-course afternoon tea takes at least an hour and a half. While children are welcome, use your discretion as to whether your younger kids can sit through it. During the week there's a little more room for squirminess as the salon is generally less crowded. Read our full review and see photos.
Cost and Schedule: $55 per person plus tax and gratuity. Served Wednesday to Sunday at various times. Visit the website for a complete schedule. Reservations are required. Call 212-533-4466.
Alice's Tea Cup – Upper East and Upper West Sides
Only someone with a heart of stone would fail to be enchanted by Alice's Tea Cup. With three NYC locations, it has the most magical atmosphere and the best food of any tea house we've sipped at. Note: All three outposts are tiny so expect a bit of a wait.
Kids Will Love: The butterfly wings everywhere (you can borrow a pair during your visit or buy a set in the gift shop) and the "Menu for the Small" with items like apple slices with peanut butter or Nutella.
Children's Tea: "The Wee Tea" for kids includes a pot of tea or other beverage, one scone, choice of any children's menu item and dark chocolate mousse.
Best For: Everyone. The food is great, there are lots of options and it's not too pricey.
Cost and Schedule: $23 for the Children's Tea. Adult tea prices range from $25 for The Nibble to $60 for The Jabberwocky. Everyone can also order off the regular menu. Served daily.
American Girl Tea – Midtown East
Parents have a lot of opinions about American Girl dolls, ranging from "too expensive and too commercialized" to "love them!" I fall somewhere in the middle, but I truly enjoyed the American Girl tea experience as did my daughter. The room and tables are lovely and cheerful, if a bit crowded, and I thought the food was surprisingly good. Overall, this is a wonderful experience that your little girl will cherish.
Kids Will Love: Having a doll sit beside them in her own little seat with her own place setting. The café provides plenty of dolls to choose from if your daughter doesn't have her own.
Children's Tea: Tea sandwiches, butterfly cookies and chocolate mousse flowerpots are among the highlights.
Best For: Girls of all ages who love dolls.
Cost and Schedule: $21 per person, excluding tax and gratuity. Served daily at 4pm. Call 877-247-5223 or book reservations online.
The Russian Tea Room – Midtown East
This iconic NYC restaurant offers a Children's Tea with a few Russian touches like peanut butter and jelly blinis. Overall it lacked the charm of many others, and suffered a bit from the soulless feeling of a tourist destination. On the other hand, its lack of frilliness made it possibly the best tea for boys. Read our full review and see photos.
Kids Will Love: Hot chocolate with whipped cream and a whole plate of desserts just for them. Seeing the fancy Russian toys in the gift shop is fun, too.
Children's Tea: Tea served Russian-style or hot chocolate, a tiered carousel of kid-friendly tea sandwiches and that aforementioned plate of desserts. See the full menu.
Best For: Boys, since the art deco room is not super girlie like many other tea salons. The restaurant is frequently empty so the antics of small children are accommodated.
Cost and Schedule: $35 per child. Adult tea menus start at $50. One thing I liked is that you can take your children to tea, but order off the regular menu yourself. I ordered a salad because I wasn't in the mood for sweets. The kids had their special outing and I was able to sit with them, but saved myself the calories (and about $20). Children's Tea is served daily from 2 to 4:30 pm. You can also book a kids' birthday party by simply reserving a table for Children's Tea (you pay regular menu prices) or working out a package for a private room. Call 212-581-7100.
Eloise Tea at the Plaza – Midtown East
The stunning Palm Court at the Plaza Hotel reopened in 2010 after extensive renovations, and launched the Eloise Tea, as well as an Eloise Shop and even an Eloise Suite ($1625 per night!), all inspired by the popular children's book series.
Kids Will Love: Stopping by the pinked-out Eloise Shop where they can play dress-up, watch Eloise movies in the "reading room" or play pretend tea.
Children's Tea: Tea sandwiches include peanut butter and jelly and the dessert spread features Eloise pink cotton candy. Kids can pick from pink lemonade, vanilla iced tea or a variety of "hot hot" teas. See the full menu.
Best For: Special occasions. This is a wonderful, special outing that your child will remember for a lifetime.
Cost and Schedule: $39 per child under 12, $55 per adult. Served daily from 12 noon to 4:30pm, but reservations do fill up, especially during the holidays. Call 212-546-5300 to reserve.
Sweet Melissa Patisserie – Park Slope
Unfortunately this bake shop closed in October 2013.
Known for its decadent desserts—think caramel apple bread pudding and chocolate praline eclairs—Sweet Melissa is a cute and cozy patisserie with French flair.
Kids Will Love: The dress-up chest, which they can loot and pretend to be a prince or princess while sipping their tea.
Children's Tea: Tea, milk or juice, plus cranberry, sour cherry, orange or currant scones with Devonshire cream and homemade preserves, finger sandwiches (peanut butter and jelly, egg salad, tuna salad, cucumber and dilled cream cheese), and petit fours.
Best For: When you're in Brooklyn. It's one of the only places in the borough that serves afternoon tea.
Cost and Schedule: $15.95 for children under 13. Adults have three options: The Afternoon Tea menu, which is similar to the children's tea but has grown-up finger sandwiches ($25); the Queen's Tea, which includes a cup of homemade soup and a light salad ($30); or go all out and add a glass of champagne ($35). Adults can also order off the main menu. Afternoon tea is served daily from 11am to 6pm. Reservations required for parties of six or more.
La "Tea" Da – Tottenville, Staten Island
With a name like La "Tea" Da, you can imagine this place takes the girlie fun of afternoon tea to the extreme. Step out of the real world and into a fancy garden tea party. It's a little girl's dream of what afternoon tea should be.
Kids Will Love: Miniature tea sets, dressing up in fancy hats and boas, and the pretend cottage play house in the back.
Children's Tea: Choose from delightful themes like Alice in Wonderland, Doll parties or Christmas Tea. Tea sandwiches, cupcakes and tutti-frutti tea are served in a children's tea salon.
Best For: Birthday parties or other special occasions. Definitely worth the trip over the bridge!
Cost and Schedule: La "Tea" Da is open only for groups of 10 or more. Reservations are required. Prices range from $21-$36 per person. Call 718-303-7074.
Also Worth Considering:
Rose House – is located in Flushing's Chinatown at the Queens Crossing Mall. I'm sorry I didn't get out here to see what it's like firsthand, but it sounds like a really nice place, although in a somewhat odd location. 718-359-7673
Teany – The brainchild of singer Moby, this Lower East Side shop offers a vegan afternoon tea. We tried it out and while the tea and food were great and it was inexpensive, it doesn't have the magic of the other places. A great option for vegan families though. 212-475-9190
Thanks to Shari and Lia for contributing to this post.
For more special outings and party ideas, see our NYC Party Guide.
This post was originally published in December, 2010.