Where to Donate Kids' Clothes, Toys and More in NYC During the Holidays and Beyond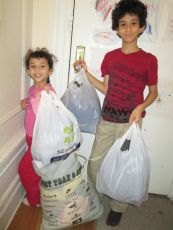 With two adults and three kids in my family's typically small NYC apartment, the holiday season stresses me out. Not because of all the things I need to do, but because of all the gifts I know are inevitably coming our way. That's why this is my favorite time of year to donate my kids' gently (or sometimes never!) used clothes, toys, books and other items so we can free up some space and support worthy charities.
Here is a list of organizations where you can donate quality used items during the holidays and beyond. Be sure to contact the charities directly to confirm what they accept and how best to drop off.
Room to Grow – Chelsea
54 West 21st Street between Fifth and Sixth Avenues, Suite 401
This unique organization provides essentials for babies born to families living in poverty, and continues to monitor their progress every three months until the child turns 3. Room to Grow accepts baby gear, clothing, toys and other essentials for kids up to that age. Donations can be dropped off at the Chelsea location or picked up by a messenger for a tax-deductible fee. Smaller items can also be donated through the mail.
Housing Works – Citywide
Visit the website for locations.
The organization accepts donations at all of its thrift store locations throughout the city. Unfortunately cribs, used toys, strollers and car seats aren't eligible but lots of other items are. If you've got a surplus of books or DVDs, the Housing Works Bookstore Cafe will be happy to take them off your hands. Proceeds from all stores benefit people living with and affected by HIV/AIDS.
Baby Buggy – Midtown West
306 West 37th Street between Eighth and Ninth Avenues, eighth floor
This organization works with community-based organizations to get kids' clothing and essentials to NYC families in need. Baby Buggy accepts gently used and new gear and clothes for babies and children up to age 14. All items must have been purchased less than three years ago. You can drop off items at the midtown office Monday through Friday or request a pick up for a small fee.
Goodwill – Citywide
Visit the website to find a donation center near you.
Goodwill accepts adult and children's clothes, but asks that they be dry-cleaned prior to drop off. The organization will also take toys and games, provided all the pieces are intact.
The Bowery Mission – Lower East Side
227 Bowery near Prince Street
This spot accepts donations 24 hours a day, seven days a week, and provides more than 48,600 articles of clothing to men, women and children in need every year. The Mission takes gently used clothing of all types, with coats, gloves, hats and scarves in high demand right now. Bath towels, face cloths, twin-size sheets and blankets, standard-size pillows and pillowcases, and sleeping bags are also accepted.
St. Luke's Thrift Shop – Greenwich Village
487 Hudson Street near Christopher Street, lower level
Profits from this store help fund the church's good works, like helping the homeless with clothing, job interview attire and other essentials. Every day, the shop welcomes drop-offs of usable and resalable items including clothing, accessories, jewelry, shoes and housewares. A free pick-up service is offered for furniture.
St. Francis Thrift Shop – Upper West Side
268 West 96th Street between Broadway and West End Avenue
One of my personal favorites (despite its lack of organization). The store accepts children's clothes, toys, kids' books and more. The prices are low, meaning residents in need (and local bargain shoppers) are guaranteed a great deal. Tax deductible receipts are available, but you need to ask for them.
The Salvation Army Thrift Stores – Citywide
Visit the website for locations.
The thrift stores support five citywide Adult Rehabilitation Centers, and accept everything from children's and adult clothing to major appliances and furniture. The organization offers a value guide for tax-deduction purposes and will come pick up large items. You can even schedule a pickup online.
Of course there are lots of other organizations that accept donations of clothing, shoes, furniture, toys, books and household items. Donationtown.org has made the process of figuring out who wants what easier. The site has a list of participating charities and what they accept and even lets you schedule a pickup. The service is free for the charities and donors. It's also worth dropping by your local church, synagogue or community center to see if they have any charity programs.
Prefer making a little dough to donating? Check out our list of kids' consignment shops in NYC.
This post originally published in December, 2013.