Free & Fun Things to Do this Weekend for NYC Kids: Purim Parties, Charlotte's Web, Cool Kids' Concerts February 23-24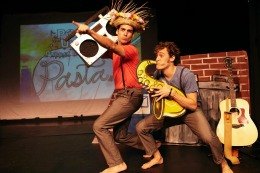 Although this weekend is just a regular two-day affair, there are still lots of fun things for families to do, and many of our picks are FREE. Rock out to the Grammy nominated Pop Ups at the New York Public Library, catch a stage adaptation of kid-lit classic Charlotte's Web at the Brooklyn Public Library, celebrate George Washington's birthday at Harlem's Morris-Jumel Mansion and see a Purim puppet show at the JCC in Manhattan, all at no cost.
Of course there are plenty of events worth paying for too, including a slew of Purim parties and carnivals, and the American Museum of Natural History's annual Black History Month celebration. And if you're looking for a sweet day trip, maple sugaring season officially kicks off this weekend.
These are just a few of the great things going on this weekend. All of our best bets are below. You can find additional options in our Event Calendar and our Winter Fun Guide.
Saturday, February 23
The Pop Ups: Radio Jungle! – Midtown East
The Grammy nominated duo perform their children's musical Radio Jungle! set in a magical world of treasure maps, mermaids, glowing stars and huge crayons at the main branch of the New York Public Library. My son and I saw The Pop Ups last summer and their performances are equal parts puppet show and concert, and very interactive. Great fun for the preschool set. FREE
Justin Roberts and the Not Ready for Naptime Players – Upper West Side
Another Grammy nominated band hits NYC today. Rock out to tunes about polar bears, counting, sleepovers and snow days at Symphony Space. $25 for adults, $15 for children.
Washington's Birthday Celebration – Harlem
Celebrate the original POTUS' 281st birthday at the historic Morris-Jumel Mansion by making cards, dressing up in colonial costumes, going on a scavenger hunt and watching a period cooking demo. FREE
Charlotte's Web – Prospect Heights
Catch Plaza Theatrical Production's hour-long stage adaptation of the beloved children's book at the Brooklyn Public Library's Dweck Center. FREE
Kids' Saturday Morning Series at the MakerBot Store – Soho
My entire family is obsessed with 3D printing so we all want to hit this high-tech shop for a kid-friendly crash course in designing and printing on a MakerBot Replicator 2 Desktop 3D printer. $10 per person
FamilyDay@theCenter:ILoveNY-Make aTunnel-Book! – Greenwich Village
A different kind of 3D fun: Using an array of materials, educators help kids craft 3D "tunnel books" that honor the Big Apple at the Center of Architecture in two workshops today. Participants will also learn about windows and door frame views in architecture to help them with their 3D version of NYC. Preregistration required. $20 per family
Stories We Tell – Upper West Side
Mark Black History Month at the American Museum of Natural's History's annual celebration. The lineup includes storyteller Charlotte Blake Alston, acclaimed dancer and choreographer Camille A. Brown, poetry champ Roger Bonair-Agard, IMPACT Repertory Theatre and Run-DMC's Darryl McDaniels. Free with general admission: $19 for adults, $10.50 for children ages 2-12
Pelandok the Mouse Deer and Other Malaysian Folktales – East Village
Avant-garde theater La MaMa continues its family series with this puppet show featuring characters from Malaysian folktales and traditional music. $10 per family
Comic Book Drawing Workshop – the Bronx
Explore Living in Sequence, a comic-book exhibit celebrating Poe Park's place in comic book history (it's where Bob Kane came up with Batman!). Afterward, pros will lead an art workshop for teens in which they'll draw a live model wearing a variety of costumes. FREE
R&R: PurimSpiel Shadow Puppet Show – Upper West Side
Enjoy a Purim-themed performance at this week's edition of the JCC in Manhattan's weekly Saturday open house. This unique shadow puppet show is projected on a spherical "bubble" and recounts the heroic story of Queen Esther, the inspiration for the holiday. FREE
Saturday Morning Storytelling with the Hans Christian Andersen Storytellers – Murray Hill
Storytellers Rita Auerbach and Jean Hale regale grade-schoolers with tales from Sweden and other Nordic countries at Scandinavia House. FREE
Sunday, February 24
Purim Carnival – Upper East Side
You don't need to be Jewish to enjoy Purim, which is often dubbed the Jewish Halloween. Inspired by the great biblical tale of Queen Esther, who saved the Jews from annihilation by standing up to her husband's evil adviser Haman, Purim gives kids a chance to dress up, play games, eat treats and make lots of noise.The 92nd Street Y's bash includes mask making, carnival games, an interactive rendition of the story of Esther and lots of hamantaschen. $10 for adults, $15 for children
Purim Masquerade Disco Ball – Windsor Terrace
More Purim fun: The preschool set can enjoy arts and crafts, face painting and storytelling, hang with costumed characters and get down on the dance floor at the local Kings Bay Y. Every kid who dresses up snags a small prize. Although admission is FREE, the Y asks families to bring nonperishable food which will be donated to those in need. FREE
Jumpin' Juniper Festival: Mil's Trills – Park Slope
Catch Mil's Trills, a.k.a. Amelia Robinson, as she plays folky tunes on her electric ukulele at Brooklyn Arts Exchange. Families are encouraged to bring their own shakers and noisemakers to add to the fun. Before and after the concert, little ones can romp in BAX's play space at no additional cost. $8, free for children under 2
Dinosaurs and More with Richie Mirissis – Staten Island
Budding paleontologists will love looking at fossils, 3D models and other dino paraphernalia from Mirissis' collection. Afterward, kids can create their own clay fossil molds. Free with admission: $8 for adults, $5 for children ages 3-14
Jazz Kids! – Greenwich Village
Jazz singer Amy Cervini's interactive, hour-long jazz show is perfect for young hepcats. Kids can hear her belt out short and sweet standards, and get up and dance, sing along and even play with the instruments. $5
Mario the Magician – Tribeca
Mario and his sidekick, a live dove named Mozzarella, hit the stage for an interactive magic show inspired by old-time vaudeville and sprinkled with slapstick and a dash of rock 'n' roll. $20 for adults, $10 for children under 13
Outside NYC
Head to the Howell Living History Farm in Lambertville, New Jersey to learn about maple sugaring. It's just one of many spots in the Northeast celebrating the start of maple sugaring season.
You can also check our sisters sites in New Jersey, Long Island and Connecticut for additional options this weekend and beyond.
Don't forget: There are lots of other things to do in our Event Calendar.
Tags: