This Week: Easter Weekend, NYC Spring Break Fun, High-Tech Makerspaces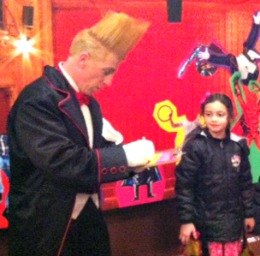 Mommy Poppins NYC may have been quieter than usual this week due to school recess and a pesky server outage, but our lives have been busier than ever. Our bloggers have been running all over our awesome city, enjoying all kinds of spring break fun. My daughter and I laughed our heads off at Bello Mania at the New Victory Theater (we even got the famed clown's autograph!), saw Rodgers and Hammerstein's reimagined Cinderella on Broadway and stopped to smell the blooms at Macy's India-themed Flower Show. (We posted a gallery of Flower Show pics on our Facebook page.) Meanwhile Anna and her family explored the Guggenheim's Gutai: Splendid Playground exhibit and enjoyed the first great playground day of spring. We hope you and your kids have been enjoying spring break as much as we have.
Of course we still have many days of fun ahead of us. Sunday is Easter and there are lots of egg hunts throughout NYC as well as Fifth Avenue's fabulous Easter Parade. And then Monday is April Fool's Day and our Boston site came up with 10 hilarious pranks to play on kids. And don't forget to check out our roundup of special spring break activities. There are so many great things going on in NYC right now, you'd need an entire season to try them all.
Here's what else we covered on the NYC site this week:
We're big fans of Maker Faire and all the cutting-edge technology we discover there every year. Now your kids can get creative with 3D printers and other high-tech tools maker-style all year round at NYC's top makerspaces.
One of our favorite family theater troupes, Atlantic for Kids, shares its gloriously manic and twisted take on old fairy tales in The Stinky Cheese Man and Other Fairly Stupid Tales.
Best bets for the weekend include a slew of Easter celebrations, the annual festival of Holi and the New York International Auto Show.
Enjoy the rest of spring break!
Tags: