All About Oz: 5 Ways to Experience the Magic of the Wizard of Oz in NYC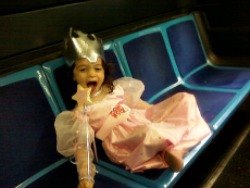 Disney's epic adventure Oz: The Great and Powerful hits theaters next Friday, March 8 and I don't think I've been this excited about a family movie since the relaunch of The Muppets back in 2011. My daughter and I are both counting down the days until we can see this Wizard of Oz prequel, which focuses on the Kansas-born Wizard's journey to Oz, where he tangles with three stunning witches, including my kid's favorite, Glinda (that's her in the photo, dressed up as the original Good Witch for Halloween a few years back).
If your kids (or you) are as into all things Oz as my family is, there are some fun ways to celebrate L. Frank Baum's magical world right here in New York City. From Books of Wonder's unparalleled collection of Oz titles to a behind-the-scenes tour of the musical Wicked to a big blue Oz hot-air balloon set to land in Central Park, here are five ways to get carried away to this fantastical place—no tornado required.
Peruse the incredible Oz collection at Books of Wonder
In addition to being one of NYC's best indie bookstores for children, this kid-lit haven has an incredible Oz selection. There's an entire bookcase devoted to Oz, including all 14 of L. Frank Baum's original Oz books, along with Oz stories by other authors and a handful of Oz tchotchkes.
See the Broadway blockbuster Wicked, then go on a behind-the-scenes tour
Whenever someone asks me what's the best family musical on Broadway, I always say Wicked. Based on Gregory Maguire's novel, which views Oz through the eyes of the misunderstood Wicked Witch of the West, it is an awesome coming-of-age show that tweens really relate to, with incredible special effects, stunning costumes and catchy belted anthems you may have heard on Glee. Unfortunately ticket prices are almost as expensive as a pair of ruby slippers. But there is one potential way to snag cheap seats: Two and a half hours before each performance, Wicked holds a lottery for 26 front-row tickets, each $30. Each winner can buy two tickets, cash only. Hey, it's worth a try. If you do see the show and still want more, I recommend going on the Behind the Emerald Curtain tour on Saturday mornings. In addition to getting an up close look at some of the costumes, props and set designs, you get to chat with a few cast members and ask them anything you want. When we went, my daughter had a lot of questions, and they answered them all.
Pose with the Oz hot-air balloon in Central Park
Unfortunately, due to high winds, the balloon will definitely not be flying and possibly won't even be inflated. It even ripped when they tried to fly it briefly. To celebrate the opening of Oz: The Great and Powerful, Disney is sponsoring the Journey to Oz Balloon Tour. On Tuesday, March 5 from 6:30-9am and 4:30-6pm, and Wednesday, March 6 from 7:30-9am, head to Central Park's Cherry Hill for a photo op in front of the official Oz hot-air balloon—yup, the same one star James Franco used to get to the film's Hollywood premiere. Warning: These times are subject to change depending on the wind, and there will be barricades so you won't be able to get too close.
Host an Oz film fest
1939's The Wizard of Oz may be the most famous of the Oz flicks, but there are lots and lots of others, most of which I admit I've never seen or in some cases even heard of. But there are a few Oz movies I've watched with my daughter and can vouch for, although none of them capture the magic of the Judy Garland musical. The 2005 TV-movie The Muppets' Wizard of Oz is fun because it combines two of my favorite franchises, and while pop star Ashanti isn't so great as Dorothy, Miss Piggy is a hoot as all four witches. The animated sequel Journey back to Oz was panned when it came out in 1974 but my daughter is as obsessed with it as I was at her age. Plus, it features the vocal talents of a very young Liza Minnelli (Judy Garland's daughter) as Dorothy, Margaret Hamilton (the Wicked Witch in the 1939 flick) as Aunt Em plus a who's who of old Hollywood stars (Paul Lynde, Ethel Merman, Mickey Rooney) and cute songs, so who cares if the story's a mess. For older children, the1985 dark fantasy Return to Oz is pretty trippy. Still want more Oz? The computer-animated Dorothy of Oz with Glee's Lea Michele as Dorothy is set to hit theaters later this year.
Catch The Wizard of Oz on stage
On Sunday, April 21, American Family Theater presents its original musical adaptation of L. Frank Baum's book at the Mayo Performing Arts Center in Morristown, New Jersey. Tickets are cheap ($12-$15) and it's about an hour away from NYC by car and could make for a fun day trip. If you go, be sure to check our NJ site for other things to do in the area.
Honorable mention: Oz-Stravaganza
Did you know Oz author L. Frank Baum was from New York State? He grew up in Chittenango and even wrote a few Oz books there, so every year the town hosts the three-day Oz-Stravaganza festival the first weekend of June. Unfortunately, Chittenango is up by Syracuse, almost a four-and-a-half-hour drive away, so it's too far for a day trip. But I'm seriously thinking about planning a weekend getaway. For Oz fans, it sounds seriously cool.
And don't forget to see Disney's new movie Oz The Great and Powerful in theaters beginning Friday, March 8. I haven't seen it yet (my seven-year-old daughter and I are catching an advance screening next week) but judging from the trailers and PG rating, it's probably best for school-age children.