< Event Calendar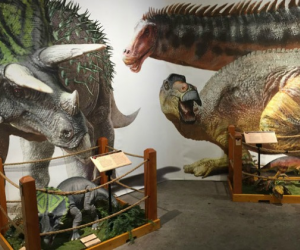 Tiny Titans: Dinosaur Eggs and Babies
Sat Sep 30, 2017
10:00am to 5:00pm
General admission: Adults (13 and up): $17.95; Children (3–12) $13.95; Children under 3 are free. Backyard Adventures $5 for non-members; $3 for individual and family members. Family plus members and above are free.
Tiny Titans is on view at The Academy of Natural Sciecnes. Visitors to the museum can take a rare yet exciting look at dinosaurs through their eggs, nests and embryos. In this exhibit, guests can see an astonishing array of authentic dinosaur eggs and nests collected from around the world.
Examples from both the plant-eating dinosaur group and the meat-eating dinosaur group. Guests can expect to touch dinosaur fossils, pretend to be a paleontologist and dig for dinosaur eggs, investigate real dinosaur embryo skin and eggshells under magnification, see a Protoceratops family up close, and view real Ornithopod and oviraptor eggs. The exhibit is on view until January 2018.
Hours are as follows:
Monday-Friday: 10 AM–4:30 PM
Weekends and Holidays: 10 AM- 5 PM
The Academy of Natural Sciences of Drexel University
1900 Benjamin Franklin Parkway
Philadelphia, PA 19103
** Event dates/times are subject to change. Please click through to the event website to verify.