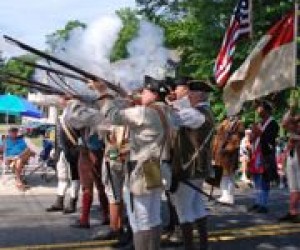 4th of July in NJ: More Small Town Celebrations
Do you yearn for a simpler time, when small towns got together and celebrated holidays like Independence Day with festivals and parades? There's more to do in our fair state than just sit around and wait for some fireworks. Why not kick it old school and take the family to a small town Independence Day celebration? Find out where to take your NJ kids and family for fun in Northern New Jersey! If you are into the big fireworks displays, check out our post on the Biggest and Best July 4th Fireworks in NJ.
Blairstown Fourth of July Celebration, Blairstown
Every year, Blairstown plans an old fashioned town celebration for Independence Day. Activities, that will be fun for the whole family, include pony rides, brass band, face painting, frog jumping contest, local food and crafts and more. Join in at Footbridge Park! Friday, July 4 from 11am – 5:30pm. 908-310-3550
Florham Park Fourth of July Celebration, Florham Park
This town has had an Independence Day celebration for more than 50 years. This year is no exception with a fun-filled day for the whole family. It all begins with a flag raising ceremony at 9am, followed by the town parade at 9:30am. The family picnic begins at 10:30am and will be held on the Borough Hall lawn and will feature obstacle courses, games, a water slide, a petting zoo, pony rides and much more. Food and refreshments are offered throughout the day and it all ends with fireworks at 9pm. Friday, July 4 beginning at 9am.
Montville Township Fourth of July Celebration, Montville
Located at the Montville Township High School, this celebration spans three days. Festivities will include rides, Midway, food, games, a Friday night British Invasion Tribute concert, fireworks and even a Saturday appearance by Kevin Jonas and much more. Feel free to bring blankets, lawn chairs and refreshments, but dogs and alcohol are not permitted. Thursday, June 26 - Saturday, June 28 with Fireworks Saturday at 9:30pm. 973-227-5184
Randolph Freedom Festival, Randolph
This festival has it all…and it lasts three days! Come celebrate the Fourth of July in Randolph beginning on July 3. The Freedom Festival will include rides, games, food, bands, crafts and much more. There will be a parade on Saturday and it all ends with fireworks that evening. Thursday, July 3 from 6pm – 11pm; Friday, July 4 from 6pm – 11pm and Saturday, July 5 parade at noon, festival from 2pm – 11pm and fireworks at 9:45pm with a DJ from 6pm - 11pm ($5 suggested donation per car). 973-989-7100
Ridgewood Fourth of July Celebration, Ridgewood
This event is one of the largest celebrations in the NYC area. This year's celebration theme is "The Star Spangled Banner 1814 - 2014." The parade begins at 10am at North Monroe and Godwin. Gates at Veterans Field open at 6pm for the celebration and the evening will include entertainment such as skydivers, fireworks and more. The parade is free, but evening activities and fireworks will cost you $9 online (tickets at the gate will be $15 for adults and $10 for kids 6-12). Wednesday, July 4th parade begins at 10am and entertainment begins at 6pm. 201-445-2684