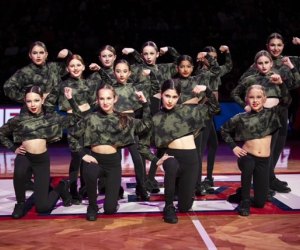 Shooting Stars NYC is a 22-year-old competitive dance company devoted to empowering and inspiring young girls through dance and performance. Owner and director Kristin Pierce started this company in 2000 as a way to create a safe haven for girls to explore their own unique voices, all while promoting the theme of "girl power." 
Join one of the company's award winning teams today. The Hip Hop, Street Jazz, Acro, Lyrical, and Contemporary teams work hard towards their competitions in the spring. Award winning dance teams are offered for ages 6 through 18 for all ranges of commitment level desired. Almost all teams compete, as SSDC feels competition gives its Stars a collective goal that brings them closer and teaches them teamwork in a hands-on way. 
SSDC also offers private lessons with its professional coaches. From audition prep and voice to acting and dance, coaches offer one-on-one expertise to get you to the next level in your performance career.
Beyond competition, the dancers of Shooting Stars NYC have previously performed not only at Madison Square Garden and other world-renowned venues such as METLife Stadium and Barclays Center in Brooklyn, they have danced for fashion designer Betsy Johnson and other NYC fashion events and volunteered their time and talents for fundraising events throughout the city. Shooting Stars NYC not only provides exceptional dance training for competitive dance students, but also holds after-school classes throughout the NYC school systems.
Contact Shooting Stars NYC today for a personal evaluation to join the Star Family!
---
Shooting Stars NYC
---
Shooting Stars NYC
Reviews
Click Here to Sign Up!
i