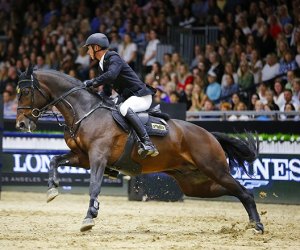 Weekday Picks: Horses, Puppets, Stars, and Holiday Festivals, Sept. 26-Sept. 30
As September comes to a close, horse jumping comes to Long Beach, and holiday festivals come to Costa Mesa and Ventura.
The Longines Masters makes its one stop in the US as part of the Grand Slam Indoor of Show Jumping in Long Beach beginning Thursday. Organizers say it's the first prominent event in the international equestrian scene to take place in the Los Angeles area since the 1984 Summer Olympics. Beyond the competitions, the event includes a Kids Corner with educational and fun activities, to draw in a new generation to the world of show jumping.
For those wanting to get a jump on their fall and winter holiday shopping, the Sugar Plum Arts & Craft Festival at the Orange County Fairgrounds in Costa Mesa and the Harvest Festival Original Art & Craft Show in Ventura both open their doors at the end of the week. Kids are likely to appreciate the crafting demonstrations, including woodworking and glass blowing. Meanwhile, smaller local events include a Puppet Musical: Jack and the Beanstalk in Marina del Rey and Garvey Nights, a night of astronomy and star-gazing in Monterey Park.
For more ideas, visit the Mommy Poppins Event Calendar, as well as our picks for the month in our September GoList. Our favorite outings this week follow...
Monday, Sept. 26
Family Autism Event – Irvine
This free evening event is a chance for children and their parents, siblings, and/or caretakers to have some fun in an autism-friendly environment. Community partners who specialize in supporting autistic children will be on hand. Registration is required.
Topanga Ukesters and Sing-Along – Topanga
This is the second-to-last free session for musicians to gather at the Topanga Library. Beginners start at 11am and can stay to play with the intermediate group. No ukulele? No problem: loaner instruments are available.
Tuesday, Sept. 27
Kids Club at Waterside – Marina del Rey
Waterside at Marina del Rey invites kids for a free performance of Puppet Musical: Jack and the Beanstalk, with original songs and handmade puppets, as part of its weekly Kids Club event.
Harkins Theatres' Tuesday Night Classics: "My Fair Lady" – Cerritos and Chino Hills
​Harkins Theatres presents the musical movie tale of a young woman's transformation, as part of its Tuesday Night Classics. Audrey Hepburn and Rex Harrison star, as do the scenery and costumes—especially the hats in the Ascot scene.
Wednesday, Sept. 28
A Full Head of S.T.E.A.M.: S.T.E.A.M. Projects at the Library – Compton
This is the last in a series of programs offering projects related to S.T.E.A.M. (science, technology, engineering, the arts and math) to inspire kids with hands-on learning activities in an informal environment. All ages are welcome at the free afternoon event.
Garvey Nights astronomy event – Monterey Park
The Los Angeles Astronomical Society leads an evening of astronomy at the Garvey Ranch Observatory every Wednesday night. Visitors can go into the dome and use the eight-inch refractor or use one of the telescopes set up on the lawn.
Thursday, Sept. 29
Longines Masters of Los Angeles – Long Beach
The Longines Masters, coming for the first time to the Long Beach Convention Center, features the best international show-jumping horses and riders competing over four days. Beyond the competition, experts and newcomers to the horse-jumping scene can visit exhibitions and Master Classes given by the best international riders. Within the event's Prestige Village is the Kids Corner, in which children can enjoy equestrian-related activities.
Sugar Plum Arts & Craft Festival – Costa Mesa
The holiday season gets underway for shoppers in search of handcrafted, U.S. made merchandise from more than 120 vendors, plus antiques and collectibles. Strollers are not allowed in the building Thursday, but are welcome as the event continues Friday and Saturday, Sept. 30 and Oct. 1.
Friday, Sept. 30
Harvest Festival Original Art & Craft Show – Ventura
The three-day event kicks off at the Ventura County Fairgrounds and features American-made arts and crafts shopping, live entertainment, demonstrations, and a Kidzone with a pumpkin patch.
Animal Homes – Pasadena
​Kidspace offers a monthly series that explores proper pet care and housing; this month it is learning how to take care of rodents such as rats and hamsters. There are hands-on demonstrations with the help of the Kidspace Critters and led by Kidspace's nature specialist.
Photo courtesy of Longines Masters