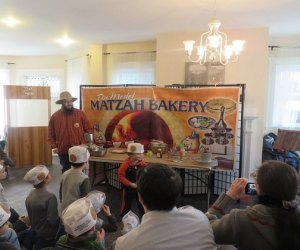 Weekend Fun for Boston Kids: Peter Pan and Passover Fun, April 9-10
There's a lot to celebrate this weekend, whether it's outdoors at one of the many local Audubon centers offering activities as part of its 100th Day Celebration or indoors at one of the fun activities for kids leading up to the Passover holiday (pictured). Local theaters are also heating up with April productions underway that feature a singing family, a boy who can fly, and a little sprout.
It's also the time to start looking forward to April's school vacation week. Some of the most exciting events that week celebrate the history of the Boston area's role in the Revolutionary War, and this weekend marks the first of a string of reenactments with activities at Meriam's Corner and Minute Man National Historic Park. Finally, three more picks perfect for families this weekend include a musical performance of Cinderella for kids, an interactive storytelling that takes the audience to Oz, and a retelling of some favorite stories by Eric Carle.
Also on Mommy Poppins Boston this week:
Enjoy your weekend and don't forget to check out the full Event Calendar!
ALL WEEKEND
Peter Pan: The Musical - Acton
Based on J.M. Barrie's classic tale, Peter Pan is one of the most beloved and frequently performed family favorites of all time.
The Sound of Music - Boston
The hills are alive! A brand new production of The Sound of Music, directed by Jack O'Brien, is coming to Boston.
The Doubtful Sprout - Brookline
Award-winning performer Liz Joyce brings this ecological wonderland to life with rotating scenery, multiple puppetry styles, projections, and song.
SATURDAY APRIL 9
100th Day Celebration at Mass Audubon Sanctuaries - throughout MA
Enjoy free admission, guided nature walks, and family-friendly, hands-on activities at most sites as part of this celebration.
Interactive Readings: Stories Alive! Featuring Wizard of Oz - Boston
Families can travel down the yellow brick to Interactive Readings: Stories Alive! in a free, family-friendly program.
Annual Community Passover Seder - Watertown
A truly multi-generational gathering, the Boston Workmen's Circle Seder is fun and meaningful for adults and children of all ages.
Le Bestiare Workshop for Kids - Boston
In this workshop, children create their own animal costumes inspired by French designer Ionna Vautrin's Le bestiaire exhibition.
Meriam's Corner Exercise - Concord
The Town of Concord, joined by area minute companies, fife and drum units, and the Concord Independent Battery, pay remembrance to the fight at Meriam's Corner.
SUNDAY APRIL 10
Model Matzah Bakery - Brookline
Kids can join in and bake their own Matzah in under 18 minutes.
The Very Hungry Caterpillar and other Eric Carle Favorites - Newton
Three beloved stories by Eric Carle, award-winning children's book illustrator and author, are retold on stage through the magic of black light and fanciful puppets.
Rossini's Cinderella - Boston
The Boston Youth Symphony Orchestras (BYSO) and the Boston Symphony Orchestra (BSO) collaborate to present a special family version of Rossini's Cinderella.
PJ Library Chocolate Seder - Framingham
This chocolate Seder is a special way to get ready for Passover and remind everyone that freedom is sweet. Have fun practicing the Seder, substituting sweets for the traditional Passover foods.
Tales of Passover and a Haggadah Hunt - Somerville
Families can join in as Big Joe the Storyteller brings to life three characters who offer their own points of view on Passover.
---
Photo Courtesy of the Chai Center