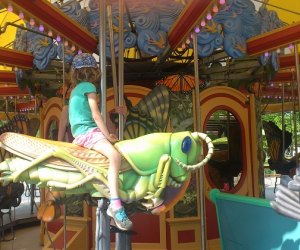 Weekend Fun for Boston Kids: Greenway Carousel and Easter Festivities, March 26-27
After the surprise snowstorm earlier this week, any signs of spring are most welcome here in Boston. Luckily, plenty of activities on the calendar are perfect for a taste of warmer weather, including a few last egg hunts leading up to Easter this Sunday, chances to catch the Easter Bunny, and the opening weekend at one of my kids' favorite spots in Boston, the beautiful Greenway Carousel (pictured).
Other sure signs of spring this weekend include one of the last maple festivals of the season and one of the first of many sheep festivals popping up at local farms over the next couple of months. If you'd rather stay in the city, most kids will be happy to hear that they can catch the circus down at City Hall Plaza or some favorite puppets for a special experience indoors.
Also on Mommy Poppins Boston this week:
With winter (hopefully) behind us, we've gathered up the best spring activities in Boston.
Chelsea, just over the Tobin Bridge has plenty of fun spots for families and good eats.
One of the great joys of being a parent is getting to play pranks on your kids for April Fools' Day.
Enjoy your weekend and don't forget to check out the full Event Calendar!
ALL WEEKEND
Opening Weekend Greenway Carousel - Boston
It's opening weekend for the Greenway Carousel. Open Fri-Sun through April 15, when it opens seven days a week for the season.
Big Apple Circus: The Grand Tour - Boston
The Grand Tour is a circus extravaganza set in the 1920s and featuring acts from the four corners of the globe.
Easter Egg Hunt - Norton
The Winslow Nature Trail holds hidden Easter treasures just waiting to be found in these non-competitive hunts.
Easter Activities at Bass Pro Shops - Foxborough
Free Easter activities for the whole family, include photos with the Easter Bunny, crafts, and egg hunts.
SATURDAY MARCH 26
Sugaring-off Festival - Weston
Families can join Land's Sake, a nonprofit farm dedicated to connecting people to the land, at its annual family-friendly sugaring-off festival.
Annual Roslindale Egg Hunt - Roslindale
This much-loved tradition always draws hundreds of families to hunt for thousands of treat-filled eggs.
Spring Egg Hunt - Boston
The Annual Easter Egg Hunt features fun activities including: refreshments, arts and crafts tables, cookie creation station, and three separate egg hunts.
Beeping Egg Hunt - Watertown
The Perkins School for the Blind and the Massachusetts Association of Parents of the Visually Impaired (MAPVI) offer this Beeping Egg Hunt for visually impaired children.
Woolapalooza - Lincoln
Festival highlights include Drumlin Farm's new spring babies, sheep shearing and sheepherding demonstrations, and hands-on activities for all ages.
The Carrot Salesman - Brookline
Families can join Mr. Bunni, a door-to-door vegetable salesman, as he journeys beneath the earth, into the sea, and even to outer space in search of carrot customers.
SUNDAY MARCH 27
Easter Egg Dash - Hull
Colored eggs full of candy are scattered all around the lawn that rings the Paragon Carousel. How may can your basket hold?
JCC Camp Fair - Newton
At the JCC Camp Fair, families can meet day, overnight and specialty (arts, sports, technology, and science) camp directors, as well as register for Summer 2016.