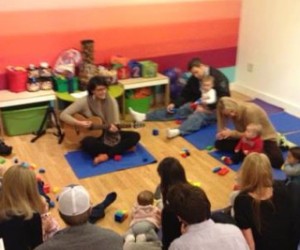 My Love Affair with Baby Wiggle Little Groove Music Classes
I was first introduced to Baby Wiggle music classes when I happened to stumble upon one at the Boston Children's Museum with my then-5-month-old baby. She was too little to participate in most of the activity rooms, but I found a lively group of tots and parents circled around a musician in the common area. Not knowing what to expect, I sat down and propped my baby in my lap. She immediately started clapping her hands, for the very first time! I will never forget the expression on her little face that day. She was enthralled, and our love affair with Baby Wiggle Little Groove began.
We started going every Wednesday, and before long I had those songs memorized, singing them everywhere we went. But I was going back to work soon, and would not be able to continue the free fun every Wednesday from 11am-12pm. So I searched for Little Groove and found they offered a plethora of classes at various locations around Boston:
We chose a location and time that worked for us, and signed up for the 8-week session for $160. (FYI, they also offer a 6-week session for $120.) It is money well spent. Your child may start off slow, with limited engagement, but by the end will be in the middle of the circle, requesting (demanding?) songs and never wanting to leave.
The best part about the class is that you are with the same singer and group of kids/care-givers each week. The singer makes it a point to learn your child's name and engage directly with her. They move quickly from one song to another and keep it fresh by pairing songs with activities. For example, "Build it, Build it Yes You Can" is a song about – you guessed it – building, so they lay out hundreds of building blocks on the floor. Children get to have a hands-on experience along with a musical one. Puppets, drums, and bubbles are used in almost every class. For an extra special treat, sometimes the lights are dimmed and we play with flashlights or get out the big canopy.
My daughter and I love these classes so much, I hired them to play at her recent birthday party, when she turned two. We got to request the musician she has seen every Friday since she was 6 months old, which was really special. (Buyer, beware: She has not stopped asking for a private living room concert by Erica from "Wiggles" for a month.)
The Baby Wiggle Little Groove team is an exceptional, talented group of people. I've had the pleasure of meeting all of them, including founder Sara Wheeler. (Check out her CD. We have ours on repeat in the car.) Every class is paired with a musician and a "helper" who assists you with check-in, stroller parking/locking, handing out toys, and cleaning up. It is a well-oiled machine. We look forward to our Baby Wiggle Little Groove date every week, and have met countless friends for playgroups.
Get ready to sing the songs in your sleep!
---
Baby Wiggle Little Groove classes are designed to help infants, toddlers and preschoolers (up to 5 years old) learn and interact through sound, sight and touch in a live music setting. Children enjoy being a part of the musical experience, using their bodies and voices to sing along to catchy songs that help them build important motor and social skills. They will also have fun using real instruments such as drums, shakers, and tambourines.