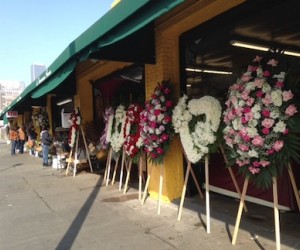 Downtown with Kids: Los Angeles' Flower District Outing
Whether we're wiped out from the holidays or life in general, sometimes a family needs an outing at the opposite end of the price/energy spectrum from the annual trip to Disneyland. If your family's in the mood for a fun and low cost activity near Downtown LA, try the historic Flower District -- but keep in mind that it is not your run of the mill outdoor shopping mall. Founded in the early 1900s, DTLA's Flower Market is low key but adventurous, with uneven sidewalks and hand written signs. Its no frills, low cost attitude adds to the charm and makes the trip well worthwhile.
Similar to (though a bit more aesthetically pleasing than) the Downtown Toy District wholesale style of selling items in a not-so-fancy setting, the Flower District provides shop after shop of flowers and floral supplies that represent approximately 2,000 retail florists. In other words, this is where the flower shops go to get their flowers. The aroma alone can be worth the trip.
A dozen roses for five dollars or a colorful bag of vase rocks for three dollars are the sorts of deals to be found here. The base address of the Flower District is 754 Wall Street, which is at the heart of six blocks of floral marts. This address is home to the Original LA Flower Market, where admission is $1 person on Saturdays and $2 on weekdays. This market tends to be the busiest and most popular part of the district, but one can go to the many other floral shops around for no admission cost at all. Bring cash, though, because not all shops take credit cards.
On Saturdays, the Flower District also offers "The Wall," a farmers' market from 9am to 2pm. On a weekday, earlier in the day is a good time to go, because some flower shops tend to close at noon. The market is open to the public starting between 6am to 8am.
Parking is available at surface lots and structures on most blocks, and prices range from $8-$15 dollars a day. Metered parking is also available for a dollar an hour. Public transportation is cheaper; take a bus or the rail system to get downtown, and then take the DASH buses throughout downtown for 25 cents per ride. The Flower District is located along DASH D and E lines.
It's a good idea to bring a snack, as there are not many options for buying food. If you can hop in your car, good nearby restaurants include WoodSpoon (Brazilian fare) at 107 West 9th St. 90015 or Umami Burger at 852 South Broadway Street, 90015. Or check out one of our favorite 10 kid-friendly restaurants downtown.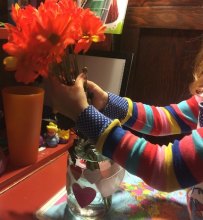 My daughter had a great time and said she'd never seen so many flowers in her life. Of course, she chose the bright orange daisies. We took them home and made a makeshift vase from an old mason jar. We glued on ribbon and beads, cut the stems, and plopped in the flowers. The look on her face was divine. To think this activity, including parking, only cost 5 dollars was amazing. She felt proud of her accomplishment and so did I.