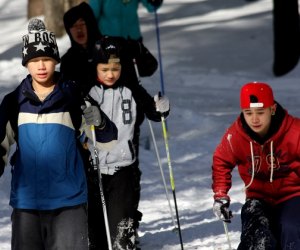 Cross Country Skiing & Snowshoeing in Fairfield County
Getting outside this time of year doesn't come naturally for many -- it can seem far more fun to curl up with cocoa on the sofa and binge-watch movies. But children (and you) NEED to get outside, breathe fresh air, and take in some Vitamin D. The trick is finding a fun way to work up a sweat in freezing temperatures. In Fairfield County, you can get the adrenaline going by strapping on some snowshoes or cross-country skis. For other cold-weather adventures, check out our Winter Fun & Activity Guide.
Here are some places you can test out your skills (or lack thereof), and get a look at local ecosystems through a frosty lens:
Waveny Park
This is a great place to ski and snowshoe for its simple and free parking, and restroom access inside Waveny House (they just ask you be respectful of the premises). That being said, there is vehicle traffic running through this town park, so watch little ones closely. The 3.5 mile course has plenty of woods, and centers around a Tudor mansion built in 1912.

677 South Avenue, New Canaan 203-594-3600
Ridgefield Rail Trail
This tree-lined trail winds 2.3 miles past the town's open spaces, and was built by CL&P. Parking is limited to the Prospect Street entrance, and the trail ends at Florida Road with a nice, easy downhill...which means an uphill to get back. Consider yourself warned.

Parking: Halpin Lane & Prospect Street, Ridgefield
Collis P. Huntington State Park
Here you will find open fields, woods and ponds. Parking is free. Archery deer hunting is allowed from September 15 until December 31, so if you head out in an early snow, wear bright colors and be mindful.

75 Sunset Hill Road, Redding 203-938-2285
Housatonic Valley Rail-Trail
This trail meanders 3.4 miles along the Pequonnock River. It is a pleasant, relatively flat course, and you will feel far removed from the hustle and bustle of life. Unless you have a town of Trumbull parking sticker, you'll have no choice but to park at the Tait Road trailhead (as opposed to the Old Mine Park end).

Parking: Tait Road, Trumbull
​Wolfe Park
If you're all feeling vigorous and have serious stamina, you can continue from Old Mine Park on to the Housatonic Valley Rail-Trail in Monroe. This forested course winds through Wolfe Park, and along remnants of one of New England's first railway lines: the Housatonic Railroad. If you want to originate here, the Monroe trailhead is just a bit off Route 25.

Parking: Wolfe Park, Purdy Hill Road, Monroe 203-452-3768

Derby Greenway
This is the first completed phase of what will become the Naugatuck Valley Greenway. The trail is technically in New Haven County, but this time next year should hook up to Fairfield County in Shelton. Derby's portion runs just under 2 miles from Division Street to Main Street, between and along the Naugatuck and Housatonic rivers.

Parking: Main Street (under the Commodore Hull Bridge, at the train station) or Division Street, Derby
Finally, a little birdie tells Mommy Poppins that snow-under golf courses are a great way to introduce really little ones to the sport. However, you may want to call management for clearance on this sort of use.
Also, if you're in the Hartford area, check out Winding Trails in Farmington, where 350 acres provide a gorgeous setting for cross-country skiing. Check website for rental fees and current conditions.
Originally published 12/06/15.
Photo Credit: Courtesy of Winding Trails