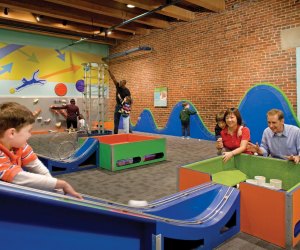 Weekend Fun for Boston Kids, Aug 20-21: Family Festivals, Feasts, and Fairs
ALL WEEKEND
Boston GreenFest - Boston
Billed as an "environmental and multicultural music festival," Boston GreenFest celebrates with activities, performers, food, art, and exhibits.
Marshfield Fair - Marshfield
The Marshfield Fair is a traditional, American country fair that first took place in 1867.
Fisherman's Feast - Boston
Activities for this festival begin with a procession on Thursday, and continue with performances and special events throughout the weekend.
Salem Jazz and Soul Festival - Salem
This year's lineup for the Salem Jazz and Soul Festival is comprised of newcomers and returning favorites, sure to please and get your toes tapping.
Play Nintendo Summer Tour - Braintree
Nintendo's classic characters and games are coming to life as part of the one-of-a-kind Play Nintendo Tour.
SATURDAY AUGUST 20
West End Children's Festival - Boston
A summer afternoon of fun celebrates the West End neighborhood and encourages a healthy future and community.
Play Festival - Boston
The Power of Play Series culminates with Boston Children's Museum's second annual Play Festival.
Astronomy Nights at Robbins Farm Park - Arlington
Telescopes are set up on the observation area of Robbins Farm Park that overlooks Boston for a starry show.
Family Walks - Boston
Discover the Arboretum on guided walks for families. Each walk highlights different plants and natural phenomena while developing observational skills in children.
Toad Homes - Mattapan
Kids can learn more about toads while building and decorating a flowerpot based home to add to their yards.
Curtain Up - Boston
Young audiences get to learn about all of the jobs and people who make the theater come to life in this special program.
SUNDAY AUGUST 21
Family Fun Day at Assembly Row: Bike Safety - Somerville
Families can enjoy this Family Fun Day celebrating bike safety.
Curious George Documentary Fundraiser - Cambridge
This fundraiser aims to help complete the mixed-media documentary exploring the untold story of Curious George: the life-long journey of Hans and Margret Rey.
---
Photo by Robert Benson Photography courtesy of Boston Children's Museum