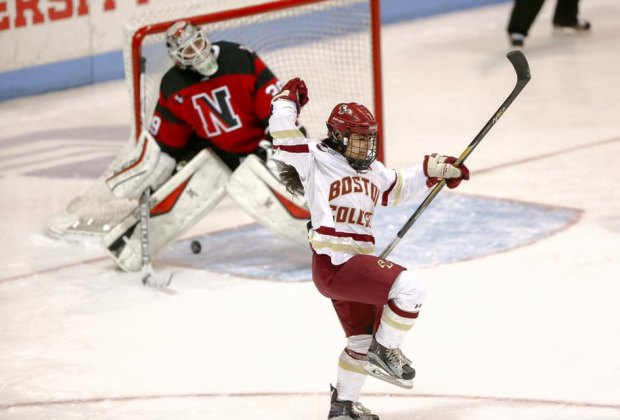 Pro Sports Are for Amateurs: Smart Parents Take Kids to College Games
Much like air travel, going to a Bruins, Celtics, Red Sox, or Patriots game is expensive enough for just one person, much less an entire family. Fenway Park, of course, is consistently ranked the priciest ballpark in America when it comes to tickets, concessions, and parking. Tickets to see the Patriots at Gillette Stadium—if you can even get them—average $90 apiece, making it the 6th most expensive place to see an NFL game. And the median price of a single Bruins ticket on the resale market is currently $170, according to VividSeats.com.
The good news: We've got dozens of colleges in and around Boston, many of which host competitive, exciting, top-tier games in all of those sports and more—for a fraction of the price.
Now, I understand the excitement of seeing celebrity athletes perform in their superhero outfits uniforms. But when it comes to kids, college games offer a ton of advantages over the pros. They're not only cheaper, but usually shorter, too, so there's no pressure to feel shackled to $80 seats for three hours with a wriggly four-year-old. Many big-name college matches offer much of the excitement of a pro event, including furry mascots, fan cameos on the jumbotron, brassy marching bands, and acrobatic cheerleaders to fill in the gaps between goals. Less glitzy, even lower-ticket college sports, meanwhile, offer a chance to drop in on a game, see some ridiculously talented young men and women pull off a few amazing plays, let the kids horse around on the bleachers, and amble off at the first sign of a meltdown. Think of it as a low-risk way to introduce them to the idea of sporting events, and to test whether it's really worth dropping $300 or more at Fenway or the Garden.
Here are some great college sporting events coming up in Boston over the next month or two:
Boston College Women's Hockey - Feb. 23-24
What's better than cheap? Free, of course. The Boston College women's hockey team is polishing off another dominant season, winning a second consecutive Beanpot title in February. Watch them in the quarterfinals of the women's Hockey East tournament at BC's Conte Forum for free next week. (Should they advance to the finals, you can see them contend for the Women's Hockey East Championship on March 5th at BU's Walter Brown Arena for just $10.)
Where: Conte Forum, Chestnut Hill
When: Feb. 23 (2pm) and 24 (2pm)
Admission: Free

The B.C. women's hockey team hosts periodic "Skate with the Eagles" events after home games throughout the season.
Boston University Men's Hockey - Feb. 24-25
If the Garden is a bit overwhelming, BU's Agganis Arena still offers a legit stadium experience. You can get beers, soda, hot chocolate, ice cream, pizza, and chicken tenders—on a smaller, more manageable scale. And while taking the T is the best way to go, parking for Terrier hockey games is only $10. (That'll buy you cotton candy at the Garden, but certainly not a parking spot.) BU's last home games before the Hockey East Tournament (more on that, below) are next weekend.
Where: Agganis Arena, Boston
When: Feb. 24 (6pm) and 25 (7pm)
Tickets: $19-$26; visit www.agganisarena.com
Boston College Men's Basketball - Feb. 25
The Eagles are unlikely to make the Big Dance this year, but their games still offer the exciting atmosphere of the ACC—the same conference as hoop heavyweights UNC, Duke, Florida State, and Syracuse. You can catch their last home game of the season, against Virginia Tech, next weekend.
Where: Conte Forum, Chestnut Hill
When: Feb. 25 at 4pm
Tickets: $10-$20; visit bceagles.com
Hockey East Tournament - March 17-18
Who needs a high-priced Bruins game when you can see some of the best college hockey players in the U.S. at the same venue for a fraction of the price? Catch the final rounds of the Hockey East tournament—where you might see not only Boston University, but other power programs like Boston College and Notre Dame en route to the NCAA's Frozen Four—at TD Garden the weekend of St. Patrick's Day. (Friday evening is a double-header.)
Harvard Baseball and Softball - March 28-April 30
Behind Allston's Harvard Stadium—the oldest football stadium in the country—Harvard's baseball and softball teams play on O'Donnell Field and Soldiers Field, respectively. We used to live nearby, and you can literally sit 20 feet from home plate at either field. Home games, which are free to attend, begin March 28th and go through April 30th. Wait for a sunny spring afternoon, pack a picnic lunch, and bring a ball or Frisbee to play catch in the grassy expanse should your little one get antsy. There's not much in the way of public bathrooms or concessions, but you'll find a few restaurants nearby, and Harvard Square is just a 15-minute walk across the river.
Where: O'Donnell Field and Soldiers Field, Allston
When: March 28 through April 30 (times vary)
Admission: Free