Wave Hill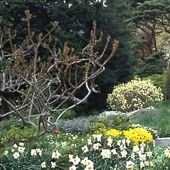 Situated in Riverdale overlooking the Hudson River, Wave Hill is a gorgeous 28-acre public garden and culture center with extensive programming for children. Each weekend, Wave Hill sponsors a different "Family Art Project" which coincides with whatever seasonal event or holiday may be around the corner. These programs are free with admission on Saturdays and Sundays from 1 to 4pm. We find one of the most unique aspects of visiting Wave Hill to be the sense of utter relaxation which washes over you upon your visit.
Although Wave Hill is not nearly as large in acreage or horticultural diversity as the New York Botanical Garden, it can actually feel a bit more 'family-friendly' because visitors are encouraged to use the grounds to their fullest extent. There are lounge chairs placed sporadically throughout the beautiful lawns, which makes it the perfect place for parents to spend an afternoon with a toddler who is just beginning to crawl or walk. For apartment dwellers that don't get to spend much time close to nature, Wave Hill serves as the perfect place to pretend you have your very own backyard! Wave Hill also offers concerts and other special programming throughout the year.
Some tips to keep in mind to plan an affordable visit: Saturdays from 9am to 12pm are free all year round, Tuesdays are free all day during off-peak months (January, February, March, April, July, August, November, and December) and are also free from 9am to 12pm during the remaining peak months. Children under six are always admitted free. It's a relatively affordable attraction anyway… Adults $6, Student and Seniors $3, and Children 6+ $2.
Getting There:
Visitors may travel to Wave Hill via the Metro North Hudson Line, the 1 or A trains, the Bx9 bus, the Bx7 bus, the Bx10 bus, or the BxM1 and BxM2 express buses. Wave Hill provides complimentary shuttle service to and from most of these mass transit options. Please visit Wave Hill's website to view detailed transportation information.
Wave Hill 
W. 249th Street and Independence Avenue
Bronx, NY 10471
(718) 549-3200
www.wavehill.org