Get Outta Town: San Francisco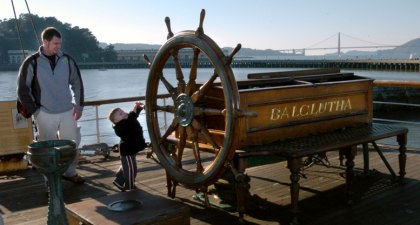 Despite the fickle weather, summer is just around the corner and it's time to get serious about planning those summer vacations. So, this week we thought we'd share some summer travel ideas with a couple of family friendly destinations to inspire your summer travel dreams. This first one is a guest post from Jackie Burwell from the Bay Area's aParentlySpeaking blog. Jackie shares her insider tips on a visit t San Francisco with kids. Thanks, Jackie!
We here at the Bay Area's aParentlySpeaking blog know families traveling to San Francisco are looking for a few key things: the soaring orange bridge, clanging cable cars and that famous Ghirardelli chocolate. So here's our idea of a perfect day or two by the Bay with tots, teens or tweens; five cool family outings that should give you and your kids your photo opps, trolleys and treats, but show you another side of our pretty city too.
Photo Credit: Contra Costa Times
1. Start the day at the Ferry Building Marketplace, grabbing coffee and cocoa at Peet's, graze your way through the farmers' market and grab a cupcake at Miette Patisserie. And if you need that chocolate fix right now, Scharffen Berger and Recchiuti Confections artisanal chocolate marvels are here too.
2. Then board everyone's favorite mode of transportation and take the California cable car line from Drumm and Market up to Powell St. to explore the wonders of bustling Chinatown. Dip into a dim sum parlor, browse the crowded shops and stop by the tiny Golden Gate Fortune Cookie Factory on Ross Alley. Watch, nibble and buy a bag of freshly made fortune cookies to take home.
3. Already done Chinatown? Walk a few blocks to the Cable Car Barn and Museum, the hub of San Francisco's 19th century cable car lines and one of our favorite freebie outings. The immense brick building at the corner of Washington and Mason houses the trolley powerhouse, and a collection of historic cable cars. Scope out the massive engines and wheels that pull the cables, blast back to the past in the enticing exhibit area, and swing by the gift shop. You won't want to buy an authentic cable car bell, puh-leeze, they weigh 20 lbs. and cost $599, but it's a cool place to pick up souvenirs.
4. From the Cable Car Barn, catch the Powell-Hyde cable car and ride it to the end of the line at Aquatic Park and Ghirardelli Square. Then traipse down a block or so to Hyde St. Pier. This national historical park boasts a collection of gorgeous 19th century sailing ships and schooners. Catch a guided tour, a sea chantey sing-along or other life at sea special events. (The gift shop here is great too. Pick up wooden boats, pirate gear, CDs and books. Just beware if you're picking up sea chantey CDs, some of them are a tad racy for young ears, what with all the drunken sailors and all.) Then wander up to Ghirardelli Square for an Earthquake, a massive banana split that comes with many, many spoons.
5. There's more history just up the street at Pier 45, where the USS Pampanito, a World War II submarine, welcomes maritime-minded visitors. For those who prefer land-based adventure, the Musee Mechanique is here too. San Francisco's legendary Playland-at-the-Beach is long gone, but its antique arcades and eccentric playthings live on at this quirky museum. Bring plenty of change. Your kids are going to want to play.
For more Bay Area family outings, come visit us online at aParentlySpeaking!