Free Outdoor Movies for NYC Kids this Summer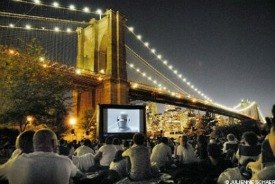 Enjoying a FREE alfresco film is a rite of summer in New York City. Even if you go to see a flick you've watched a million times at home, it's a totally different experience viewing it in the open air alongside a couple hundred other movie lovers. It ends up being a pretty thrilling communal event.
A few outdoor movie series, like RiverFlicks for Kids in the West Village, are aimed specifically at children. But even the big grown-up ones like Bryant Park and Brooklyn Bridge Park's Syfy Movies With a View include a family-friendly screening or two.
Movies usually begin at dusk between 8-8:30pm but make sure you arrive early: The well known series fill up fast. Plus, sometimes there is cool, pre-movie entertainment. So pack a picnic, bring your blanket, sit back, relax and enjoy the show at one of these outdoor summer movie series in NYC. You can find even more seasonal activities, including FREE indoor film screenings, in our Summer Fun Guide.
Mondays
Bryant Park Summer Film Festival – Midtown West
Mondays, June 16-August 18
Sixth Avenue between 40th and 42nd Streets
FREE
This series' lineup of classic movies usually attracts serious cinephiles who very well may scoff if you bring your preschoolers. The main film of interest to families this year is the original Karate Kid (Ralph Macchio forever!) on Monday, August 4. However, if you have a tween or teen, browse the entire schedule as there are some more mature flicks they might enjoy, especially if they like old ones. Warning: This one gets seriously crowded! Arrive when the lawn opens at 5pm if you want to snag a decent spot.
Coney Island Flicks on the Beach – Coney Island
Mondays, June 30-August 18
West 10th Street and the Boardwalk
End your fun-filled day at Coney Island with a free flick shown on a jumbo 40-foot screen by the ocean. Not all films are family-friendly. Your best bets are Frozen (July 7) and The Lego Movie (July 28), plus E.T. the Extra Terrestrial (July 14) and Iron Man 3 (July 21) are good for tweens.
Movies on the Waterfront – Astoria
Mondays, July 28-August 25
Astoria Park Great Lawn on Shore Boulevard between Hell Gate Bridge and the Astoria Park Pool
FREE
Three of this year's flicks are super family-friendly: Despicable Me (August 4), The Wizard of Oz (August 11) and Finding Nemo (August 25). The Goonies (July 28) and Dirty Dancing (August 18) are rated PG and PG-13 respectively and are good for tweens and teens.
RCN Movie Nights – Kips Bay
Mondays, August 4-25
Waterside Plaza, East River between 25th and 29th Streets
FREE
This riverside high-rise apartment complex hosts four alfresco flicks in August. The titles are to be determined but you'll find the schedule here once it's determined. Seating is extremely limited so bring your own blankets or chairs.
 
Tuesdays
Summer Nights Free Movies in the Park – Williamsburg
Tuesdays, July 8-August 26
East River State Park, Kent Avenue and North 8th Street
FREE
After a year hiatus, community organization Town Square Inc brings its popular alfresco film series back to the park. The lineup is quite eclectic with recent grown-up hits (Gravity) as well as bona fide classics (CasablancaBrave (July 8), Despicable Me 2 (August 12), Finding Nemo (August 19) and Frozen (August 26).
Summer Movie Night – Manhattan & Queens
Tuesdays, July 1-August 26
FREE
The New York Restoration Project hosts family screenings in several of its NYC community gardens, complete with complimentary popcorn.
Rooftop Films at Bronx Terminal Market – the Bronx
Tuesdays, June 24, July 8, 15, 29
610 Exterior Street, Level 6, Garage Roofdeck
FREE
Held on the roof of the mall's parking deck, this series includes preshow activities starting at 7pm that tie into the movies being screened. Two of the flicks, When Harry Met Sally (June 24) and The Odd Life of Timothy Green (July 15), are best for tweens and up. But the other two, Frozen (July 8) and Cloudy with a Chance of Meatballs 2 (July 29), are kid-nip!
Red Hook Flicks – Red Hook
Tuesdays, July 8-August 26
Valentino Pier, Ferris Street between Coffey and Van Dyke Streets
FREE
Aimed at adults, Red Hook Flicks is only screening a handful of all-ages films: The Incredibles on Tuesday, July 22 and Madagascar on August 12. There are a few films tweens and teens might enjoy, like Fried Green Tomatoes (July 29), Independence Day (August 19) and the Marlon Brando classic On the Waterfront (August 26). Plus the view can't be beat: New York Harbor and the Statue of Liberty.
Arts, Culture & Fun: Film Series at Sunset – West Village
Tuesdays, July 8-August 26
Tony Dapolito Recreation Center Rooftop, 1 Clarkson Street at Varick Street
FREE
Hit the rooftop of this rec center for a variety of flicks. Most are PG and good for tweens and up, with the best bets for families Edward Scissorhands (July 22), Young Frankenstein (August 5), Raiders of the Lost Ark (August 19 and Hugo (August 26).
Movie in Crocheron Park – Queens
Tuesdays, August 12, 19 and 26
35th Avenue and Cross Island Parkway
FREE
Best bets for families are Despicable Me 2 (August 12) and Monsters University (August 19).
Sunset Film Festival – Upper East Side
Tuesdays, July 29 and Tuesday, August 12
Basketball/hockey courts in Carl Schurz Park
FREE
The gorgeous green space hosts its second annual film fest! Catch the animated An American Tail on July 29 and Albert Brooks' satire Lost in America (best for sophisticated tweens) on August 12. Bring a chair or blanket and arrive early for complimentary popcorn.
 
Wednesdays
Summer on the Hudson: Pier I Picture Show – Upper West Side
Wednesdays, July 9-August 13
Pier I in Riverside Park South, 70th Street at the Hudson River
FREE
Formerly known as Movies Under the Stars, this renamed series has an eclectic lineup this year and no wonder: They're the favorite films of Riverside Park's staff! favorites. Introduce your tweens to high-school comedies you grew up with like Clueless (July 9), Back to the Future (July 16) and Princess Bride (July 30). Classic titles include Harold and Maude (July 23) and the musical Anchors Aweigh (August 6), in which Gene Kelly dances with the animated mouse of Tom and Jerry fame. The final film, The Outsiders (August 13), is rated PG-13 and is probably best for teens.
SummerScreen – Williamsburg
Wednesday, July 9-August 13
McCarren Park, Bedford Avenue and North 12th Street
FREE
Spend the day in the activity-filled McCarren Park and then catch screenings at night. The lineup this year skews teens and up, like Heathers (July 30) and The Big Lebowski (August 6), but you could get away with bringing your tween to Back to the Future (July 9). Be warned: The fest is a little hipstery: Each movie is preceded by a local Brooklyn band and you may get sneered at for bringing junior along.
Front/Row Cinema – South Street Seaport
Wednesdays, June 11-August 27
Corner of Front and Fulton Streets
FREE
It's the second year for this alfresco film series. The family films are on Wednesdays: The Muppets Take Manhattan (June 11), Rango (June 18), Brave (June 25), the original Karate Kid (July 2), Wreck-It Ralph (July 9), Fantastic Mr. Fox (July 16), E.T. the Extra-Terrestrial (July 23), The Goonies (July 30), The Croods (August 6), the Johnny Depp Charlie & the Chocolate Factory (August 13), Who Framed Roger Rabbit (August 20) and Frozen (August 27). However, there's also a Saturday night series which, though aimed at adults, has a handful of tween-friendly titles like The Avengers (July 5), Men in Black 3 (July 25) and Pitch Perfect (August 16). A great way to end the day after creative fun in Imagination Playground.
The Shops at Atlas Park Outdoor Movies on the Green – Glendale
Wednesdays, July 9-August 27
8000 Cooper Avenue
The Queens mall hosts live music by local artists on its lawn followed by screenings of family favorites. Most flicks are PG and best bets include The Goonies (July 9), Despicable Me 2 (July 23), The Lorax (August 6), Toy Story (August 20) and Cloudy with a Chance of Meatballs (August 27). You can find the complete line up on the website.
Movies Under the Stars – Hoboken
Wednesdays, June 11-August 20
Hoboken Pier A Park, First Street and Frank Sinatra Drive
FREE
Across the water, flicks are screened in that other Hudson River park: Hoboken's Pier A Park. If you're coming from Manhattan, just hop on the PATH train and then settle in for first-rate films. There are a number of family films this year: E.T. the Extra-Terrestrial (July 30), Despicable Me (August 6) preceded by a concert by Preschool of Rock, The Lego Movie (August 13) and Frozen (August 20). (Those last two are preceded by My Gym Hoboken demos.) There are a few tween-friendly titles, too, so be sure to check the complete lineup.
 
Thursdays
Syfy Movies with a View – Brooklyn Heights
Thursdays, July 10-August 28
Brooklyn Bridge Park, Pier 1, Harbor View Lawn
FREE
Not only do you get a movie and a view, you also get complimentary pre-show entertainment like live DJs and shorts. The lineup is a little all over the place but kid-pleasers include the classic Marx Brothers' comedy Duck Soup (July 10) and Fantastic Mr. Fox (July 24), and Beetlejuice is fun for tweens and up. The rest of the grown-up titles make for a great date night!
Intrepid Summer Movie Series – Midtown West
Thursdays, July 10-August 14
Intrepid Air & Space Museum, Pier 86, 46th Street and Twelfth Avenue
FREE
The giant ship screens sea, air and space-themed blockbusters on its flight deck. All are rated PG or PG-13 but Independence Day (July 10), Pirates of the Caribbean: The Curse of the Black Pearl (July 24) and Spaceballs (August 7) could be fun for tweens and up.
SummerStarz Movies – Greenpoint
Thursdays, July 17-August 21
Transmitter Park, the East River between Kent Street and Greenpoint Avenue
FREE
Community organization Town Square Inc, which is behind the Tuesday night East River State Park movie series, also hosts this film fest. It kicks off with The Lego Movie (August 7) and other family flicks include How to Train Your Dragon (August 21) and Bugs Bunny: 1001 Rabbit Tales (September 4).
 
Fridays
RiverFlicks for Kids – West Village
Fridays, July 11-August 22
Pier 46 in Hudson River Park, Charles and West Streets

FREE
As always, this kid-centric series has a fantastic lineup featuring many of last year's big family hits plus a few new classics, all rated PG. I've been many times and you really need to arrive early, by 7pm or so, to stake out a good spot, since the screen isn't that big. It's a lovely place for a picnic (bring your own food or hit the vendors) and there's usually a nice breeze off the water. Plus there's FREE popcorn while supplies last.
Despicable Me 2 on Friday, July 11
Ghostbusters on Friday, July 18
Ghostbusters II on Friday, July 25
Cloudy With a Chance of Meatballs 2 on Friday, August 1
Groundhog Day on Friday, August 8
Smurfs 2 on Friday, August 15
The Wizard of Oz on Friday, August 22
There's also a RiverFlicks for Grown-Ups series at Pier 63 near 23rd Street on Wednesdays and some of the titles are good for families, like Iron Man 3 (July 9), The Lego Movie (July 30) and The Hunger Games: Catching Fire (August 13).
Free Movies on South Beach – Staten Island
Fridays, June 27-August 29
Sand Lane and Father Capodanno Boulevard
The borough's only summer-long outdoor movie series shows mostly kid-friend titles like E.T. (July 11), The Lego Movie (July 18) and Up (August 1). Come early for inflatable rides on the ball field starting at 4pm, and grab popcorn, cotton candy or ice cream before the movies start at 9pm.
Narrows Botanical Gardens Movie Nights – Bay Ridge
Fridays, June 27, July 11, 25, August 8 and September 12
Shore Road between 69th and 72nd Street
FREE
Didn't know that Brooklyn had another botanical garden, did you? This small green space hosts a quintet of free flicks. Mr. Popper's Penguins (July 11) and The Croods (August 8) are best for kids but tweens should enjoy the classics Taking of Pelham 1, 2, 3 (July 25—yes it's the one from the 1970s!) and the original War of the Worlds (September 12). I used to watch those last two all the time on TV growing up.
 
Saturdays
Outdoor Summer Movie Series – Roosevelt Island
Saturdays, June 28, July 12, 26, August 9 and 23, and one Friday, July 11.
Firefighter's Field on Roosevelt Island
FREE
Enjoy a daycation on the lovely isle and then end your visit with a free family flick by the water. The theme this year is heroes and family-friendly offerings include Frozen (June 28), Thor: The Dark World (Friday, July 11), The Avengers (July 12), The Hunger Games: Catching Fire (July 26) and The Hobbit: Desolation of Smaug (August 9).
 
Sundays
Movies Under the Stars at Habana Outpost – Fort Greene
Sundays, May 4-October 26
757 Fulton Street between Oxford Street and Portland Avenue
FREE
The popular eco-eatery regularly hosts free community activities in its garden like this Sunday night movie series, which lasts well into the fall. The lineup is quite eclectic with a lot of good bets for tweens and teens like Coming to America (June 22), Singin' in the Rain (August 10), West Side Story (August 17) and E.T. the Extra-Terrestrial (October 5). Although the films are free, viewers are encouraged to buy food from the restaurant.
Other Series
The Central Park Conservancy Film Festival – Upper West Side
Thursday, August 18-Monday, August 22
The area between Sheep Meadow and the 72nd Street Cross Drive
FREE
This five-day series features NYC-set flicks. The best bet for families is Big (Monday, August 18) but you can find the complete lineup on the Central Park Conservancy's site. This is a very popular event so you really need to arrive when the gates open at 6:30pm in order to get a good spot.
There are also one-off screenings in various city parks throughout the summer, so it's worth browsing the Parks Department's calendar, which lists all of them. NYCGo also has a great list of summer movie series, including ones that are only for adults.
 
Unconfirmed Outdoor Movie Series
We're still waiting to hear if these annual summer movie series are happening in 2014. We'll update this post the minute we find out.
On the Waterfront – Long Island City
 
For more seasonal happenings, check out our Summer Fun Guide.