Christmas Tree and Menorah Lightings in 2015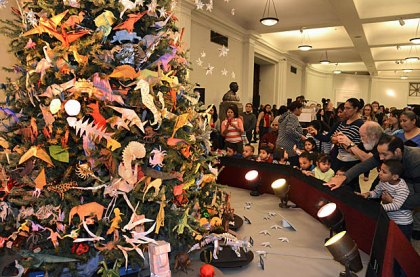 You don't have to brave the Rockefeller Center commotion to witness a fabulous Christmas tree lighting in New York City.
We've rounded up some tree lightings (and menorah illuminations) that are much less crowded and every bit as hip. These community celebrations are festive and FREE, and there's no need to stand on your car to glimpse the goings-on.
Read on for a host of holiday illuminations in New York City, and you can find even more seasonal fun in our Holiday Guide.
Click through to our listings for all the details, including addresses, times, recommended ages and rain dates.
NYBG Tree Lighting – Fordham, the Bronx
Sunday, November 22
Free with garden admission: Adults $25, children ages 2-10 $10, children ages 1 and younger, free
Head to the Leon Levy Visitor Center reflecting pool to take in nine decorated Fraser fir trees lit in holiday splendor. Visitors participate in an old-fashioned sing-along and take in the opening weekend of the Holiday Train Show.
RELATED: Best Places to Take Pictures with Santa in NYC
American Museum of Natural History Origami Holiday Tree – Upper West Side
Monday, November 23 through Sunday, January 10, 2016
Free with suggested admission: $22 for adults, $12.50 for children ages 2-12
There are no actual lights involved, but this 13-foot tall tree has 500 or so origami creations dangling from its limbs. This year's theme is Mighty and Microscopic Life, inspired by current exhibits Life at the Limits, The Secret World Inside You and upcoming exhibits The Human Microbiome and Dinosaurs Among Us. Throughout the holiday season, volunteers from OrigamiUSA — who began crafting the decorations in July — are on hand to teach the art of folding paper to visitors. If you crave lights, the museum has an illuminated pair of 19-foot tall holiday barosauruses on its front step.
The Metropolitan Museum of Art Christmas Tree and Neapolitan Baroque Crèche – Upper East Side
Tuesday, November 24 through Wednesday, January 6, 2016.
Free with suggested admission: $25 for adults, free for children younger than age 12
The Met's Christmas tree is a magical, only-in-New-York display. It stands 20 feet tall and is placed in front of the 18th-century choir screen from the Spanish Cathedral of Valladolid in the Medieval Sculpture Hall. The arbor is adorned with 18th-century Neapolitan cherubs and angels, and at its base is an exquisite nativity scene. There are spectacular tree lighting ceremonies daily at 4:30pm. Additional lightings are held on Fridays and Saturdays at 5:30 and 6:30pm.

Santa and revelers during the daylong celebration in Park Slope. Photo courtesy of Park Slope Fifth Avenue BID. 
Park Slope Fifth Avenue BID – Park Slope, Brooklyn
Saturday, November 28
FREE
Celebrate Small Business Saturday by watching the tree light up on the corner of Fifth Avenue and Fourth Street. Families can hang with Santa and Frosty, enjoy free treats, giveaways, live music, a sports-car riding Santa and a brand new light show.
Winter's Eve at Lincoln Square – Upper West Side
Monday, November 30
FREE
The tree lighting at Dante Park kicks off a neighborhood holiday celebration. From Columbus Circle to 68th Street, enjoy tons of free entertainment and reasonably priced ($1-$4) food tastings from the area's many restaurants. This year, kid-centric attractions include live music from the Dream Jam Band, a performance by the cast of Broadway's Finding Neverland, crafts and character appearances by Bob the Builder, the Cat in the Hat, Curious George and Digit. Okamoto Studio will be on hand with ice-carving demos, and the Film Society of Lincoln Center hosts multiple screenings of the classic Meet Me in St. Louis. Most activities are FREE and attendees are encouraged to drop off new or gently used coats for the New York Cares Coat Drive. Visit the website for a list of drop-off locations and a complete schedule of events.
South Street Seaport Christmas Tree Lighting – Seaport area
Tuesday, December 1
FREE
In honor of Giving Tuesday, the Seaport lights up its tree with live performances, kids' activities and, of course, a visit from Santa.
Staten Island Borough Hall – St. George, Staten Island 
Tuesday, December 1
FREE
Sing Christmas carols at this annual holiday fete hosted by Staten Island Borough President James Oddo, who hands out books to all kids in attendance.
Zuccotti Park Holiday Lighting – Financial District
Tuesday, December 1
FREE
ArtsBrookfield presents this festive evening complete with music from Metropolitan Klezmer and Cara Samantha prior to flipping the switch on thousands of lights that illuminate Zuccotti Park. Treats are served.
Light Up The Nights – Upper West Side
Tuesday, December 1
FREE
City Council member Helen Rosenthal is on hand to light the lights in Verdi Square and all along Broadway's malls. The Beit Rabban Hebrew Children's Choir and The Reaching for the Arts Choir fill the air with beautiful music and treats are dished out.
RELATED: 12 Must-Do Holiday Events for Kids
Bryant Park is adding a theatrical show to its annual tree lighting ceremony. Photo courtesy of Bryant Park. 
Tree Lighting Skate-tcaular– Midtown West
Tuesday, December 1
FREE
NYC's only free ice-skating rink is debuting a first-of-its kind theatrical production in conjunction with its tree lighting. Skating greats Nancy Kerrigan, Brian Boitano, Johnny Weir, Meryl Davis and Charlie White take to the ice to perform an original tale about the night before Christmas. The show's grand finale is, of course, the lighting of the 55-foot Norway spruce.
Rockefeller Center Christmas Tree – Midtown East
Wednesday, December 2
FREE
We recommend that you not attend, especially with kids. A better bet is to watch the spectacle on TV, where you'll have a much better and more comfortable view of the performances. But if you must see the famous Norway spruce be illuminated by 30,000 LED lights and topped with a massive Swarovski crystal star, arrive early (by 4pm). If you can't find a good spot, check out other fun things to do near Rockefeller Center. The tree is on view through January 6, 2016.
Shore Road Park Christmas Tree Lighting – Bay Ridge, Brooklyn
Wednesday, December 2
FREE
State Sen. Martin Golden kicks off the festive evening at Shore Road Park, which includes hot chocolate, small gifts from Santa and the tree lighting. Revelers are encouraged to bring a donation for Toys for Tots.
10th Annual Dumbo Holiday Tree Lighting – Dumbo, Brooklyn
Thursday, December 3
FREE
Come to the Pearl Street Triangle for an evening of entertainment, including excerpts from The Gelsey Kirkland Ballet's Nutcracker, steel drum performances by Jah Pan, hot chocolate, a visit and photo with Santa and caroling. Guests are encouraged to bring an unwrapped toy appropriate for children 14 and younger in support of the Big Brooklyn Holiday Toy Drive.
McKinley Park Christmas Tree Lighting – Dyker Heights, Brooklyn
Thursday, December 3
FREE
This lighting is also hosted by Golden, who's joined by jolly old St. Nick. Enjoy hot chocolate as Santa distributes a small gift to each child.
Charles A. Dana Discovery Center Lighting – Harlem
Thursday, December 3
FREE
The Central Park Conservancy decorates this Victorian-style center with thousands of LED lights and puts a flotilla of illuminated trees on the adjacent Harlem Meer. St. Nick says hello to little ones. Expect ice sculpture demonstrations, caroling and complimentary cookies and hot cocoa.
Holiday Lights – Battery Park City
Thursday, December 3
FREE
Santa makes an appearance at this annual illumination in South Cove, while a cappella group The Accidentals leads the crowd in caroling. New, unwrapped gifts are collected on behalf of Stockings with Care.
Atlantic Avenue – Boerum Hill, Brooklyn
Friday, December 4
FREE
Watch the Christmas tree at the Belarusian Church light up while enjoying complimentary treats and performances by local public school students. Santa is on hand to hear kids' wish lists.
Carroll Park – Carroll Gardens, Brooklyn
Friday, December 4
FREE
Community organizations the Court Street Merchants Association and Friends of Carroll Park host this annual illumination. Santa helps flip the switch, and there is food and fun in the parkhouse near the playgrounds. Canned goods and nonperishables are collected for donation to City Harvest. 
Community Holiday Tree Lighting – Astoria, Queens
Saturday, December 5
FREE
Head to the Astoria Park Lawn to hear stories of various holiday cultural traditions before the tree is lit. There is entertainment for all ages.
Fort Greene Park Holiday Tree Lighting – Fort Greene, Brooklyn
Sunday, December 6
FREE
Join friends, neighbors, the Fort Greene Park Conservancy and Santa Claus for an evening of caroling with free hot chocolate and holiday cheer.
Christmas in Richmond Town & Traditional Tree Lighting – Staten Island
Sunday, December 6
FREE for tree lighting; festival is $2, free for children younger than age 7 with additional fees for activities
Enjoy an old-fashioned holiday in Staten Island's historic village. Listen to Christmas carols and stories, snap photos with Santa, browse the holiday market and go on a horse-and-carriage ride. The no-cost tree lighting caps off a day of fun.
Winter Solstice Celebration & Tree Lighting – Flushing, Queens
Sunday, December 6
FREE admission but there are fees for crafts
Head to the Queens Botanical Garden for nature tours, crafts, live music performances, a holiday marketplace, photo-ops with Kris Kringle and a tree illumination at 5pm.
Carl Schurz Park Tree Lighting and Caroling – Upper East Side
Sunday, December 6
FREE
Neighbors come together to sing Christmas carols with the Cantori choir and Orbital Brass. Enjoy candy canes and hot chocolate and watch the tree light up.
The Lighting of the Park Avenue Christmas Trees – Upper East Side
Sunday, December 6
FREE
Why watch just one tree light up when you can see a row of firs come alive with white lights? These arbors first were illuminated in 1945 to commemorate those lost in World War II. The tradition continues today in honor of the men and women who make the ultimate sacrifice for our country. The lighting is preceded by a ceremony outside Brick Presbyterian Church.
St. Nicholas Day Celebration and Tree Lighting – Ridgewood, Queens
Sunday, December 6
$5 for adults, free for children
Journey to the historic Vander Ende-Onderdonk House to meet St. Nick. Hear his origin story while enjoying cider, hot chocolate, traditional treats and a tree lighting.
Glendale Chamber of Commerce's Annual Christmas Tree Lighting – Glendale, Queens
Sunday, December 6
FREE
Head to the intersection of Myrtle and Cooper Avenues to see the annual tree lighting in Glendale Memorial Triangle. Santa is on hand and there are music and refreshments.
Holiday Lights – Battery Park City
Sunday, December 6
FREE
While the big tree lighting at South Cove occurs earlier in the week, the menorah takes center stage at sundown on Dec. 6.
World's Largest Hanukkah Menorah Lighting – Upper East Side
Sunday, December 6 through Sunday, December 13
FREE
Christmas trees don't have all the fun. This 32-foot tall, two-ton menorah is lit every night of the holiday.
Grand Army Plaza Menorah Lighting – Park Slope, Brooklyn
Sunday, December 6 through Tuesday, December 13
FREE
The menorah is lit and revelers enjoy hot latkes, gifts for children and live music.
Madison Square Park – Flatiron District
Tuesday, December 8
FREE
This green space hosted America's first community holiday tree lighting more than a century ago. That tradition continues with a 5pm lighting of its 35-foot-tall Balsam fir, preceded by crafts, complimentary treats from neighborhood hot spots, and live music by the cast of Finding Neverland, kindie rocker AudraRox, The Sing for Hope Youth Chorus and the New York Life Singers. Four life-size gingerbread houses are unveiled prior to the lighting and remain on display until December 22.
Washington Square Park Christmas Tree Lighting – Greenwich Village
Wednesday, December 9
FREE
Join the Rob Susman Brass Quartet for sing-along carols and holiday songs (complimentary songbooks are provided). Santa Claus has promised to help illuminate the 45-foot-tall tree under the Washington Square Arch.
Lady Moody Triangle – Brooklyn
Thursday, December 10
FREE
St. Nick and Sen. Golden are at it again, this time lighting the tree in the Lady Moody Triangle.
East Harlem Holiday Tree – East Harlem
Friday, December 11
FREE
Children and senior citizens create "winter flowers" at workshops to adorn the tree, and the community bands together to get the tree up and lit each year at the intersection of 106th Street and Third Avenue.
Holiday on the Hudson – Harlem
Saturday, December 12
FREE
Head to West Harlem Piers Park for this annual tree lighting featuring live music, dancing, and arts and crafts.
Westerleigh Park Christmas Tree Lighting – Staten Island
Saturday, December 19
FREE
Caroling and hot chocolate are on tap before Jolly Old St. Nick lights the Christmas tree in this community park.
Check out our Holiday Guide for plenty of other ways to celebrate the season in NYC.
Top photo of the origami tree courtesy of AMNH/R. Mickens.
This post, originally posted in November 2009, is updated annually.