Free and Fun Things to Do This Weekend with NYC Kids: Festivals & Carnivals, Partners in Pres Open Houses, Free Comics May 5-6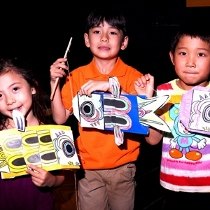 It's another weekend of tough activity decisions. There are a slew of spring festivals, street fairs and outdoor fetes, like Hippo Playground's annual Spring Fair, Calhoun's annual Carnival and the NYC Irish Dance Festival, which kicks off this season of Summer on the Hudson. It's also Open House Weekend for the 40 historic NYC sites up to win grants from Partners in Preservation, and many nominees are hosting cool family programming—like Henry Street Settlement's old-school Block Party, Flushing Meadow Corona Park's Rocket Thrower Festival, and live music and hayrides at the Queens County Farm Museum—in the hope of earning your vote.
Since the forecast currently mentions rain, we also highlight plenty of indoor fun like a free Hot Peas 'N Butter concert, the New York Children's Theater Festival's final musical, The Velveteen Rabbit, Japan's Children's Day at the Japan Society, no-cost bowling at Chelsea Piers' NYC 300 and the free new Ernesto Neto exhibit.
All of our best bets for the weekend are below. You can find additional ideas in our Event Calendar and our Spring Fun Guide.
All Weekend
Partners in Preservation Open House Weekend – Citywide
Forty historic NYC sites are competing for Partners in Preservation grants and they need your votes to win. In the hope of wooing you, all of the spots are offering free or reduced admission this weekend, and many are hosting special activities. Highlights for families include:
Flushing Meadows Corona Park's Rocket Thrower Statue Festival, with collaborative art projects, rocket throwing and special tours of the 1964 World's Fair statue. FREE
Henry Street Settlement's retro bash for its founder Lillian Wald's 145th birthday, with old-school street games, crafts, live music and dancing. Sunday only. FREE
Flushing Town Hall's 150th anniversary celebration, with collage and Cinco De Mayo workshops, live music and a traditional Korean marching band. FREE
Brooklyn's Weeksville Heritage Center has garden games, seedlings to take home, art workshops, music, food and films. Saturday only. FREE
Snug Harbor Cultural Center and Botanic Garden has a live jug band, tours of the blooming grounds, composting workshops and kids' crafts. FREE
Astoria Pool has live bands, theater performances, storytelling, arts and crafts, inflatable attractions and games. Saturday only. FREE
The Queens County Farm Museum hosts sheep shearing and wool spinning demos, live music and hayrides. Sunday only. $5
The Bronx's Bartow-Pell Mansion has interactive kid-friendly tours, 19th-century games and birds of prey demos. FREE
Sheep Shearing Weekend – Corona
Watch the sheep get their annual haircut at the Queens Zoo and make animal-themed crafts. Free with admission: $8 for adults, $5 for children ages 3-12.
Gilbert & Sullivan: The Ballet – Upper East Side
A new way to enjoy G&S: Dances Patrelle performs classical ballet to live choral renditions of the duo's beloved operatic songs. $35.

Saturday, May 5
Hot Peas 'N Butter – Jamaica
Head to the Jamaica Performing Arts Center for this band's catchy multi-genre jazz, folk, rock and Latin and Afro-Caribbean tunes. Arrive an hour early for a pre-show art workshop. FREE
Free Comic Book Day – Citywide
May 5 is National Free Comic Book Day and many NYC comic shops will be giving away pre-selected issues. Visit the event's official website for a list of participating shops. FREE
The Amazing Bronx River Flotilla – South Bronx
Although only experienced paddlers ages 18 and up can tackle this five-mile float sponsored by the Bronx River Alliance, anyone can watch. Greet paddlers at the finish line and enjoy a BYO picnic in Concrete Plant Park. FREE
The Velveteen Rabbit – Upper West Side
The New York Children's Theater Festival ends with a musicalization of the beloved children's book The Velveteen Rabbit. But we're even more excited about the special closing day festivities, including a performance by Carole Demas and Paula Janis, stars of the classic NYC children's TV show The Magic Garden. $18.
Ernesto Neto's Slow iis goood – Chelsea
The artist behind that awesome interactive Park Avenue Armory installation a few years back returns to NYC with a two-floor exhibit of suspended crocheted tunnels that kids can explore. It's hard to describe and better seen and experienced. FREE
Spring Fair – Morningside Heights
The Columbia Greenhouse Nursery School throws its annual fete with rides and games, a petting zoo, homemade food, a rummage sale, face painting, arts and crafts, and pony rides. Free admission but there are fees for activities.
Spring Carnival – Upper West Side
The Calhoun School also hosts its annual benefit today with rides and games, prizes, crafts and a barbecue. There are usually a bunch of bouncy houses, too. Free admission but there are fees for activities.
Spring Fair – Gramercy
And Friends Seminary is getting in on the action too with its circus-themed bash, including a performance by NYC clown Mark Stolzenberg and national juggling champ Jay Green. Crafts, inflatables and live music are also on tap. $5
Urban Wildlife Appreciation Day – Citywide
Instead of throwing one big festival as in years past, the Urban Park Rangers will show families where to spot squirrels, raccoons, coyotes, skunks, eagles and other wild creatures at designated parks in each borough. FREE

Sunday, May 6
Remember, today is the Five Boro Bike Tour, so many streets throughout NYC will be closed. Make sure you leave extra time to get where you're going.
Hippo Playground Spring Fair – Upper West Side
The popular Riverside Park play spot throws its annual benefit with a bouncy castle, pony rides, a petting zoo, a maze, face painting, games and other fun. Free admission but there are fees for activities.
Japan's Children's Day: Kodomo no hi – Midtown East
At this kid-centric celebration, families can watch a stage show of the classic Japanese tale Peach Boy, sample kashiwa mochi and other Far East snacks, and make samurai helmets and streamers. $12
Cinco de Mayo Mexican Parade – Upper West Side
This annual procession features festive floats, mariachi bands and Hispanic community organizations. FREE
Kids Fest – Chelsea
Chelsea Piers' bowling alley 300 New York hosts an afternoon of family fun. Kids can meet mascot Tommy Ten Pin, get one free game and shoe rental, and sample eats from the children's menu. Reservations suggested. FREE
Irish Arts Center NYC Irish Dance Festival – Upper West Side
The 2012 Summer on the Hudson season kicks off with this annual fest in Riverside Park South. Enjoy live traditional music, Irish dance workshops for all skill levels, a singers' circle, Irish language classes, face painting, crafts and of course lots of professional dance performances. FREE
A Clearing in the Forest: Puppets – Upper West Side
Central Park's family performance series continues with a WonderSpark Puppets show about detective Mystery Max who goes searching for the missing Belvedere the Squirrel. Perfect for younger kids. FREE
The Morgan's Spring Family Fair – Murray Hill
In conjunction with its exhibit In the Company of Animals: Art, Literature, and Music, the Morgan Library & Museum throws its annual fest with live music, strolling actors in animal costumes, an animal-themed photo shoot, dancing, singing and mask-making workshops. $8 for adults, $2 for children.

Outside NYC
On Long Island, Setauket's Benner's Farm celebrates May Day with May Pole dancing, storytelling, homesteading demos, old-time music, baby animals and great eats.
Thousands of rubber ducks will be dumped into the Wepawaug River in Milford, Connecticut for the annual Rubber Ducky Race. Enjoy wagering on the rubber duck winner, and hitting the kids' area and craft fair.

Don't forget: There's even more fun to be found in our Event Calendar.
Tags: