Notable News: New York Scratch-and-Sniff Style, Fairway Mama Drama, Parent Work Wars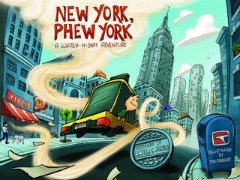 With the stock market crashing and... well, the stock market crashing (that really is all anyone's talking about this week, right?), we decided to do a links roundup on the lighter side.
We've got info on an addictive new smartphone game, a smelly NYC children's book (yup, we said smelly!) and an Upper East Side mom who was banned from Fairway for life. Yikes! Plus a few other stories that should have you smiling not crying.
Common Scents When you stroll down Broadway, have you ever tried to identify all of the different odors that hit your nose? That's what concierge and aspiring author Amber C. Jones did, and she turned her experience into New York, Phew York, a picture book that takes readers on an scratch-and-sniff journey through our stinky city. Illustrated with eye-popping designs by Tim Probert, the book features all kinds of familiar NYC street smells, including peanuts, pastrami, pizza and, yup, poop (courtesy of the horses working in Central Park). Jones still needs some help getting the book out there, so if you're interested, click over to Kickstarter to make a pledge. In the meantime, you can always read some of our favorite published New York City picture books.
Un-Fairway? This one's been all over the local news and we can't wait to hear what our readers think. An Upper East Side mother has been banned for life from the new Upper East Side Fairway after trying to leave the store with unpaid items in the bottom of her baby's stroller. She claims it was an honest mistake and that she had intended to pay for the milk and beer at checkout, but forgot. However, security says she intentionally tried to conceal the items by putting the groceries she did pay for on top of them. So, was she shoplifting or just flaky? Have you ever done this?
Have You Met Om Nom? Move over Angry Birds, there's a new obsession in town, and it's taking over smartphones and even snagging awards. The addictive puzzle game Cut the Rope, which recently won BAFTA's first-ever best handheld game award, seems to have spawned a cult, and we know why. With bright graphics and a cute green creature named Om Nom, the game challenges you to cut the ropes holding a piece of candy so the treat will drop into the little guy's mouth. It sounds simple but it's actually quite hard, as my husband and four-year-old have discovered over the past few months. The creators just released a new edition of the game last week. Go ahead and download it and prepare to waste some time.
What Are You Reading? My name is Heather and I'm a YA-aholic. I'm a total Potterhead, love Suzanne Collins' Hunger Games trilogy (have you seen the cool animated poster for the upcoming movie?) and yes, I have dog-eared copies of Stephenie Meyer's Twilight saga on my bookshelf. According to a piece in The Atlantic, I'm not alone: The YA explosion is due in large part to adults buying and reading these tomes. Personally I adore these books. I think the stories are compelling and I look forward to the day when my daughter's old enough for me to share them with her. If your kid's mature enough for these kinds of tales, encourage her to join a book club. There are wonderful ones in NYC—including a few you can join with her!
Be Class Conscious As we get the kids ready to go back to school, we're also signing them up for all of their inevitable extracurricular activities. We're currently updating our extensive Classes Guide, but before you go crazy signing your brood up for soccer, swimming and circus, read this brief Wall Street Journal post about one writer trying to shuttle his kids to their various lessons while dealing with his own jam-packed schedule. Nothing he says is revelatory: It's a just a reminder of the ongoing struggle we all have to juggle our own interests and commitments with our children's. Personally, I give my kid a two class per week maximum... let's see how quickly I break that rule.
The Never-ending Work War  The lament I hear most often from my mommy friends—regardless of whether they're SAHM, WOHM, WAHM or some other acronym I don't know—is that their partners don't work as hard as they do. This age-old battle of the sexes was explored in a recent Time magazine cover story... and we moms may not like what it says. New data shows that moms and dads do just about the same amount of work, which includes business outside the home, household chores and child-rearing duties. Maybe this report is a good thing: Think of all of the energy and time we can save if we stop keeping score and cease complaining. A few years ago, the founder of Mommy Poppins and her husband actually sat down and wrote out which "chores" they did on a weekly basis, and they were surprised at the equity. Try doing the same with your partner and then share your results on our Facebook page. We're curious to see!
Image: scentsationalbooks
Tags: