Weekly Wrap Up: Halloween is Here, Outdoor Ice-Skating Rinks Open, Mystery at AMNH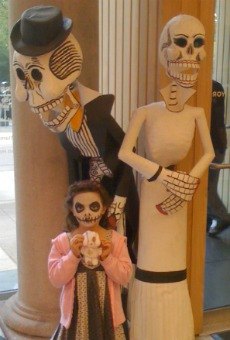 Does anyone else think Halloween should be a mandatory three-day weekend? Especially with October 31 falling on a Monday. Even though you can get your fill of Halloween parties and costume parades over the weekend, my family still intends to trick-or-treat door-to-door on Monday evening... even though I know we'll pay for it on Tuesday morning.
While Halloween was definitely our theme of the week, we're already looking ahead to winter fun (although we hope we're not as bad as Duane Reade, which has had a Christmas section since, oh, about August). Many outdoor ice-skating rinks open for the season this week, and we reviewed Mystery at the Museum, which is a cool, interactive way to tour the American Museum of Natural History. Remember that when you're entertaining out-of-town holiday guests.
And that's just a bit of what's going on. Here's what we covered this week on Mommy Poppins in NYC, New Jersey, Long Island and Connecticut, as well as selected stories from our brand-new sites in Boston and Los Angeles.
New York City
We finally finished updating our Halloween Fun Guide this week. Additions included our expanded roundup of the best places to trick-or-treat door-to-door in NYC, and Halloween-themed date night suggestions for mom and dad. Plus, we profiled five awesome Day of the Dead celebrations. Not exactly Halloween, but some of the trappings are similar (hence that pic of my daughter in skeleton face above).
Even if you feel like you practically live in the AMNH, Mystery at the Museum allows you to see the institution in a whole new way.
We moved our biweekly links posts to Tuesdays. This week's edition included info on the New York Times' new schools site, the Macy's Thanksgiving Day parade balloon designed by Tim Burton and two TV casting calls for local moms (audition at your own risk).
With the cold coming, we rounded up the best outdoor ice-skating rinks for families, many of which open this week.
One mom and her son got up close and personal with the horses of Kensington Stables by Prospect Park.
Looking to save a few—make that many bucks on your online grocery shopping? We pit Peapod against FreshDirect to see who wins.
Best bets for Halloween weekend include the Central Park Pumpkin Festival, Ghouls and Gourds at the Brooklyn Botanic Garden and Screamin' Green Halloween in the Winter Garden at the World Financial Center. Update: It's supposed to rain and snow on Saturday, October 29! Before heading to an outdoor celebration on that day, check the event's official website to make sure it's still happening.
New Jersey
Our friends across the Hudson are also all about Halloween. Find out about the best Halloween events and parades in the area.
One mom shared a few of her favorite seasonal recipes, like caramel apple pecan pie and pear bread, that are easy to make with kids.
Our New Jersey editor described her son's awesome birthday party at Kids U.
Things to do Halloween weekend include the Haunted Park in Jersey City or trick-or-treating at Macculloch Hall in Morristown.
Long Island
In LI, more Halloween fun, like the best (and safest!) places to trick-or-treat.
Weekend highlights include the Rockville Centre Fall Festival, the Enchanted Forest Trail in Quogue and the Halloween Spooktacular in Oyster Bay.
Connecticut
Our CT site has a roundup of real haunted houses in the state.
We've also got a list of great places to trick-or-treat in Litchfield County.
Mystic Seaport is celebrating the 70th anniversary of the arrival of the Charles W. Morgan.
Weekend events include the Haunted Graveyard at Lake Compounce, Haunted Miniature Golf in Farmington and Halloween Fright Train Rides in Essex.
Los Angeles & Boston
In addition to its extensive Halloween coverage, our Boston site is giving away two family four-packs to see family performance artist Keith Munslow this Saturday.
Out in LA, we've got ideas for what to do with all that candy coming your way.
 
Deals
It's your last chance to save half off tickets to Hudson Terrace's Family Halloween Pirate Party this Sunday, October 30. Just $10 per person courtesy of Poppins Perks! Remember, with Poppins Perks giving back is part of the deal: A portion of the proceeds are donated to public schools through DonorsChoose.org.
Tags: