Things to Do Columbus Day Weekend on Long Island: Fall Festivals and Fairs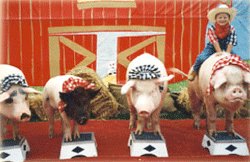 I have family visiting and I was thinking today that there really couldn't be a better time to visit Long Island than now. Fall is here, it's pumpkin and apple picking season, Fall farms are bustling, and there are plenty of Fall Festivals happening across the island as well. The weather forecast looks great for Columbus Weekend, and here are a few of our favorite suggestions for activities for you and your family to enjoy over the long weekend:
"The" Long Island Fall Festival
Friday, October 9-Monday, October 12
Hecksher Park, Main St, Huntington
It's true-Long Island is known for it's Festivals, and this is the the biggest of them all. Carnival rides, a great sampling of diverse foods (really, it's not just carnival food here) and terrific live music all weekend long make this the most popular and highly anticipated festivals of all. The LI Fall Festival is held on the grounds of Hecksher Park, in the middle of the great village of Huntington, which is filled with cool shops and restaurants in case you get your fill of carnival time. The festival kicks off Friday evening and lasts through Monday at 5pm. Admission if FREE, but bring plenty of cash for all the other bells and whistles. For more information, click here to visit the LIFF website.
Old Fashioned Harvest Fair
Sunday, October 11, 12pm-4pm
Benners Farm
56 Gnarled Hollow Rd, East Setauket
For the un-commercialized version of Fall Fairs, visit Benners Farm this weekend. A great example of a classic family farm, Benners is easy to get to. but once you're there you feel like you're far away. This weekend's festival includes pumpkin picking, a fresh produce market, hayrides and live country music. Admission is $6, but all proceeds from this week's festival supports the work of the local Homestead Arts non profit organizations. Visit the Benners website for more information.
Mill Neck Manor's Fall Harvest Festival
Saturday October 10-Sunday, October 11, 9am-5pm
Mill Neck Manor
40 Frost Mill Rd, Mill Neck
Also known as the Apple Fest, I have come to call this the "apple and cheese" festival. It sort of fits the middle road of not being a farm festival, but definitely not a carnival either. To be honest, this is one of the best festivals to hit if you have a taste for delectable food. With it's own cheese house, the other big draw here is all the homemade sweets: fudge, strudels, and baked goods. There are also crafts and games for the kids and the grounds of this historic Gold Coast estate are beautiful this time of year: be sure to bring your camera! There is a suggested donation of $5 per car. Click here for more information.
Fall Festival at White Post Farms
Saturday, October 10-Monday, October 12, 10am-4pm
White Post Farms
250 Old Country Rd, Mellville
It wouldn't be a Festival post if we didn't mention one of the most popular and favorite festival for families-the White Post Farms Fall Festival. For the best down home country fun, a la "Hee Haw", head to WPF for live shows that will have you rolling (like the new Pork Chop Review, the talent show for pigs) and madly entertained, a mining village complete with a real water sluice, pony rides, old fashioned train rides, tractor rides, pumpkin picking, hay field and the commercial favorites like bounce houses and giant playground areas. We love to play at White Post and stop on our way out to enjoy fresh caramel apples in the late afternoon Fall air. Plan on spending at least a few hours there, and be sure to hit the fruit, vegetable, and fresh pie market on your way home. Admission is $14 per person, and that includes most shows and attractions. For complete descriptions and rates, check out the White Post Farms website.