5 NYC Car Services with Car Seats for Babies & Kids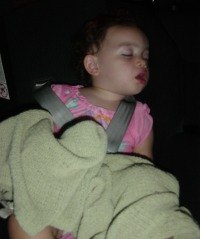 Traveling in New York City with young children can be quite challenging what with bulky strollers, subway stairs and crowded buses. But even when you hail a taxi for convenience sake, you have a whole new issue to worry about: no car seat.
Although the law doesn't require you to use a car seat in a taxi or livery, it's wise to do so anyway. You probably wouldn't dream of letting your kids go car seat-free in your own vehicle. If you have a baby, then a Snap N' Go Stroller with a built-in car seat works well. But for kids that need a regular car seat, it gets a little more complicated.
If you're just visiting NYC, you can always rent a car seat during your stay (although that means lugging it around town with you). A better option for tourists and locals alike is to call one of the New York City car services that provide car seats upon request.
Uber, the car service with the easy-to-use app and controversial dynamic pricing, recently started offering car seats as part of its uberFAMILY plan. For a $10 surcharge, your car arrives with a car seat already installed.
Legends Limousine, which is based in Park Slope, Brooklyn, offers both baby and toddler car seats for a $10 charge. (No booster seats though). Call 888-534-3637.
Empire Limousine provides a range of car seats and booster seats for a $20 fee. Call 800-431-0313.
Eastern Car Service has infant and toddler car seats for $5 each. Call 866-499-7177.
Kid Car NY is a car service especially for families and can be a bit more expensive than the other companies listed above. Drivers arrive in luxury minivans, sedans and SUVs with a car seat specifically for your child's height and weight. This option probably makes the most sense if you're traveling with several kids. Call 212-862-7233.
A previous version of this post was originally published in December 2010.