Hanukkah for NYC Kids: Top 8 Ways to Celebrate the Festival of Lights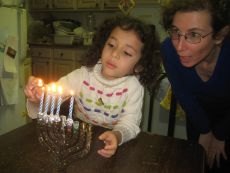 Thanksgiving isn't the only holiday we'll be celebrating this November. For the first time in more than a century, Thanksgiving and Hanukkah are set to coincide. This is literally a once-in-a-lifetime experience—unless you plan to live another 70,000 or so years. That's the next time Thanksgivukkah is supposed to occur!
Hanukkah starts at sundown on Wednesday, November 27 (Thanksgiving Eve) and continues for eight nights and days, and there are lots of ways to mark the holiday beyond lighting your Menurkey at sundown every evening. In fact, a lot of the best Hanukkah fetes take place this coming Sunday before the holiday even officially begins. From fun-filled Jewish museum family days to giant menorah illuminations to Thanksgivukkah parties honoring both holidays, here are the top eight ways to celebrate Hanukkah with NYC kids.
Chanukah Festival and Mitzvah Day – Upper East Side
92nd Street Y, 1395 Lexington Avenue at 92nd Street
Sunday, November 24 at 10:30am
$10 for adults, $15 for children
Celebrate the holiday while giving back to the community at this gathering, where families can decorate dreidels and cookies, craft candles, sing Hanukkah songs and take part in a variety of service projects for all ages. Participants are also encouraged to bring unwrapped gifts for the Y's holiday drive.
Thanksgivukkah Extravaganzikah – Lower East Side
12 Eldridge Street between Canal and Division Streets
Sunday, November 24 11am-1pm
$15 per family
Hit the Museum at Eldridge Street's historic synagogue to celebrate two holidays in one. Families can light the menorah, baste the turkey, make special Thanksgiving gelt (chocolate coins) and art, and go on the Great Dreidel Scavenger Hunt.
Hanukkah Family Day – Upper East Side
The Jewish Museum, 1109 Fifth Avenue at 92nd Street
Sunday, November 24 noon-4pm
Free with admission: $15 for adults, free for children under 19
At the museum's annual fete, families can craft offbeat menorahs out of found objects or food, decorate wooden dreidels, groove to a live concert by Yosi and the Superdads, and check out an extensive collection of menorahs, including the brand-new Menurkey invented by a 9-year-old Manhattan boy who'll be on hand to sign his creation.
Interactive Olive Oil Making Workshop – Crown Heights
Jewish Children's Museum, 792 Eastern Parkway at Kingston Avenue
Sunday, November 24 at 1:30pm
$13, free for children under age 2
This interactive and educational museum is a great place to celebrate Jewish culture year-round. At Hanukkah-time, in addition to bringing down the walls of Jericho and playing Jewish-themed mini-golf, to name a few fun activities, families can learn how to make olive oil. Once you put in the effort to squeeze out even a tiny drop of oil, you'll truly appreciate what a miracle it was to get enough to last eight days!
Chabad of Tribeca: Chanukah Party – Tribeca
City Hall Restaurant, 131 Duane Street between West Broadway and Church Street
Sunday, November 24 3-5pm
In advance: $40 per family; at the door: $50 per family
Catch a spectacular bubble show, do holiday-themed arts and crafts, learn how to make chocolate, get your faces painted, chow down on latkes and doughnuts, and much more at this massive annual bash.
Thanksgivukah Celebration – Washington Heights
YM&YWHA of Washington Heights and Inwood, 54 Nagle Avenue near Ellwood Street
Monday, November 25 5:30-7pm
FREE
Another dual holiday celebration. After school, kids can work on themed art projects, decorate doughnuts, enjoy storytime and watch the first-ever pumpkin menorah lighting. All families receive menorahs to take home.
Chanukah on Ice – Midtown West
Wollman Rink, Central Park, enter at Central Park South and Sixth Avenue
Monday, December 2 6-9pm
In advance: $22 for adults, $18 for children ages 3 to 13; at the door: $25 for adults, $20 for children
Hit the ice and skate to live Jewish music played by the Maccabeats. Other fun includes kosher food and the illumination of a giant hard-carved ice menorah.
JCP Post-Hanukkah Bash – Tribeca
Citigroup, Jewish Community Project, 388 Greenwich Street near Ericsson Place
Sunday, December 8 11am-1:30pm
$15 per person, $60 per family
Keep the party going even after the holiday technical ends! Groove to bands from the nearby Church Street School for Music and Art, play dreidel, tackle the olive oil taste test, make Havdalah candles, get MaccaBuilding with Legos and CitiBlocs, sing along with Jacob Stein from the Pop Ups and get your face painted.
Bonus (our shamash if you will): NYC's two giant menorahs at Grand Army Plaza at the southeast edge of Central Park and Grand Army Plaza at the northeast edge of Prospect Park in Brooklyn will be illuminated around dusk from Wednesday, November 27 to Wednesday, December 4. Brooklyn's lighting ceremonies include hot latkes, small gifts for children and live music.
Want even more seasonal activities? Check out our Holiday Fun Guide and our jam-packed Event Calendar.