Free Kids' Crafts Places in New York City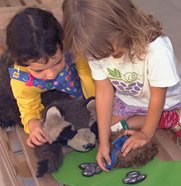 [UPDATED: August 15, 2012]
The great thing about crafts is that anyone can do them, all ages, year-round, in any weather, and you don't have to sign up for an expensive class. Crafts are not only fun for kids, they're good for them, too. If you read our recent post about sensory toys for kids, you know that crafts help prepare them for writing. So what could be better than free craft classes and workshops? We've rounded up some great places to do kids' crafts at no cost.
R&R: Shabbat at the JCC – Upper West Side
334 Amsterdam Avenue at 76th Street
646-505-4444
Saturdays, November - March from 2-5pm
FREE
The JCC's busy program always includes "art projects" which are essentially basic kids' crafts: construction paper, stickers, glitter and glue. Projects are fairly run-of-the-mill, but heck, it's all free and there's lots more entertainment on multiple floors to enjoy during these fun afternoons. Except at holiday time, most crafts we've tried here are not Jewish-themed. All ages.
Scholastic Store – Soho
Unfortunately the Scholastic Store closed in January 2015
RePlayGround – Various Locations
347-885-9368
Check the website for upcoming dates.
FREE
  RePlayGround offers occasional eco-crafts workshops at Sustainable NYC store (East Village) and other places. The organization re-purposes materials and uses garbage (really!) to make cool stuff like cereal box wallets, magazine-bead jewelry, soda bottle candy dishes, thereby reducing waste. For kids ages 7 and up and their adults.
Crafts in Central Park – Upper East Side
Mid-park at 64th Street
212-794-4064
Various Times, October-April
FREE
This cold-weather family nature crafts program at Central Park features nature-inspired crafts. Call for specific dates and crafts, and to verify the time, which may change slightly to accommodate after-school schedules. Check the events calendar.
Handiwork at Lefferts Historic House – Prospect Lefferts Gardens
Intersection of Flatbush and Ocean Avenues and Empire Boulevard
718-789-2822
Weekends
Check the website for upcoming events.
Free for kids under 16; adults pay $3 admission fee.
Give your kiddos a taste of 19th-century Brooklyn by having them tackle some early American historic crafts like candle making, basket weaving, doll making and sewing projects, combined with other fun, old-time activities such as butter churning or games of yesteryear like Nine Men's Morris.
Crafts in the Libraries
Many NYC libraries offer frequent craft classes free of charge. Some are incorporated into storytime sessions, others are seasonal, but happily from my experience, it's not just crayons and hackneyed xeroxed pages. And once in a while you get a kick-ass crafting event that even paid venues cannot beat.
To search for craft classes in Manhattan, Bronx and Staten Island libraries, click here and then click "Narrow Your Search". Select "Arts & Crafts" in the Event Topic dropdown list. Then click "View Selected Events". I found oodles of good stuff, from Krafty Kids to Tween Craft Workshops, Origami for kids, Tye-Dye Mania and even a Crochet and Knitting Club for children. FREE
More crafting can be found at Queens Libraries. Once on the site, click on "Events". From there, you can choose "Kids" or "Teens." Then, if you wish to narrow down the events listing, scroll down a bit and in the Keyword box, on the left side of the page, type "crafts" and then click Search. A quick search unearthed Crafternoons and crafting with storytime fare. FREE
To search for craft classes at Brooklyn libraries, click here and then type crafts in the "Program Search" box on the right side of the page. You can also select an age range such as "First Five Years" or "Kids". In addition to a lot of regular classes simply titled "Arts and Crafts," I found celebrated author Ezra Jack Keats' crafts, Cupcake Crafts, Halloween crafts, plus plenty of craft classes for bigger kids. FREE
For additional suggestions, peruse all of our crafts posts.
And for more indoor activities, check out our Indoor Fun Guide.