This Week: Dyker Heights at Christmas, Restaurants with Kids' Entertainment, New Battery Park City Ice Rink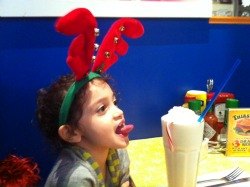 Is there a clever new way for us to reiterate that the holidays are here? Nope. Assuming your to-do list is as long as ours, you don't have a minute to waste, so we're going to keep it brief this week.
In NYC, we took a photo-filled tour of the incredible Dyker Heights Christmas lights and rounded up our favorite restaurants with kids' entertainment in Manhattan and Brooklyn. Meanwhile our Travel site is profiling gorgeous beach towns like Akumal, Mexico and Islamorada, Florida in case you want to plan (or just fantasize about) your next vacation. We also have a roundup of holiday travel packages and deals and many destinations are within driving distance of NYC.
It's your very last chance to enter Mommy Poppins' Biggest Holiday Giveaway. We've got a few more prizes to win before it ends on Friday, December 14. See the complete list on our giveaway site.
As always, you can find a slew of posts about the best things to do, see, buy and experience this magical season in our Holiday Fun Guides for NYC, New Jersey, Long Island and Connecticut. Here's what else we covered on the NYC this week.
As much as we love outdoor ice rinks, sometimes it's just too cold to skate there. That's why we rounded up the best indoor rinks in NYC.
Speaking of ice rinks, a new one just opened in Battery Park City's Wagner Park. Other tidbits in our biweekly news post include the uncovering of a widely believed high school admissions fib, the reopening of the South Street Seaport Museum post-Sandy and exceptions to the mandatory kindergarten law.
Lots of engaging art for kids this week, including a roundup of awesome public art displays and a review of the new installation at the Park Avenue Armory where visitors can literally swing.
Tired of trying to keep the kids entertained when you go out to eat? Well let someone else do it at these restaurants with children's activities and entertainment.
We made our annual trek to Dyker Heights at Christmas and after seeing our photos of the outrageous holiday displays, we bet you'll put a visit down in your December calendar.
Grandparents in town? We shared meaningful NYC outings that bring different generations together.
One of our bloggers took her seven-year-old to see the wacky antics of Swiss mine and mask troupe Mummenschanz.
Best bets for the weekend include the grand opening of the Museum of Mathematics, a Santa Cruise with Princess Katie & Racer Steve, and Christmas caroling alternative Unsilent Night.
Tags: