Mommy Poppins Launches Connecticut, New Jersey and Long Island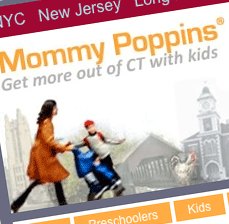 You may have known that we had pages for New Jersey and Long Island already. In fact, we even do weekend round ups of activities for those areas, but the sites were not as complete as the New York City site. Well, we're working to correct that and, at the same time, we've added Connecticut to the fold. Now there are 4 Mommy Poppins sites, each with its own event calendar, newsletter and all the features you love about the NYC site.
Some of the sites are a work in progress, but we will be working hard to keep the event calendars full and start adding guides for classes, camps and parties, like we have on the NYC site. Shari is our New Jersey Editor and Marybeth is our Connecticut Editor. Feel free to shoot them tips and comments. We are still looking for a Long island editor if you know of anyone, have them email me.
In order to accommodate the new sites we did a mild redesign. Let me introduce you to our new features:
Pick your Site: At the very top of the site you'll see tabs to pick your area. Each site looks pretty much the same, but has a different color bar. So you know which site you are on by that and which word is highlighted in that top bar.
Area Guides: Each site is also broken down by area within the region. Click on the tabs for your area and you'll find only stories about that area, plus a helpful map to see what places we've written about nearby.
Guides: Our guides have all the content about one topic in one easy to find place. With guides on camps, classes, parties, preschools and more, we've got a lot of info for you here. No guides for other areas, yet, but we'll be adding these soon.
Top Stories: The slider shows you today's Poppins Perk plus the most popular stories. Click the arrows to scroll and see more.
More from the region: The content for each site will be completely different. From now on, posts about places in NJ will only go to the New Jersey site. If you want to keep up to date on things happening around the region you can check each site, subscribe to its newsletter or scroll down to the bottom of each page where you can see the last five articles posted on each site.
Maps: We've actually had our maps for a long time, but I don't think most people know about this great feature. Go to any of our area guides and you get a map of the area. You can click and drag to scroll around and find a specific place. Hover over any marker and it tells you what that place is. Click on any marker and a little window slides open that lists all the articles we've written about that place. It's a great little feature because you can see what might be nearby to the place you are going to and read about what we've said about it in the past.
Event Calendar: Each site now has its own event calendar. If you are on the NJ site. for instance, you will only see NJ events. THe handy event widget shows you top event for the week. Click on any date to see that days top events. Is your school or business having a cool event? Click on Submit and Event to submit yours. Click on the tiny View all events to see the full event calendar.
If you click through to the event calendar you can see all events and search by age, date, keyword, location, or type. Just check the types of events you are looking for and hit apply and you can find what you are looking for.
Newsletters: You can sign up for each of our newsletters separately. Each one comes weekly, except for our NYC daily option whihc you can also get daily. The newsletters have summaries of all the posts that have come out that week and it's a easy way to keep on top of all that's going on.
Share: Want to share an article with your friends? These buttons at the bottom of each post make it easy to share via email, facebook or twitter.  
I hope you like the new sites. Feel free to tell us what you like, don't like or any features you'd like to see.
Tags: