Easy-to-make Valentine's Day Recipes for Kids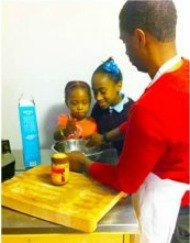 Technically, Valentine's Day is for couples, but any holiday that involves candy and gifts is something kids will want in on. While there are plenty of ways to share the love with your children, like reading picture books about your unbreakable bond or going to a special Valentine's Day family event, whipping up a few easy and tasty treats together is a great way to celebrate.
Since my husband is a chef, cooking is one of our favorite family activities and we really love to take full advantage of every special occasion by preparing themed dishes. But you don't need a pro to make these three super-easy Valentine's Day recipes, which are as fun to prepare as they are to eat.
Cutie Fruit Smoothies – Perfect for school mornings
Ingredients:
1 banana, sliced
½ cup skim milk, or almond, soy, whatever you prefer
2 tablespoons of all-natural peanut butter
2 tablespoons of chocolate syrup
Directions:
1. Blend the banana, milk, peanut butter and chocolate syrup in a blender until smooth
2. Pour into a glass to serve
3. Garnish with strawberries or other fruits
Rockin' Banana Boats – A great way to use any fruit you have on hand
Ingredients:
Ripe bananas
Strawberries, blueberries, chopped pineapple or other favorite fruits
Whipped cream or vanilla Greek yogurt
Orange or lemon juice
Chocolate syrup
Directions:
1. Holding the banana curving upward, cut off the top ¼ layer with a knife. Be sure to use a fully ripened banana!
2. With a small melon scooper or teaspoon, make a shallow, elongated groove to hold the other fruits
3. Squeeze orange or lemon juice over the banana to prevent discoloration
4. Fill banana boat with assorted fruits
5. Garnish with a dollop of whipped cream or yogurt, and orange slices. Optional indulgence: Top with chocolate syrup!
Speculoos & Chocolate Chip Rice Krispy Treats
Ingredients:
4 tablespoons of butter
6 cups of Rice Krispies
¾  cup of Speculoos (a.k.a. cookie butter–we put this on everything, sooo good
1 bag of miniature marshmallows
½ cup of miniature chocolate chips
Directions:
1. Combine Rice Krispies and chocolate chips in large mixing bowl and set aside
2. Melt butter in a large sauce pan, keeping the heat low
3. Add marshmallows and stir until completely melted
4. Remove from heat then add Speculoos to mixture
5. Pour mixture into bowl with Rice Krispies and chocolate chips
6. Spread mixture in greased/buttered 8 x 8-inch pan, and allow to cool for at least 25 minutes
7. Cut and enjoy. Be sure to store leftovers in an air-tight container to avoid drying out