Peter and the Wolf in NYC: A Great Way to Introduce Kids to Classical Music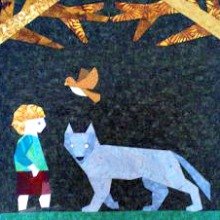 Classical music can be a hard sell for kids. Heck, it can be a hard sell for some grown-ups! Even if it's not your family's preferred genre of music, there are some wonderful classical pieces that really engage listeners, like Sergei Prokofiev's beloved Peter and the Wolf. One of the few symphonies created specifically for children, Peter and the Wolf is more than just beautiful music: It's a wonderful coming-of-age tale about how a cocky young boy, Peter, and his animal pals outwit a hungry wolf and the consequences of their actions. (Spoiler: In the original version, the duck gets eaten but some productions give it a 100% happy ending with the wolf coughing up the duck alive and unharmed.) The simple story is told through narration and each character is portrayed by the sound of a different musical instrument. It's a great way to introduce kids to classical music. When I was a child, I played my LP so often that it got totally scratched up and no longer worked. (Thank goodness for iPods, right?)
For some reason I can't seem to figure out, Peter and the Wolf has become an unofficial holiday tradition. Every year around this time, there are multiple mountings of the 1936 piece here in NYC. The big annual run at the Guggenheim Museum with Isaac Mizrahi narrating is definitely the best known, but there are other Peters out there. In fact, we've rounded up five different productions to choose from, three over the holidays and two early next year.
Brooklyn Conservatory Community Orchestra and the Maestrosities – Crown Heights
Saturday, November 23 at 4pm, Sunday, November 24 at 3pm
Brooklyn Museum, 200 Eastern Parkway near Washington Avenue
$20 adults, $10 for children ages 5 to 16
The delightfully wacky Maestrosities narrate this production. The concert also features Rossini's iconic William Tell Overture and the debut of Harris Eisenstadt's 4 Songs, which was commissioned by the Brooklyn Conservatory.of Music for NYC public school students.
Bronx Art Ensemble – the Bronx
Sunday, November 24 at 1 and 2:30pm
Whitehall Auditorium, 3333 Henry Hudson Parkway between 232nd and 235th Streets
$6
A perfect way to take the kids without breaking the bank, the Bronx Arts Ensemble's Just for Kids production of Peter is just $6.
Peter and the Wolf with Isaac Mizrahi – Upper East Side
Saturday, December 7-Sunday, December 15, times vary. See our listing for the complete schedule.
Guggenheim Museum, 1071 Fifth Avenue at 89th Street
$35
The museum's annual holiday production is, as always, narrated by fashion designer/NYC personality Isaac Mizrahi. This year, he also directs the performers and the music is performed by the Julliard Ensemble.
Queens Symphony Orchestra: The Frog Prince & Peter and the Wolf – Flushing
Sunday, February 9 at 3pm
LeFrak Concert Hall at Kupferberg Center for the Arts, 65-30 Kissena Boulevard
$20 for adults, $10 for children under 14
In addition to Peter, this concert features a brand-new version of The Frog Prince. Arrive an hour early for the preshow when kids can check out the instruments and meet the musicians.
Little Orchestra Society: Peter and the Wolf – Upper East Side
Saturday, April 26 at 10 and 11:30am; Sunday, April 27 at 11:30am and 1pm
The Kaye Playhouse, 68th Street between Park and Lexington Avenues
$15-$50
The Little Orchestra Society has been mounting classical concerts just for kids since 1947! The company's interactive performances are a real treat for children, and star costumed characters Toot, Buzz and Bow in Prokofiev's classic tale. Save money on tickets by buying a multi-concert subscription.
Find out about other wonderful seasonal activities in our Holiday Fun Guide.